A decade of M-AGIC for Isle of Man's busy air registry
Monday 24th April 2017 1:28 am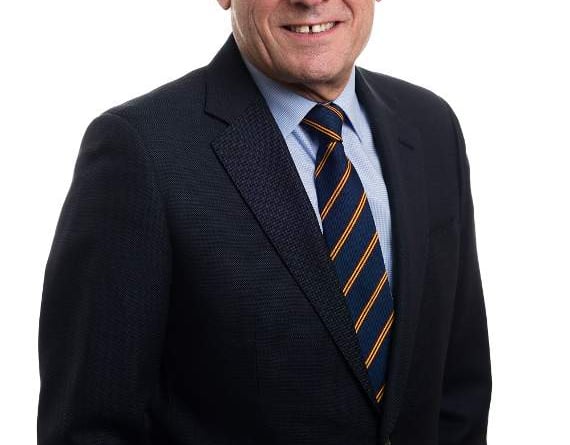 Brian Johnson
Subscribe newsletter
Subscribe to our email and get updates right in your inbox.
Technical director of Estera Isle of Man BRIAN JOHNSON, the first Isle of Man director of civil aviation, shares his memories of starting the island's aircraft registry on its 10th anniversary
In late 2005 I was based at Gatwick as the UK CAA head of flight operations inspectorate, aeroplanes, when a colleague from the UK Department for Transport rang to ask if I had seen the advertisement in that week's Flight magazine for the first director of civil aviation (DCA) for the Isle of Man?
I hadn't seen it, but at his request I read the advert which explained the successful candidate would be responsible for the aviation regulation of the island's airport, airspace and for establishing a new offshore aircraft register for private/corporate aircraft.
The Isle of Man Government, after many years' negotiations, had received permission from the UK DfT to establish its own aircraft register (IOMAR) which it hoped would provide a new business opportunity for the island's private corporate services sector and be as successful as the ship registry which had registered many super yachts.
The UK, as a contracting state to the International Civil Aviation Organisation (ICAO), would be responsible internationally for IOMAR's regulatory standards, in the same way that the UK was responsible for its Overseas Territories aircraft registers in Bermuda and the Cayman Islands.
I was attracted by the challenge of establishing an aircraft register from a blank piece of paper and as I had flown corporate turbo-props and jets at the start of my professional flying career, I had experience of the industry and new ideas for ways we could improve the registration process and regulatory support for corporate aircraft.
My mission statement would be 'Safety with Service' and it still is for IOMAR.
I applied to be DCA and very luckily was successful, moving to the island in March 2006 with my motorbike and settling into Manx life very quickly.
The last new aircraft register to be established had been started many years ago and in 2006 the offshore registers of Bermuda, the Cayman Islands and Aruba were the major offshore registers available to high net worth individuals and international businesses.
Traditionally most owners registered their aircraft in their home country, but offshore registers offer some unique advantages.
They are more customer-focused as they do not have a large home aircraft market and if you wish to travel the world, particularly in politically sensitive countries, an offshore registration provides total confidentiality and carries no political bias.
For pilots with popular ICAO licences all offshore registers will validate flight crew licences to fly their registered aircraft.
The first task was to amend the Air Navigation (IOM) Order (ANO) and subordinate legislation to include all the necessary requirements to register and regulate aircraft.
Andrew Webb was a legal draftsman with the Isle of Man Attorney General's Chambers and luckily for me he was tasked with amending the ANO.
Andy was enthusiastic about aviation and understood exactly what I was trying to achieve.
He shared his legal knowledge with me and I returned the compliment with aviation knowledge.
By the end of the year he was talking like a pilot and I was using legal phrases I did not understand!
Our new legislation had to come into force by an Order in Council from the UK Privy Council and despite the complexity of the task it was achieved quickly and our new ANO came into force on May 1, 2007, which meant from that date we could register aircraft.
While the legislation was being drafted I was busy writing our policies and procedures Manual and developing new ideas for efficient aircraft registration.
One requirement that I had always felt could be improved was the Reduced Vertical Separation Minima (RVSM) approval.
This allows appropriately qualified crews and equipped aircraft to fly 1,000 feet vertically apart, rather than 2,000 feet apart.
This enables more aircraft to use busy airspace such as European airspace.
All RVSM operators should have the same information and must follow the same procedures, but regulators required each operator to write and submit their own manual, all of which had to match the regulators requirements.
To me this was like passing your driving test, then having to write the Highway Code, which had to be exactly the same as the government's.
I organised an airspace specialist to write a standard RVSM manual, which meant that as long as the crew had received RVSM training and the aircraft was technically compliant, the day it was registered it could receive an RVSM approval.
This saved weeks of writing, reviewing and correcting manuals and ensured accuracy and compliance.
We confirmed the manual was always up to date and re-issued when required. Uniquely we had very quickly raised standards, ensured compliance, and reduced cost and unnecessary workload for our operators.
We later added more standard operational approval manuals, always with the aim of improving regulatory safety standards.
I decided that outsourcing the technical support for our aircraft surveys and airworthiness oversight was the obvious solution for a register with an unknown future workload.
I wanted the best ex-UK CAA trained surveyors and a very experienced management team.
I had worked at the CAA with Bob Simmons who now headed Baines Simmons Ltd and they employed exactly the people we needed, including a surveyor based in Dallas, USA, who was able to conduct surveys at USA, Canadian and Brazilian aircraft manufacturers quickly and efficiently, without the client having to pay transatlantic flights and long-haul travelling time costs.
We employed surveyors who understood the importance of corporate owners' timescales including the ex-CAA chief surveyor with many years of experience and knowledge.
I am very pleased that Baines Simmons Ltd still continues to provide the airworthiness support for IOMAR.
During the year before the legislation came into force, I made many trips to DfT in London to keep them updated on our progress.
On one memorable visit my DfT colleague asked me if I had thought about which registration prefix we wanted?
The letters before the hyphen in an aircraft registration indicate the nationality of the state of registration.
For example, F for France, G for Great Britain, D for Deutschland.
Following the formation of ICAO in 1947, the UK with a large number of dependencies had been allocated many prefixes.
The Overseas Territories of Cayman had VP-C and Bermuda VP-B so I assumed we would be allocated something similar.
My DfT colleague asked if I would like M as the IOM prefix?
My response was 'you haven't got M?' and his reply was 'might have!'.
DfT had not allocated an aircraft registry prefix for decades and had to investigate which characters they had available. My colleague found the UK had been allocated M in 1947, after Spain had changed their prefix from M in 1933, to EC for España Civil.
I assume Spain chose M at the beginning of the last century in deference to their capital city Madrid.
My confidence was now growing rapidly as everything was falling perfectly into place and I travelled back to the island thinking of all the registrations we could allocate beginning with M. M-YJET, M-AGIC, M-YWAY were some of the earliest and the register is now full of unique registrations chosen by aircraft owners.
In the last few years from the same UK allocation, Guernsey has chosen the number 2 as their aircraft registration prefix and Jersey chose ZJ.
One of the lower standards I had seen in private and corporate aircraft was the way aircraft documents were kept by the flight crew.
In many cases they were pushed into seat pockets and damaged or lost.
From the beginning all Isle of Man-registered aircraft were issued with a white plastic folder containing all the aircraft documents in individual plastic pockets and always filed in the same order.
Pockets were included for the aircraft insurance certificate and flight crew validations.
Later, after many operators' requests for help in explaining to their passengers where the Isle of Man was, we added a map in the folder showing the position of the Island in Europe!
One story which confirmed this was a good idea was when two Isle of Man-registered aircraft were ramp checked at Nice airport.
The first aircraft captain was asked by the inspector for his aircraft documents and he handed over the standard folder.
The inspector looked through it and said 'this is very nice'.
He then asked the second aircraft captain for his documents and was offered an identical folder.
The inspector didn't open it and handed it back before walking away.
We had proved our high standards impressed other regulators.
At my initial briefing, the Isle of Man Government had told me it didn't want the aircraft registry to be seen as a flag of convenience, so please do not make a profit!
Our initial Scheme of Charges was therefore instantly competitive.
Government also had a target of 12 aircraft to be registered in the first year.
As we approached our start date of May 1, 2007 two local businessmen had bought two new Cessna Citation Jets which they wanted to register in the island.
Jim Mellon wanted to have the first aircraft with M-ELON and his aircraft was registered 15 minutes ahead of Eddie Davies's aircraft M-BWFC (Bolton Wanderers Football Club).
On May 2, we registered our third new Citation Jet at the Cessna factory in Wichita, USA, for a UK computer company as M-ICRO.
I was hoping to keep that registration for Bill Gates' aircraft, but he was now too late.
By the second day we had reached 25 per cent of our first year's target and as the economy boomed globally IOMAR couldn't have started at a better time. In 2007 some business jet manufacturers were offering three to four year deliveries for their popular models, but as we know from 2008 onwards the global market crashed and aircraft deliveries slowed.
However, we had already built a great reputation and by the end of our first year we had registered 51 aircraft, the second year we added another 76 and every year since 100 plus new aircraft have been registered. I ran IOMAR alone for the first three months, checking applications, typing, printing, signing and making up document folders and was very pleased to be joined by Mark Manton and Jane Lee as the Isle of Man aircraft registration business was now becoming very busy.
I left IOMAR in 2011 to join Appleby, the global offshore law firm, and following a management buy out in 2016 the Appleby fiduciary business is now renamed Estera.
With offices in all the major offshore aircraft registration jurisdictions of Bermuda, Cayman Islands, Guernsey, Jersey and the Isle of Man, we offer ownership structures, registration and EU importation through the Isle of Man.
Three new offshore aircraft registries have been established in the last few years in San Marino, Guernsey and Jersey, but with IOMAR's unique style it has now grown to be the sixth largest global business aircraft register.
During 2017, 10 years from the first registered aircraft, it will register its 1,000th aircraft. Registering only 12 aircraft a year would have been a very boring life for a DCA.
Comments
To leave a comment you need to create an account. |
All comments 0