Merging two of the island's biggest offices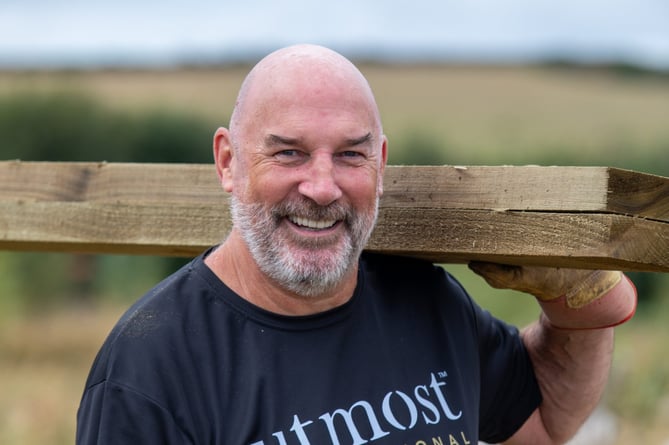 Utmost chief executive officer, Mike Foy (David Bell/DK Photography)
Subscribe newsletter
Subscribe to our email and get updates right in your inbox.
When all the legal and financial aspects of a takeover have been finalised and the dust has settled, there still remains the question of how to integrate two different workforces, with different cultures, into one cohesive team.
When Utmost acquired Quilter International a year ago their staff of around 200 immediately became 600 plus, making them the largest private sector employer in the island.
Chief executive officer, Mike Foy, talks to Working Week about the different ways they have gone about blending the two workforces.
As it turns out, one of the most successful of these has involved volunteering with the Wellness and Wild Space project at The Children's Centre, at Wallberry Farm in Braddan.
This will see the upgrading of the farm's conservation area, into a more accessible and engaging space for children, young people and families to use.
The current phase of the project was the construction of a wooden walkway around the site, for ease of access and to protect the wildlife and the plants growing there.
It was a perfect fit for the newly enlarged Utmost International IoM. The Children's Centre had already been awarded a grant from the Henry Bloom Noble Healthcare Trust to purchase all the materials required, what they needed now was labour to help them build it.
Mike says: 'We quickly came to the conclusion that we've got 600 people here and that's a lot of manpower.'
Accordingly, on one working day each week through the summer, employees had the chance to volunteer to help the project. They were organised into groups which included a mix, not just of the two workforces, but also of different ages and ranks throughout the company.
Mike recalls: 'I was in a field two weeks ago with a group that included an 18 year who'd been with us two weeks and spanned every generation in between, but just straightaway everyone blends in and we're all just the same. We're all sawing, hammering, lugging wood. There's no CEO/new starter demarcation, we're literally a bunch of Utmost people trying to get the work finished. So it worked perfectly from that perspective.'
Although they have now completed the number of days they had initially agreed to spend on the project, they have decided to keep it open and continue to help, something which Mike is very enthusiastic about.
He says: 'It is fabulous, a day out there you're out of the office, you're away from your desk and you achieve something immediate– you can actually walk on the result of what you have done that day.'
Integral to any organisation is its culture and I ask Mike how different the cultures of Utmost and Quilter had been.
'They were quite different, I think, by the scale of organisation,' he says.
And he goes on: 'We always had a "small business feel", whereas the guys here I think felt part of a big UK organisation and that can feel a bit industrial sometimes, coupled with the fact that they had guessed, or knew, that they were being sold for the last two or three years.
'And then you get the typical initial culture shock of "right you've bought us you're going to make hundreds of people redundant" so everyone braced for bad news which never happened. We didn't do any of that.'
The genuineness of the Utmost brand, Mike believes, is integral to helping his new employees understand the culture.
He says: 'Typically, most organisations start with a brand and then retrofit mission statements and a corporate culture. We started the other way round: even before it had a name we spent a good few months capturing what we wanted our organisation to look and feel like.
'We're passionate about customers, we're passionate about the outside world and, yes, we want to be a commercial success.
'We're one of the few, if not the only, company that's independently financially secure, not relying on a parent company.
'So it's reinforcing with people Utmost is all about, it's redirecting the people here into what Utmost is about which is living to its brand values.'
Accordingly the former Quilter building, King Edward Bay House, which now houses all the staff together, has been, as Mike puts it 'carpet bombed' with Utmost imagery, branding and slogans: 'Because that's what we're all about'.
The issue of recruitment is one which also gets bigger as the size of an organisation increases.
Mike says that, just with normal turnover they need to recruit 60-70 people a year and Utmost has been working with local schools and UCM to ensure that a good number of those recruits are youngsters. This includes offering internships to UCM undergraduates and working with schools to mentor youngsters in job interview techniques and other life skills.
Mike says: 'I'd like to leave as a legacy that Utmost can be a career pathway for Year 13s who really don't know what they want to do.
'We've probably got 40 different disciplines here that you could specialise in and, equally, you could spend a couple of years here, find your feet, become a broader person and move on to something else.
'It stems from my own background: I grew up in Cornwall, didn't go to university because the world was a different place back then and I thought I could earn money for three years instead. Then I got given a break, I worked hard and was nice to people, and was fortunate to get a number of opportunities. But I've worked my way up and I worry that there isn't that same environment now for kids coming out of school.
'Everyone says: "you've got to have a degree" or "you've got to have these exams, you've got to specialise" – why can't we have good, bright, hard working kids who find their way?
'I suppose, with organisations like us there's a general misconception that you have to be qualified in something to get a job with us, or have a number of years' experience, whereas we can, in a large number of roles, teach you what you need to know.
If you've got the aptitude and the ability, we can teach you the technical stuff. And, in an organisation this size, you can literally plot your career path right up to quite senior levels.'
He smiles as he adds: 'I should be coasting into retirement rather than running uphill to retirement but to me it's the conclusion to the Utmost journey we started six years ago.'
Comments
To leave a comment you need to create an account. |
All comments 0