Making a mark in UK theatre scene
Wednesday 17th August 2022 3:20 pm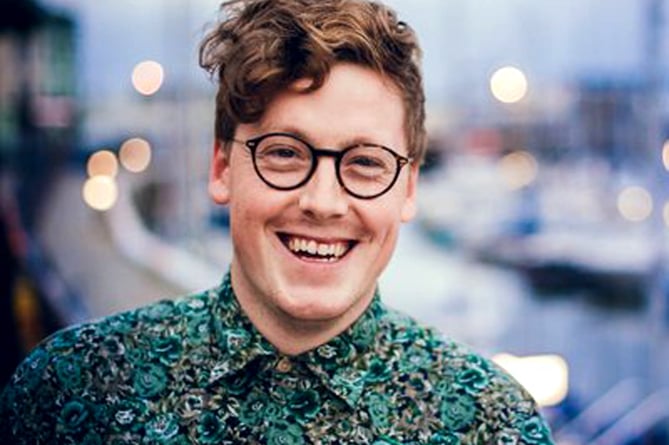 Subscribe newsletter
Subscribe to our email and get updates right in your inbox.
A director from the Isle of Man is making his mark in the UK theatre scene as he prepares to start as staff director at the Royal National Theatre for a production later this year.
John Young, from Douglas, will be starting in October with the National Theatre in London to work on a new play called Carrie Jackson.
To get there, Mr Young has done his fair share of work for his very own company and in theatres across the British Isles.
It started in his school years when he got involved in local amateur dramatics.
Becoming a member of the Douglas Choral Union and the Manx Operatic Society, Mr Young did drama at St Ninian's High School as well.
'That was the start of it,' the 31-year-old said. 'I then went to the University of Chester and did a drama degree there.
'Whilst at university, I set up my own company and we submitted productions to the National Student Drama Festival, which is this big drama festival for students.'
Having trained as an actor, the switch to directing came during his time at university in 2010.
Mr Young said: 'I had always wanted to be an actor but I started directing and suddenly, things made sense.
'If I'm honest, I did it because there was no one else to do it, so it's not like I had this massive desire to direct a show. I set up my company and we didn't have a director. I thought I may as well do it and something just felt right about it, things suddenly made sense.
'And then I basically never went on stage ever again. I actually can't think of anything worse now!'
He continued: 'After uni, I did the emerging trainee director scheme at Theatr Clwyd, a theatre which is just over the border in Wales from Chester.
'From there, I went to the Finborough Theatre in London, just off the West End, where I was the resident assistant director for a little bit.
'I was then selected to the National Theatre directors course, and that was where I trained properly as a director.'
Mr Young then had a run of shows, which he directed.
'I did quite a few,' he said. 'I did a show in London based on a new book called, We Know Where You Live.
'I also did a production whilst I was at Theatr Clwyd called Scattered, which was about a Syrian refugee. We actually took that play to a refugee camp in Calais. They built a temporary theatre that they called "the jungle".
'We also then performed at the Southbank Centre in London, and did a tour of that play, so that was a pretty big production.
'I've been back to the Isle of Man, too. I worked with a friend of mine, who is also from the Isle of Man, and he does some of the amateur dramatics. We did a show about his story with depression, which was called The Funny Thing About Depression.
'I also did a show where you make it from scratch in a week. It was with people who didn't necessarily have any kind of theatre experience.'
He explained why he loves working with people who don't have a theatre background, saying there's 'something special' about being part of their journey.
'I really love it because I think there's something really beautiful about being in a room with people who are there because they fundamentally love it and enjoy it,' Mr Young said.
'I think there's such a community spirit around those things because people are there literally because they adore it.
'The reasons that everyone's in it are pure love and passion for performing and I think that's really beautiful. Of course, professional actors also love their job but they also are there because they get paid.
'It's really lovely to work with people who haven't done that because you can see them learning and you can see them transformed in a way.
'I love the journeys that people go on.
'As a director or facilitator, that's my job, to take them on that journey. When you watch somebody who started the process, and then you see them perform, and knowing that you've been part of that journey, and you've led them there is really special.'
On briefly working back in the Isle of Man, the director said he admired how much people have a real passion to put on productions to a high standard.
He said: 'It's phenomenal. We're blessed.
'We're so lucky that there's such a vibrant art scene on the island. I mean, just look at the talent that's come out of it.
'There's all of these amazing societies and groups who are putting on these really great productions, who want to put on work which is at professional standard.
'Stephen Craige, my drama teacher at school, was phenomenal and a major part of that.
'You're getting this amazing arts education in schools and then in the evenings and on weekends, you've got access to all of these other groups. We're massively blessed and fortunate to have what we have.
'I think we are also blessed with one of the prettiest theatres I've ever seen. I've seen a lot of theatres, and the Gaiety is incredible, it's so beautiful.
'The island is so lucky to have that and it's in such good nick, it's really looked after.'
Mr Young is currently working on a production of Romeo and Juliet in Grosvenor Park in Chester.
'That's a big open air theatre,' he added. 'This is the second time I've done something there.
'It's running until the end of this month and it's been reviewed very well. It seems to be quite popular and people seem to be enjoying it.
'It's quite a good balance between being quite fun and being quite tragic. People need that right now because the world's a bit glum, so I think the more joy you can pull out of it, the better.'
And when he's not working on big productions, Mr Young is lecturing at The Hammond School in Chester, which specialises in performing arts.
'I direct a lot of their big productions though,' he added.
When asked if he has a favourite genre to direct, he struggled to choose, saying: 'It's hard, I don't think I have a favourite genre.
'I love the fact that everything is so different. I grew up on musicals but I could sit here and talk loads about why I love community theatre.
'I love them all in different ways, but I genuinely love the fact that all the work I do is really diverse and dynamic.'
Through his passion for directing, he has discovered the world of film and has directed a few short projects.
'Film is something I'm starting to explore,' he said. 'It's totally different because there are so many more components to think about when you're working on film.
'In theatre, you often start thinking about all the technical elements when you get into the tech rehearsal but you're doing that all the way through the process in film.
'So, I'm looking to maybe do more of that in the future as well.'
Comments
To leave a comment you need to create an account. |
All comments 0