Festival showcases best of local food and drink
Thursday 22nd September 2022 7:00 pm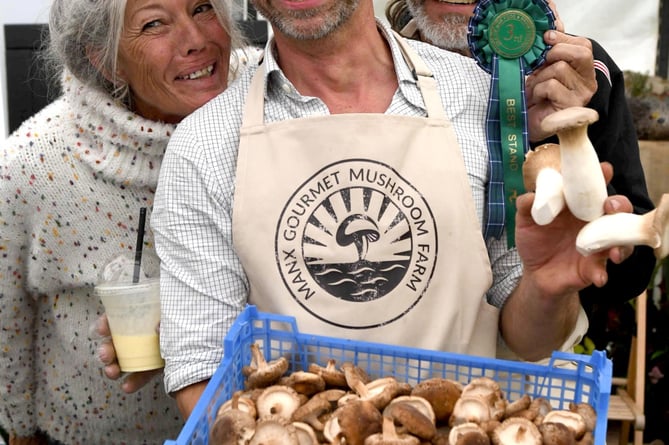 The 2022 Isle of Man Food and Drink Festival - the Manx Gourmet Mushroom Farm
Subscribe newsletter
Subscribe to our email and get updates right in your inbox.
Thousands of visitors enjoyed the wares of more than 70 of the island's producers at the Isle of Man Food and Drink Festival at the weekend.
Local talent provided a gentle musical ambience, as people enjoyed stalls, cookery demonstrations and Manx-made crafts in the Villa Marina gardens.
This popular, family event had a reflective atmosphere this year, following the death of Her Majesty Queen Elizabeth II on and respects were paid with a minute's silence at 11am on both days, followed by the Royal and Manx national anthems.
Producers were clearly pleased at the chance to share their delicious creations: stalls were brimming with homemade cakes, puddings and jams; hot-from-the-oven loaves and pastries; delicious seafood; craft honey, and the freshest Manx vegetables, meats, and cheeses.
Festival-goers enjoyed sampling products in the relaxed setting, some with a signature local tipple in hand, meeting and greeting some of the people behind our vibrant local food and drink scene.
Plates were full in the festival picnic area, as visitors enjoyed rich and varied flavours from Thai Thai, Filbey's Little Food Shack, Lecreperie, Street Kitchen, Grill Pit, and Monapoli, and those with a sweet tooth were satisfied by Davison's Ice Cream.
The Manx Cookery Theatre hosted masterclasses from celebrated local chefs and producers, with demonstrations ranging from delicious DIY cocktails to vegan cookery and homemade gelato.
Isle of Man Meats demonstration featured butcher Stuart Rae breaking down a full lamb carcase with Maciej Mierzejewski cooking lamb leg steaks in garden mint sauce along with a new recipe, lambs liver and onions, with commentary by Kirree Kermode.
On Saturday, the prize for Best Stand was awarded to second-time winners, Berries, purveyors of fine puddings and chocolates. Second place went to Angelica Belle, and third, to The Manx Gourmet Mushroom Farm at Y Gharey Nursery.
Ben Wood, managing director of the event's sponsors, Bally's Interactive Isle of Man, said: 'We are proud to have been part of such a wonderful community event, which brings to the fore such an important cause – supporting local producers.'
Outlier Distilling were first-time exhibitors at the Festival and co-founder, Ian Warburn-Jones, said: 'We've enjoyed the Isle of Man Food & Drink Festival before as visitors, but to share our livelihood with the public has been a fantastic feeling. Times are tough, especially for new businesses, and the enthusiasm we have received from customers has been overwhelming.'
His co-founder, Rick Dacey, said: 'It was such a great opportunity to be able to introduce our Hoolie Manx rum to so many people - and really exciting to see it so well received.
'We sold through all our stock on the Saturday and had to reload for the Sunday, so it went really well. It was really great for sales and for market testing and it was an amazing confidence builder.'
Adi Moore, head of food and drink for the Department of Environment, Food and Agriculture, who organise the festival, said: 'Our food and drink industry is essential to the island's prosperity.
'We're so pleased by the support the Isle of Man has shown this weekend, for the people who work hard all year round to make our food and drink culture so unique.
'Every effort was made to adapt the event to appropriately reflect current circumstances, and we're glad businesses had this vital opportunity to share their passion for local produce.'
Comments
To leave a comment you need to create an account. |
All comments 0