Geese let loose and dumped in harbour
Saturday 1st January 2022 9:41 am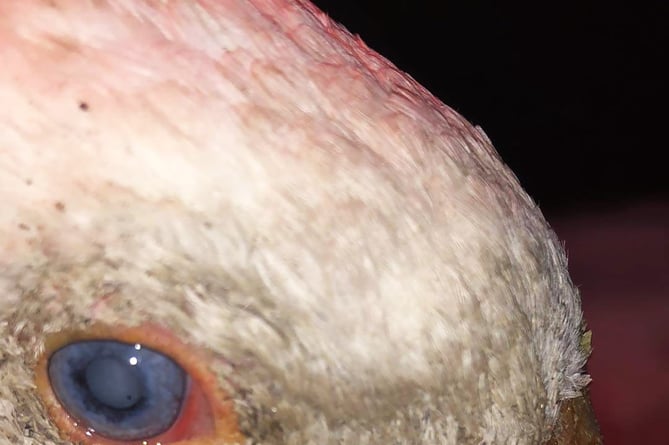 Domesticated goose found in Castletown with cataracts Photo: Manx Wild Bird Aid
Subscribe newsletter
Subscribe to our email and get updates right in your inbox.
Several domesticated geese have been 'dumped' in Castletown.
Manx Wild Bird Aid says 'a goose isn't just for Christmas' and is appealing for help from the public in finding out where the geese came from.
It said the charity had rescued one goose which was 'almost blind from cataracts, very underweight and has a balance problem' and another it took in appeared to be a 'fancy, rare breed, such as a Tufted Roman goose'.
David Cole, founder of MWBA, said: 'There were three geese dumped at Castletown just before Christmas and a few weeks ago, another one in Peel.
'These are domestic geese and do not know how to feed and care for themselves in the wild. Often the indigenous geese will not welcome new geese into the flock and will attack the newcomers.
'The Peel goose had to be fed separately from the main flock for some weeks until it was accepted by the rest of the flock. One of the Castletown geese was seen with blood on its back, this injury may have been caused by other geese defending their territory.
'Even when geese are able to join existing geese, this could result in an unbalance in the eco system. The river or lake may not be able to support the additional birds, so everyone suffers as there is not enough food to go around.'
He said that domesticated birds do not have legal protection from humans like native wild birds do, and conservation groups such as Manx BirdLife have found that they compete with native wild birds for resources and have a negative impact on them - especially if they manage to survive and start breeding out of control.
'Please don't dump them - find them a new home where they will be properly cared for and protected instead,' Mr Cole added.
Manx Wild Bird Aid has taken one of the Castletown geese into its care because it has cataracts in its eyes.
'It could not see to feed itself, as a result it was starving and was found laying on its back in Castletown harbour,' Mr Cole said. 'It also has a respiratory infection, which MWBA is treating under a vets direction.
'The person who dumped the birds may have thought they were giving the geese a better life on the river, but it would have been much better to have re-homed them in a responsible manner.'
He added: 'There is no treatment for a goose with cataracts so it will need support for the rest of its life.'
The charity has said if you see someone dumping domesticated birds, try to get a video and a registration number.
'Help us to stamp out this cruel practice,' it said.