Isle of Man team in Romania for biggest World Cup of Darts
Tuesday 8th October 2019 6:56 am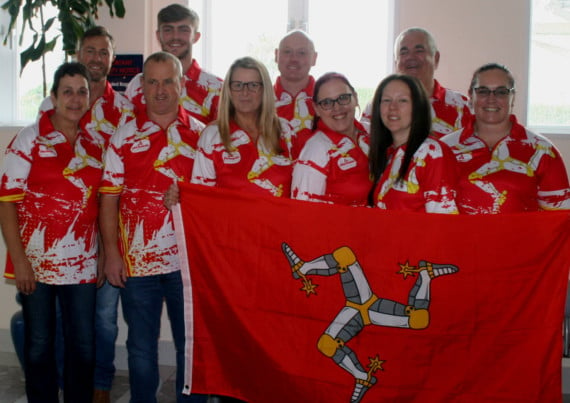 The Isle of Man team at Ronaldsway Airport prior to their departure to Romania for this weekâ??s World Cup of Darts. (Back row l-r) Aaron Bradley, Shaun Kelly, Kevin Lane, Simon Brown. (Front) Rachel Robertson, Willie Biggane, Wendy Andrews, Nikki Bardsley, Sarah Taylor, Janine Halsall
Subscribe newsletter
Subscribe to our email and get updates right in your inbox.
Isle of Man Darts Organisation has sent representatives from north, south, east and west to the World Cup of Darts in Romania this week.
The World Darts Federation event gets underway at 11am (GMT) today, Tuesday, at Cluj Napoca and will last six days.
It involves 488 players from 55 countries, and it is estimated that during the largest World Cup to date a combined total of more than one million darts will be thrown in a bid to decide who will be crowned champions of the world.
The action starts with the singles event, to be followed by the pairs and team competitions on Wednesday and Thursday.
The last-16 and finals of all events will take place on Friday and Saturday.
Players from across the Isle of Man have battled for the right to represent the island all year in local ranked events.
The men's team is made up of captain Willie 'Van der Peel' Biggane, western wonders Kevin 'the train' Lane and Shaun Kelly, southern shark Simon Brown and northern ninja Aaron 'Matron' Bradley.
Women's captain Janine Halsall heads up a crack team of Douglas and southern belles Rachel Robertson, Wendy Andrews, Sarah Taylor and Nikki Bardsley.
The schedule of play, draw and results can be found at www.worldcupdarts2019 and live scores at dartconnect.com.
For more information about Isle of Man Darts Organisation and links to live streams of matches visit the iomdarts Facebook page.
IoM Darts Organisation wishes to thank all the venues and sponsors for supporting its events throughout the year.
It's the community that makes it possible and makes those who represent the island extremely proud to do so.
l If you are interested in supporting the team by participating in next season's events please email [email protected]
The Isle of Man team at Ronaldsway Airport prior to their departure to Romania for this week's World Cup of Darts. (Back row l-r) Aaron Bradley, Shaun Kelly, Kevin Lane, Simon Brown. (Front) Rachel Robertson, Willie Biggane, Wendy Andrews, Nikki Bardsley, Sarah Taylor, Janine Halsall
Comments
To leave a comment you need to create an account. |
All comments 0