Manx bees are sent to Shetland to boost population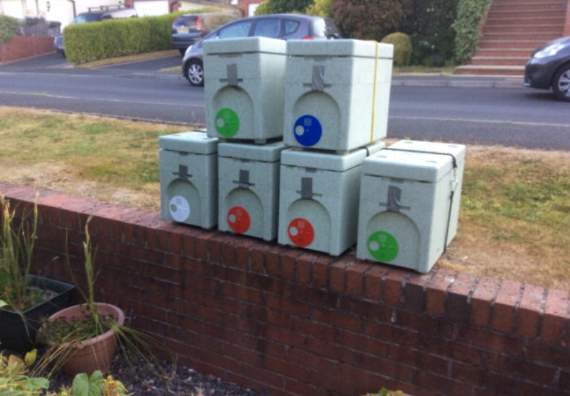 Transfer of Manx bees to the Shetland islands
Subscribe newsletter
Subscribe to our email and get updates right in your inbox.
Manx black bees have been given to the Shetland in a bid to boost the islands' dwindling numbers.
Beekeepers Harry Owens and Robert Wright arranged the transfer of between 10,000 and 12,000 bees after being contacted by Angus Nicol from Shetland.
Mr Nicol explained how the Shetland islands' bee population has dwindled in recent years.
He said: 'The last few summers and winters in Shetland have been hard on the bees with poor mating weather in the summers and long cold, wet and windy winters making it difficult and bringing about conditions where inbreeding was also beginning to be a problem.
'The next problem was acquiring enough native bees, free from varroa with a gentle nature. After searching and asking around I discovered that the Isle of Man had bees free from varroa mite.
'Following an email to Manx beekeepers I was directed to Robert Wright who was able to supply six excellent nucleus colonies of gentle disease free bees.'
Varroa is a parasite that also carries viruses which can lead to the collapse of a bee colony.
It is present in most countries with the Isle of Man, Australia and the Shetland islands some of the select few area on earth where it is not.
Following discussions, Mr Owens and Mr Wright set about forming six nuc hives (half-sized bee hives which make transportation easier) with the hives Mr Nicol sent to the islands.
Mr Owens, in his role as government bee inspector, then inspected the bees, to ensure they were healthy and had a good temperament.
Mr Wright then travelled to Heysham to meet Mr Nicol who had taken a 14-hour boat to Aberdeen and driven down to collect them personally.
He explained that the nuc hives had to be adapted for the journey including sponges to keep the bees hydrated and monitoring air flow.
Mr Wright said: 'There were loads of things that could have gone wrong. The bees could overheat, suffocate or be agitated by the journey,
'Mr Nicol is a very experienced bee keeper as well and he was very well set up with his vehicle.
'He had built platforms on his vehicle and he had ice under the hives to keep them cool.'
Mr Wright said that the bees have arrived in the Shetland Islands without becoming distressed.
'If they have been under trauma or stress, the queen bee stops laying eggs, but the six queens had continued laying the whole way,' he added.
Mr Nicol has transported the bees into hives and has confirmed the queens are still laying despite the long journey.
Due to the Shetland Islands being varroa-free, there are limited places Mr Nicol could have sourced the bees as, like the Isle of Man, you cannot import foreign bees due to the risk of them infecting the natural population.
However, Mr Wright said that the black bee from the island is well suited to the weather they will experience in the Shetland Islands.
He said: 'They are quite hardy and will go out in reasonably difficult weather conditions.
'Obviously, they aren't going to go out in snow or hurricanes, but they will go out in cool conditions and they should be suitable for the Shetland islands and this is probably as close as you could get to the ideal bee.'
Mr Wright added that the transfer of the bees has given him a reason to visit the Shetland islands.
And he plans to visit next year to see how the Manx bees are adapting to their new home.
Comments
To leave a comment you need to create an account. |
All comments 0