Meet the Isle of Man's very own 'supervet'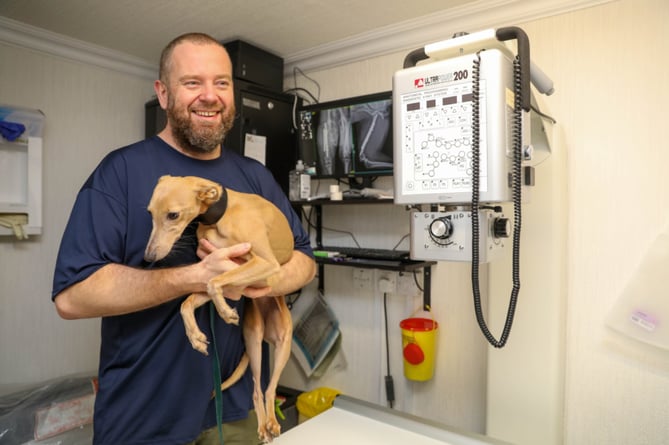 Lukasz Kuberka & Phoebe photographed at Medicor Veterinary Practice. Photo by Callum Staley (CJS Photography)
Subscribe newsletter
Subscribe to our email and get updates right in your inbox.
The Isle of Man now has its own 'supervet', Lukasz Kuberka, who is able to perform orthopaedic procedures at his Santon practice, Medicor, that were previously only available in veterinary centres in the UK.
When I went to see him at the end of November last year, to talk about some of the operations he has already carried out here - around 200 so far - he was buzzing.
He had recently returned from the London Vet Show, where he had been shown some of the very latest products designed to aid the repair and recovery of animals with orthopaedic problems and injuries. Lukasz had a patient, a seven-year-old Labrador called Simba, who needed an operation to repair his Achilles tendon and he knew that these products could help.
He told me: 'I'm so excited. I spoke to a specialist at the show and we found a super special Achilles tendon implant to fix it.
'We also found some special types of new casts which will be introduced on the market early this year but, because I explained to them my case and how much I needed it for this dog, they just made one specially.'
For the last three years Lukasz has been performing surgeries on broken legs, damaged ligaments and tendons - things that owners would previously have had to take their pets across to have put right.
He said: 'There are a lot of things which we can do in the island, they don't have to travel any more and it's more about the stress and quality of life of the animal.
'It's also difficult for many people. They have to find accommodation and take time off work and I thought it would be nice to tell people about the therapies we are doing in the island so that they know that they don't have to do that any more.
'In most cases, after the surgery, when people bring their dog or cat with a broken leg here, when I've fixed it, the same day the dog goes back home so you have an animal who is waking up and recovering in a nice friendly home environment.'
Simba's surgery took place on December 1 and last week I went back to Medicor to see how he, and two other dogs who have also undergone complicated orthopaedic procedures, are recovering.
Simba's owner, Carrie Cooil, said: 'When Lukasz came back from the show with this new information he was just buzzing, so happy to be able to bring something back that would be able to help.'
Following the operation Carrie was able to bring Simba home that evening with his leg in a splint. Almost from the start, he was able to walk around, putting weight on the leg.
Carrie said: 'After about a week to 10 days we were able to start using the new cast. This new procedure has enabled him to be able to walk normally within the house and just use the cast when walking outside. It has given him a much better quality of life during his recovery.
'He only uses the cast now when he goes out for exercise. In another five weeks he can start short lead walks without the cast.'
As Carrie is doing, carefully following the vet's advice for Simba's rehabilitation is also a vital element in the dog's recovery. Because Simba's surgery was performed in the island this means that Lukasz and his team are on hand to advise and check his progress throughout this period.
Carrie said: 'The care we have had from Lukasz and all the staff at Medicor is excellent and they are always willing to give help and advice if needed. It's been a wonderful job and we're delighted.'
In November, Pheobe the whippet suffered a nasty fracture of the femur, with bone fragments displaced.
When Lukasz operated on her it took him five hours to put it right. To look at her now there is barely a scar. Her owners, Chris and Jo Bateson, said: 'The x-rays were horrendous. Lukasz operated on the Sunday and five days later the cast came off, which was unbelievable, and she was walking on a lead.
'After four weeks she could then do five minutes walking on a lead three times a day, then the following week, 10 minutes, then 15 minutes, then after that she was free to go.
'She didn't even need very much pain relief. We were given some for her, but within about two weeks she didn't really need it. It was quite clear that she was on the mend.'
Chris Bateson added: 'I said to Lukasz: "Forget about Noel Fitzpatrick - you can do better than him!". We don't need to go across now, we've got a man on the ground.'
James Mychreest's springer spaniel, Scout, was injured during a family walk back in September.
James recalls: 'We were in the Dhoon Glen, down by the beach, the kids were playing with her and all of a sudden there was a big yelp and she couldn't put weight on her right leg.
'We think she ran into an old lump of metal that was in the undergrowth. I emptied one of the rucksacks and put her in and carried her back to the top. The x-ray showed that the front right elbow was badly broken and Lukasz said that he could operate.'
Front elbows on springer spaniels are prone to this sort of breakage and they can have a preexisting genetic condition where the end of the humerus doesn't completely fuse together.
James said: 'When she came in for the operation Lukasz said: "I'll have a look at the other leg and if that's got the same problem I'll put a bolt in that", so he did.
'The broken one was pinned and plated and the one on the other side had a bolt put in it to protect it from the same thing happening to that leg.'
When James picked Scout up that evening after the operation she was 'a floppy mess with both front legs in bandages, still coming round from the anaesthetic'.
Eight weeks later she was able to go out for short walks and today she is running and jumping around as if nothing had ever happened.
James said: 'When the soreness wore away and she thought she was fixed, that's when it got difficult because we knew that she wasn't yet, but we persevered and followed the instructions absolutely. Now she's 100 miles an hour and absolutely full of beans, as all springers are.'
And he added: 'These guys here have been fantastic, I can't praise them enough.'
According to Lukasz, orthopaedic surgery for dogs has made such advances that it is not the ordeal for them that it used to be.
He said: 'It's not that bad any more because we have such good painkillers that we can keep the pain under control. Cruciate ligament damage is one of the most common problems. Fifteen years ago, when I graduated from university in Poland we had only two ways to sort it out: one was expensive and the other had a long recovery time.
'Now, a few days after surgery when we take the dressing off, the dogs are walking almost like nothing happened, which impresses not only owners but also me, because I know that's how it should be but still, when I see them walking, it's just unbelievable.
'I still think: "Whoa - that's a bloody miracle!"'
Comments
To leave a comment you need to create an account. |
All comments 0