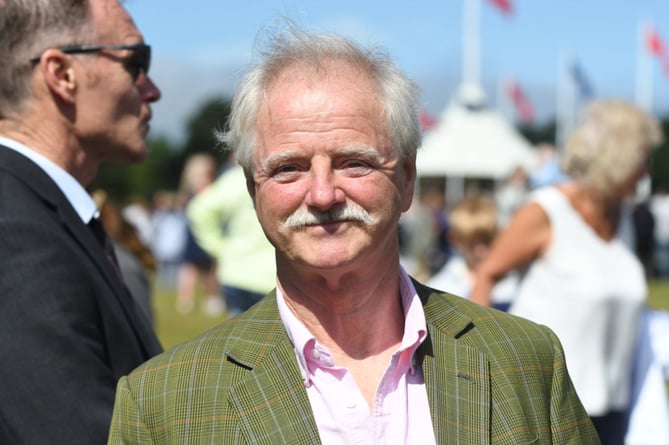 Tynwald Day 2021 - petitioner David Buttery
()
Subscribe newsletter
Subscribe to our email and get updates right in your inbox.
A select committee has been formed to establish a more efficient and co-ordinated effort of resources and money in regards to the upkeep of our island's extensive footpaths network.
Its formation was approved in Tynwald on Tuesday (November 16) after a motion presented by Douglas South MHK Sarah Maltby.
Mrs Maltby picked up a petition presented by David Buttery on Tynwald Day earlier this year.
In presenting the motion, Mrs Maltby made her maiden speech in Tynwald - seen as a rite of passage for any new Member of the House of Keys.
The motion moved that a committee of three members be appointed to consider, consult on and report on the petition, and that the committee should publish its report by the last day of April 2022.
It was seconded by Garff MHK Daphne Caine and passed unanimously in the court.
The select committee will consist of Mrs Maltby, Mrs Caine and MLC Bill Henderson.
Posting on social media after the motions approval, Mrs Maltby said: 'Thank you Daphne Caine for seconding my motion today to form a select committee to establish a more efficient and co-ordinated effort of resources and money in regards to the up keep of our islands extensive footpaths network.
'This petition was presented at Tynwald day this year by David Buttery so, as a "newbie" with extra pressure on, the success today is made even better as I managed to support a friend and fellow campaigner for "common sense" along the way too.
'Thank you to Rob Callister, Tim Johnson, Bill Henderson, and Kerry Sharpe who each made contributions in support today.
'The committee is made up of three members who were elected. Myself being one, Daphne Caine being the second and Bill Henderson the third.'
She added: 'The Clerks of Tynwald will summon interested parties and the petitioner in due course so please, watch this space if you wish to be involved going forward.'
Mr Buttery had suggested in his petition presented on Tynwald Day that one agency takes responsibility, rather than the current three.
He had noticed the state of the footpaths while walking and mountain biking around the island.
He said at the time: 'What we need is a single agency, one body responsible if you like.
'They've all got different things going on, they've got different budgets, different agendas, so it's very easy for them to say water or the promenade is more important, whereas if you had a single agency and that's all it does, that could work better.'
l Work to restore a pathway at Glen Maye in the west of the island has been completed.
The environment department said the footpath from the car park to the waterfall is now open to the public.
No date has been confirmed for the next phase of work to replace the footbridge at the bottom of the glen.
Comments
To leave a comment you need to create an account. |
All comments 0