Boss runs business from garden summer house
Thursday 16th July 2020 3:40 am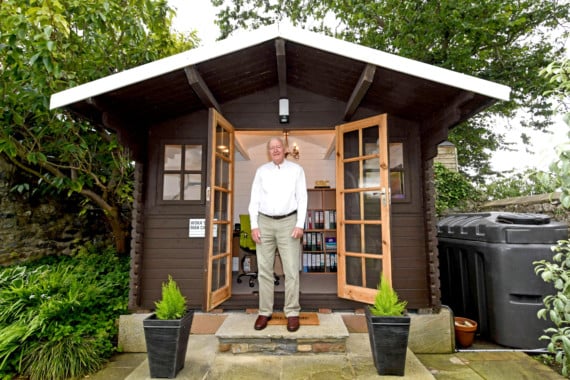 Warwick Bartlett of GBGC in the home office he created in his garden -
Subscribe newsletter
Subscribe to our email and get updates right in your inbox.
Chief executive Warwick Bartlett is embracing a new way of working from the summer house in his back garden following the coronavirus crisis.
Mr Bartlett, who is married to Jennifer, is an example of how people have taken remote control of the workplace.
Earlier this year he took the decision to hand back the lease of the top floor office in Malew Street, Castletown, which was the headquarters of the business he founded, Global Betting and Gaming Consultants.
Now he and his three-strong island team are all working remotely from their homes.
Business News has also discovered that the pandemic has led to a change in thinking in the island over home working - something that many previously believed could only be done from the office.
Former bookmaker Mr Bartlett, originally from the West Midlands, inherited the summer house when he moved to his current home in Castletown in 2009.
The wooden structure was a place 'where we stored things like suitcases. the mower and all that kind of stuff. There were lots of spiders in here and stuff. So I have given it a clean-out, painted it, had some carpet put down and had the electrician come and rewire it all'.
He's also had a radiator fitted - 'it's got a timer fitted so it comes on an hour before I get to work in the morning'.
Mr Bartlett added: 'On a sunny day I can sit here with the doors open, it's quite relaxing really.'
A sign outside indicates this is 'Woka's man cave' - a reference to Mr Bartlett's old school nickname.
The electrician got to work on extending the home broadband into the garden office and installed several power points to accommodate Mr Bartlett's PC and other equipment.
Light is even provided by some fitted chandeliers.
Taking pride of place is the award he was presented with a couple of years ago after being included in a hall of fame for services to the betting industry, and a signed photograph of the Liverpool team that won the European Cup in 1977.
He reckons he will have eventually spent around £1,000 on getting his new office shipshape.
Sitting in his plush new workplace where he compiles gambling reports and offers gambling consultancy services to outlets across the world, he admitted to Business News that he had always enjoyed being an office person.
He said: 'To be honest I had always been an office person, I enjoyed talking through things and being able to bounce ideas off people.'
He said he took the decision to give back the lease on the office early on in the crisis around a fortnight before the island locked down and people were advised to work from home where possible.
'I had been tracking the virus since December and when they locked down Wuhan I thought then that this was serious because they had locked down a state that was bigger than London.'
He added: 'I still think that when this is all over I can see a return to office work for some people, but not everybody.'
Mr Bartlett's company also employs three people in Croatia and they also work remotely.
Mr Bartlett and his wife Jennifer have between them four grown-up children and seven grandchildren.
Fiduciary company ILS World is currently trialling 'a new way of working' in which some staff can elect to work for two days a week.
Fiduciary services director, Teresa Mee told Business News: 'Whilst the lockdown was undoubtedly a shock for us there were some elements of it we all enjoyed, perhaps more than we might have expected. After an initial settling in period there were very high productivity levels and there were some great examples of staff being flexible and adaptable.
'Following the announcement social distancing measures were suspended we felt re-entering the office would be quite daunting for some so we opted for a transitional week with staff doing a mixture of working from the office and from home, it was a move that on reflection we felt went very well.
'We then had a few weeks working together in the office minimising the number of visitors, introducing hygiene protocols, amending office procedures, revising our dress code, assimilating back into office life and catching up with colleagues face to face.
'We are always trying to look at what we do and how we can improve things and it seemed appropriate to look at trialling a voluntary working from home scheme. ILS recognises a better work-life balance can improve employee motivation, performance and productivity. There is a commitment to exploring flexible working arrangements and by testing this policy ILS is demonstrating trust in its employees.
'It won't work for everyone and there are some tasks that can be carried out more expediently from the office. Those opting to take part in the trial can elect to work from home for up to two days a week with line managers planning rotas on a weekly basis taking into consideration operational, personal and practical considerations.
'This is unchartered territory for us all and we will be monitoring things carefully but we are excited to be trialling a new way of working and seeing what we learn from the experience.'
Meanwhile, Terry van Rhyn, founder and director of Ashgrove Marketing, stressed the benefits of working from the office.
He said: 'Although it is relatively easy to manage the operational side of the agency remotely - and the team were in daily contact with each other during lockdown - working from home does pose some problems when it comes to the more creative side of our work. It's always better to brainstorm and collaborate creatively together in person, especially when you're working with such a happy, positive bunch of people.'
He added that digital innovations such as Zoom and Teams are 'great in their way but there's an important dynamic missing when you are not physically together in the same room. Having said that, we did our best to keep our spirits up and inject a bit of fun into our online meetings'.
Mr van Rhyn explained: 'The return to the office for us was reasonably straightforward and happened naturally over a week or so. We made sure all the extra hygiene regimes were in place (including buying lots of amazing hand sanitiser from Fynoderee) and then everyone came back as soon as they felt confident and safe.
'There was no directive to return, people just came in when they were ready. Other precautions include keeping a visitor log, in case there should ever be a need to implement contact tracing, and a general increase in the frequency of cleaning.
'Marketing budgets are often the first casualty of a downturn in the economy and we are grateful to the Isle of Man Government for supporting SMEs (small to medium enterpises) at this time. Fortunately, as companies are finding their feet again, new business is coming back in and we expect to be in full swing again very shortly.'
Insurance company Quilter International, which employs more than 400 people at King Edward Bay House in Onchan, says that there has been 'renewed interest in the opportunities which flexible working offers for employees and the company as a whole'.
A spokesman said: 'The company is in the process of engaging with employees using focus groups to gather views about what the future of work could look like.'
Chief executive Peter Kenny said: 'It has been inspiring to see how everyone has worked together and gone the extra mile to support one another and maintain the service we provide to clients and advisers. Of course, even though social distancing restrictions have been lifted there is no room for complacency, so the health, safety, and wellbeing of our employees continues to be our top priority. We have put in place a range of measures to ensure we're ''staying responsible'' during this phase in which we must all adapt to a new normal.'
Quilter International says it is continuing to monitor government announcements and, in the unfortunate event of a 'second spike' in Covid-19 cases, the business is ready to bring in social distancing and other related measures if it is necessary to comply with government guidelines and industry best practice.
A Manx Telecom spokesman said office-based and administrative staff have only recently begun a phased return to the headquarters on the Isle of Man Business Park, with many choosing a 'hybrid' working pattern of some days at the office and some at home.
Manx Telecom chief executive Gary Lamb said wherever possible, the company has embraced flexible working which had proven to be successful for many staff, as well as the business generally.
He said: 'The Covid-19 lockdown has demonstrated that there are other ways of working that suit some of our people much better, allowing more scope to meet their personal commitments but also allowing them to be more productive. We have consulted with our staff every step of the way on our Covid-19 journey as staff safety and well-being is the top priority for any business. What we have learned about flexible working through this crisis has informed the way we go forward and it's likely that many changes we put in place to help us through lockdown will be adopted for the long term.'
Manx Telecom has also extended its employee wellbeing programme which includes weekly wellbeing webinars and useful resources. Regular staff surveys will capture feedback on staff attitudes and concerns, with help available to anyone who needs it.
Mr Lamb added: 'Managing a crisis is all about preparation and we're delighted our business continuity plans have served our people and our customers so well.
'Our priority has been to keep our staff and customers safe, and to keep people connected during this period.
'We also recognise it's important to take the learnings forward and ensure we remain resilient and ready for anything in the future.'
Comments
To leave a comment you need to create an account. |
All comments 0