Digital Matters: Significant year for digital sector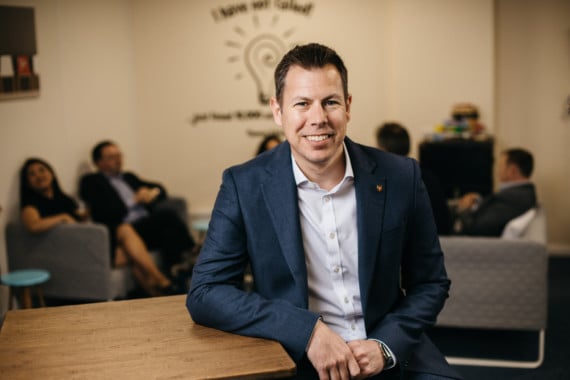 Subscribe newsletter
Subscribe to our email and get updates right in your inbox.
Responsible for the growth and diversification of the island's digital economy, the agency has forged ahead with its ambitious plans to position the Isle of Man as a centre of excellence for digital innovation.
As we approach the end of 2019, chief executive of Digital Isle of Man, Lyle Wraxall, reflects on the past year and looks forward to the challenges of the year ahead.
It has been a whirlwind year in the Digital Agency; a year that has seen several island firsts and the development and implementation of new initiatives, designed to solidify the Isle of Man's position on the world stage as a global leader in technological innovation.
e-gaming has long been and will continue to be a significant player in the island's economy and it is forecast that there will continue to be positive growth within the sector in the island. Yet, while the current landscape of the island's e-gaming sector is experiencing a period of adjustment and consolidation, it's important to remember that any mature industry experiences these changes, and mergers and acquisitions are a fundamental and necessary part of progression.
It's widely accepted that most new industries are fragmented and consolidate as they mature.
But how does that work exactly? Long-term analysis of mergers the world over have found that most industries progress predictably through a clear consolidation life cycle â?? and that businesses can plot with some precision where they fall in the sequence. Although mergers are a normal part of any industry, we are seeing a shift in the e-gaming sector, in that there are fewer, but much larger deals.
This change has enabled us to take stock of the agency's aims. While our business model 10 years ago was largely based upon bringing new industry and business to the Isle of Man, the present climate is the ideal time to support organic growth within those businesses and sectors that already call the island home.
In establishing a conversation, we can reach out and listen to feedback from industry, listening to their needs and providing solutions in the most effective manner.
To achieve this, we have recently appointed three strategic partnership managers, who will be developing and maintaining, long-term, meaningful relationships with industry and stakeholders.
The agency will continue to diversify beyond e-gaming while being more responsive and reactive to the needs of the e-gaming companies already on-island, and the next logical step is to nurture and encourage advancements in AI, big data, e-sports and, of course, blockchain, whose relationship with e-gaming allows us to capitalise on the emerging trend of blockchain-enabled gaming that is transforming the sector.
Evidence of blockchain supporting gaming is already being seen in the island. Online gaming operator GoodGaming will be imminently launching a new online casino brand powered by CasinoCoin, a showcase of what can be achieved by the partnering of two local companies; FunFair Technologies has become the first operator to obtain a token-based software supplier licence in our jurisdiction which has cemented them as a leader at the forefront of regulated, decentralised technology and token-based gambling; and RoBET has become the first blockchain-based sports betting business to secure an on-island licence.
These are just some of the year's success stories within the e-gaming and blockchain sphere, and proves the Isle of Man is the go-to jurisdiction for legitimate blockchain betting businesses due to our international reputation and our ability to engage with regulators with transparent dialogue and cost-effective efficiency.
February marked the launch of Blockchain Isle of Man, a partnership between government and industry with representatives from PwC, KPMG and Blockchain Consultancy, Jade Research acting as secondments for regulatory lead, regulatory manager and technical lead respectively.
Blockchain Isle of Man was initiated to guide blockchain businesses through regulatory landscapes and focused on expert-led assistance and guidance.
Establishing an on-island blockchain consultancy was the first step in our commitment to constructing the Isle of Man as an international hub for blockchain businesses, providing flexibility in the landscape of this emerging and transformative technology.
Blockchain Isle of Man now has a staff of six, each with their own specialism, encompassing the strategic, operational, regulatory and technical elements of the organisation.
In a short space of time, the team have created an environment that enables blockchain enterprises to develop and grow, while maintaining a continued relationship beyond initial contact.
As a result, the island's blockchain community is flourishing, with 50 applications for office induction and 26 businesses now accepted in a diverse range of industries including, education, advertising, charities and payments, showing that e-gaming is not the only sector set to benefit from this transformative technology.
Our involvement in blockchain has enabled us to partner with industry to attend worldwide exhibitions, promoting the island as an international blockchain hub, with stand presence and speaking slots in the UK, Malta, Prague, and New York to name a few.
It has continued our presence at B2B gaming events such as ICE London, IGB Amsterdam, and SiGMA Malta, exhibiting alongside industry to promote the island as the premier jurisdiction for licencing and incorporation of e-gaming businesses.
It is an absolute necessity for any leading jurisdiction to demonstrate a robust telecoms infrastructure, with networks allowing access to entertainment, retail, educational, health services, and more. While we have a solid base of whole island broadband to build on, we are committed to delivering ultrafast fibre to over 99% of the island's businesses and residences, solidifying our position on the global stage as a leader in power and telecoms infrastructure.
The process of appointing a preferred supplier to deliver the island's National Broadband Plan, as outlined in the National Telecoms Strategy, is well under way.
There's much to look forward to in the year ahead as we continue to diversify the island's digital sector.
Partnerships such as e-gaming and blockchain will only assist in expanding the island's digital economy, which in turn will create more opportunities (such as job creation) and will ultimately enable the sector to thrive.
With our continued endeavours for island-wide diversification, the agency is driving forward its proposition in the e-sports industry (set to be worth 1.79 billion US dollars by 2022) - an initiative which has seen us partner with local service provider, SMP, who are harnessing their reputation in the e-gaming industry to provide bespoke solutions to businesses that operate in this fast-evolving sector.
We expect to announce an exciting e-sports initiative in 2020, which will recreate the opportunities seen in the early days of e-gaming in the island.
By combining competitive elements of gaming with an eager fan base, the foundation has been set for the world of video games to achieve widespread spectatorship and popularity, with e-sports on track to become one of the most popular sectors within the next 10 years.
Internet of Things (IoT) technology will also be a focus for the agency going forward.
We have formed a working group to understand what opportunities there are for the Isle of Man in this area and how the Isle of Man Government may be able to use the technology in the island.
This is not to say that IoT is not being used in the island right now; local technology companies including Vannin Ventures and Manx Technology Group (MTG) are already conducting extensive research in this field, namely its positive impacts on the environment, allowing for a greener future.
MTG have conducted research on air quality around local schools, monitored river levels, and even analysed the optimum soil conditions for grain quality, used to make the perfect batch of whisky.
Beyond this, we have also formed a working group headed by Jerry Bowskill, ex chief technology officer (CTO) at Pokerstars, to understand the island's data proposition and if there are any further opportunities in data and its benefits for the Isle of Man's economy.
We will continue to work closely with local data centres to drive this forward.
2019 has been a hugely significant year for Digital Isle of Man and the island's growing digital sector, and 2020 is set to be a year where we can continue to improve our success on-island and our reputation off-island. e-gaming will continue to remain a core business sector for the Isle of Man, complemented by the emergence of new technologies, as the island promotes blockchain and tech trials into a much broader scope of its digital offering.
Providing support and space for diversification of on-island businesses can harness the power of all of these digital avenues and progress towards our ultimate goal of securing the island's future as a leader in the fast-moving, ever-shifting digital landscape.
Lyle Wraxall is the chief executive of Digital Isle of Man, the government executive agency responsible for nurturing growth, innovation, and excellence in the island's digital sector
Comments
To leave a comment you need to create an account. |
All comments 0