Keeping calm and moving home is Rob's job
Tuesday 24th August 2021 5:00 pm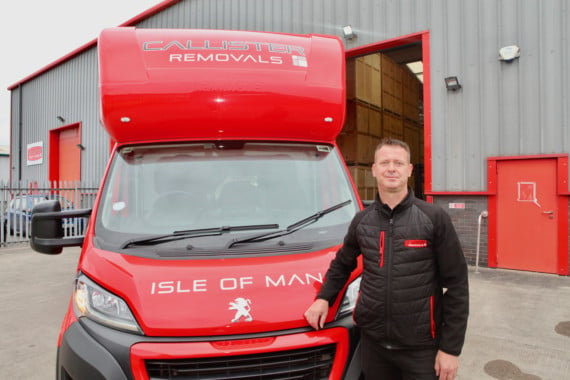 Rob Callister
Subscribe newsletter
Subscribe to our email and get updates right in your inbox.
For a removal company that has been in business for more than 60 years the sudden arrival of a whole new set of protocols and procedures could have caused chaos. After all, how do your crews carry a heavy piece of furniture whilst remaining two metres apart? How do you get your head around the mountain of paperwork now needed to send a consignment into Europe? Rob Callister, owner of removals firm, Callisters, tells Working Week how they have overcome the challenges of the last year and a half.
'We had a lovely little system beforehand then we had to rip it all up and start again,' says Rob.
Covid and Brexit have been a double whammy for anyone moving goods around but especially so for anyone carrying out a house move. It's a notoriously stressful time anyway, for everyone involved, but when Covid arrived out of the blue last year it brought a whole new level of logistical nightmares.
Rob has been working in the business since he had a holiday job there when he was still at school. Callisters Removals was started by his grandfather, Harry, in 1958. It was then run by his father, Paul, who in turn passed it on to Rob. He runs the business with his wife, Vickie.
But last March even Rob realised that he hadn't 'seen it all before', as the borders closed and they could no longer send vans and crews over to the UK.
He says: 'The week after lockdown the people going out [to the UK] all had to go into storage because there was no one in the UK that could even assist us - the borders were locked and no one in the UK could work so our hands were tied.'
Callisters has traditionally carried out off-island work, both UK and international; local, on-island house moves, and storage. As well as their Balthane base they also have depots in Preston and Banbury. Covid brought an increase in people wanting to move on and off the island.
Rob says: 'Social media likes to make you think everyone's coming to the island, buying up all the properties.
'I would say since lockdown's begun there's been more people coming, there's no question about that, but there's certainly been a number of people leaving as well. I'd say it was probably 70/30 [UK to IOM] last year but it's going more towards 50/50 now.
'The volume of work has definitely increased, on and off the island - people wanting to leave because they couldn't see their families in the UK, or returning residents wanting to see their families over here.
'One way or another, it's because they haven't been able to see family.'
'But there's always been a lot of traffic on and off the island.'
Once they were able to get things moving again, there were a lot of new restrictions to be taken on board.
Rob says: 'One member of a household was allowed to be in the house. We had to use face masks, gloves, hand sanitising, washing of hands, it was all the basic stuff, but obviously it was difficult for our crews to work not within two metres of each other when they're carrying something and that was a big thing then.
'We had to go and get quite a lot of PPE - face shields, masks, gloves, hand sanitiser, soap towels - everyone in the crew had their own towels with them.'
Clearly, at a time when the island had no cases of Covid whilst UK case numbers were high, the risk was more to Rob's crews than to anyone moving from the UK.
Rob says: 'The dockers in Heysham wouldn't put vehicles on the boat unless they had sat there for three days' quarantine first. But we still had to buy some coronavirus spray guns just to be on the safe side - we spent a fortune on PPE when I think about.'
No longer able to send crews over in vans, Rob made a major investment. He says: 'We had to change the way we worked so we went and purchased a removal step frame trailer which was contactless. The crews could put it on and off the boat with the tugs so they didn't have to actually get inside our vehicles.'
Callisters is a member of BAR, the industry regulatory body, and Rob adds that their guidance was invaluable in setting up new, safe procedures. He was also able to work with other UK members of BAR who would pick up the trailer to carry out a house move over there, or pick up a load in the UK and bring it to the boat at Heysham.
He says: 'It is more expensive to do it now than it was pre-Covid. We've got some good agents [removals companies] in the UK, but we've had to use a lot of them, all around the UK. It did become quite complex to start with but once we got the structure in place it seemed to work quite well.
'We've invested in the trailer so we will certainly continue to use it, but we need to get our vans back moving in the UK. They're very expensive assets and they are more accessible to people's properties than the trailer is.'
He adds: 'It's been a difficult process to get things in place but we're getting to a point now when we're used to this way of working.
'But, to throw into the mix on top of all that, we've had Brexit.
'There's 80-odd pages of what needs to be done now if you're taking your van over to Europe. Since Brexit we have done moves into Portugal, France, Spain and Sweden and every country have different rules. We have heard of people being refused entry into Spain. it's not as easy as it was before.'
Callisters' preferred way of working has been to use an agent in the UK who will group their load together with other consignments going into Europe and this will continue. Rob says: 'It means we can do it much more economically than we could do as a one-off trip. So we get a better price, give a better service and don't have to worry so much about the paperwork that's now involved in Brexit.'
But it's still complicated. If they are moving somebody to France, they have to take an inventory a few weeks earlier and have it translated into French. It then goes to the customs agent to be cleared and returned to them before the load can move.
'It's quite a long process - it's not cheap and it's not easy,' says Rob.
Then there's the on-island business: 'Here, it's pretty much back to normal apart from the boom in the housing market and the amount of people requiring house moves now,' says Rob.
He is quite clear that this boom is fuelled by one thing: the need for more space, especially outdoor space. Lockdowns have made people aware of its value and properties with garages and gardens are what everyone is looking for.
As Covid numbers went up again on the island recently, staff having to isolate have caused a few problems. Rob says: 'We've got though it but I think it's going to be an ongoing thing. No one really knows what's going to happen in the future and whether we're going to continue to get a hundred cases a day.
'Sometimes people are very stressed and now you throw Covid into the mix and they're even more stressed.
'It's been challenging but we've got some good staff, and some loyal staff, and they do go the extra mile.
'So it's trying to keep everyone calm and relaxed, which is sometimes difficult, and assure them that it's going to be ok.'
Comments
To leave a comment you need to create an account. |
All comments 0