Shock and surprise as leading manager leaves PokerStars in the island
Tuesday 20th October 2020 1:45 am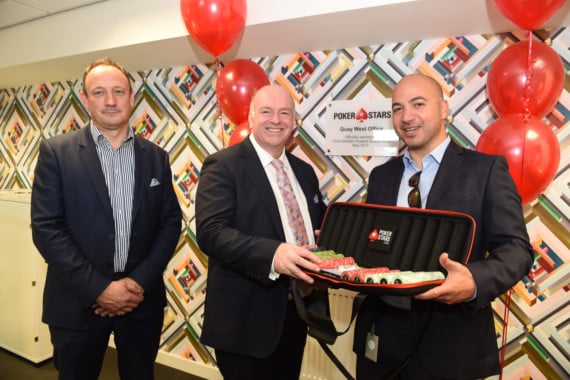 Flashback to June 2017 and the opening of PokerStarsâ second smaller office at Quay West Douglas. Left to right Guy Templer, chief minister Howard Quayle and Rafi Ashkenazi, who was then chief executive officer. The office has since closed
Subscribe newsletter
Subscribe to our email and get updates right in your inbox.
A leading manager at PokerStars who played a vital role in the 'mega merger' with gambling giant Flutter is leaving the company.
Isle of Man-based Guy Templer is one of the longest serving members of the executive team at the world's biggest online poker business.
An insider in the e-gaming industry, which accounts for more than 20% of the island's economy, said the news would be greeted with surprise and shock.
Mr Templer joined PokerStars in 2011 as group director of business development and strategy. Later he became chief operating officer and last year was handed the role of chief transformation officer playing a role in the 'mega merger' integration of the Stars Group with Flutter.
Vadim Barshtak, chief technology officer, is also leaving the world's biggest online poker operation. But PokerStars, now part of the Flutter Entertainment empire, which owns Paddy Power, still says that the island will remain an 'important' hub.
The news was revealed after a statement was released in which a Flutter spokesperson said: 'We can confirm that Guy Templer and Vadim Barshtak are leaving the business to pursue other interests, with no significant impact on operations.
'Flutter Entertainment is currently domiciled and headquartered in Dublin, however the Isle of Man is a key operational centre for the PokerStars business.'
The spokesperson added: 'We expect the Isle of Man will remain an important operational hub for the foreseeable future and our office at King Edward Bay will accommodate the hundreds of staff we employ in the Isle of Man, just as it did in the past and we are committed to our presence here.'
The Flutter spokesperson confirmed: 'Guy Templer was chief transformation officer for Flutter Entertainment and Vadim Barshtak was chief technology officer for Flutter International.
'Karen Tyrrell will take on Guy's responsibilities in the Transformation Management Office supporting Conor Grant and his leadership team as they embark on their transformation journey within the UK and Ireland division.'
Asked how many people are employed here the spokesperson added: 'We employ hundreds of people on the island.'
It has also emerged that PokerStars no longer has a smaller second office at Quay West, Douglas.
The spokesperson said: 'We had a small second office in central Douglas. However, we can confirm that we do not intend to renew our lease for a second office in central Douglas and will operate solely from our office at King Edward Bay.
'However, there are no plans to reduce employee headcount to accommodate the move.
'The move is consistent with trends across Flutter Entertainment in recent years to adopt more flexible remote working arrangements - which are now, of course, more important. We look forward to being together, collaborating and socialising under one roof once again.'
A source in the island's online gaming industry said Mr Templer's leaving was a shock because Mr Templer had been a key part of the PokerStars story in the island.
He said: 'I think this will send waves through the e-gaming industry. When you particularly mention to people that Guy Templer is leaving Pokerstars they will sit up and say: "What?"'
The source added that Guy Templer was a 'very important component with the island business'.
Castletown based Warwick Bartlett, the chief executive of Global Betting and Gaming Consultants, said it was not unusual for companies to see changes following mergers and acquisitions.
He told the Manx Independent: 'When you have two big companies merge head offices can often tend to be top heavy.
'The idea is that two companies come together and they make savings through the rationalisation of expenses, the largest expense often being employment.'