'Definitely queenies with bacon': What's your favourite Manx food?
Saturday 5th May 2018 4:19 am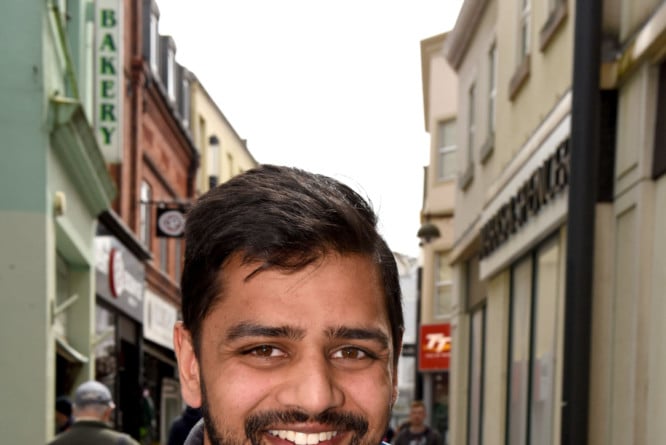 People's favourite Manx dish - Kunal Patel, Douglas
Subscribe newsletter
Subscribe to our email and get updates right in your inbox.
Loaghtan meat, Isle of Man Creamery butter or some smoked kipper. Which national ingredient takes your fancy?
The Examiner asked shoppers on Strand Street what they consider the best nationally-produced food is.
This comes ahead of the Department of Environment, Food and Agriculture providing residents a chance to vote for the new 'Manx National Dish', which will take place from May 21 to August 13.
A voting system will go live at www.gov.im/food where people can choose what ingredient should be recognised as the Manx ambassador of all foods.
The winning dish will be announced at the Isle of Man Food and Drink Festival in September.
'Definitely queenies,' said Irene Cannan, aged 64. 'I think they are so special, so delicate, but so flavoursome.
'I cook them with bacon and some white wine for my dinner and we always have them when we go out.
'I once walked out of the London Eye when they said that they had them on their menu, but they clearly didn't.
'So very patriotic,' she laughed.
'All Manx products are absolutely amazing! We can drive around and see the quality of the conditions they're produced in. I've got a huge respect for [the Manx food and drink industries].'
The Ramsey resident, also praised how international some foods from the island have become.
'We found, in the tiniest of supermarkets in Malaga, some Isle of Man Creamery products. We were delighted to see them and so we bought them of course.'
Kunal Patel, 22, from Douglas, said: 'Who doesn't love chips or gravy? And, what isn't improved with cheese?'
He continued: 'I had chips, cheese and gravy yesterday after work. It's convenient, I walk up the terrace and the chippy's there. It's also good after a night out. I'm a fan of chips and gravy, fill it with cheese and its even better!'
Laurence Crookall, aged 27, likes a good ol' national classic: kippers.
'My favourite Manx meal is a kipper bap. It's the amalgamation of the ingredients that I like, with the juxtaposition of the salad against the fish,' he said, whilst nearly drooling at the thought of it.
The Douglas resident listed lettuce, onion and cheese as his other typical fillings along with the cured fish.
'Who are you?' his friend Nick Edge, 28, asked in horror.
'Fish is not my favourite,' said Nick, who is also from Douglas. 'A lot of Manx foods are fishy, but I'd say my favourite is chips, cheese and gravy.'
However, they do agree that the Isle of Man Creamery makes 'nice' milk and cheese and both tend to buy the products over other brands.
Lauren and Sam Newson, aged 28 and 27, from Port Erin, also listed chips, cheese and gravy as a Friday takeout favourite.
Sam said: 'I like Queenies too.' Lauren added, while speaking to Sam: 'You're quite good at cooking queenies. If I was eating them out, then I would probably go somewhere in Peel.'
Harry Cain, 65, from Douglas, said: 'Cheddar cheese from the Isle of Man Creamery and Queenies. I fry queenies at home with a bit of pepper. You don't need salt. They grew up in salt.'
Comments
To leave a comment you need to create an account. |
All comments 0