Holiday food pilot is 'counterproductive', says nursery owner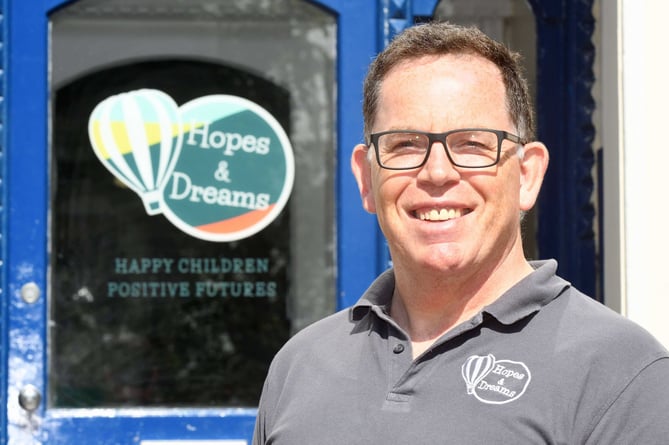 Hopes and Dreams nursery - pictured is owner Gary Peirce
(Isle of Man Newspapers )
Subscribe newsletter
Subscribe to our email and get updates right in your inbox.
The owner of a Douglas nursery has called out the government for interfering with holiday clubs with its pilot summer holiday food programme.
Gary Peirce, of Hopes and Dreams Nursery, has said that government departments are acting 'counterproductively' to what is already on offer to those struggling to feed their children during the summer break.
Charities and community groups were recently invited to apply for funding to help provide activities and healthy meals for children, who are eligible for free school meals, this summer.
The creation of the pilot 'Summer Holiday Activity and Food Programme' is part of government's commitment to protect lower income families against rising living costs.
Mr Peirce said: 'The programme that's being piloted is a direct competition to the wrap-around after-school holiday club care that has been identified as needed and is in the Childcare Strategy to develop.
'They've gone off with a pilot scheme that is actually undermining the viability of the holiday club programmes.
'The pilot scheme may only last one year and the public clubs may not be there next summer as a result.'
He added that some providers do charge for their holiday clubs, whereas the government won't be charging fees.
Though he understands the government has 'tried to do something positive', Mr Peirce felt that 'because it's been done outside of the Childcare Strategy' it will cause a negative impact.
'It may not meet the needs of children who don't like going to new places, don't want to take part in any activities, or parents will struggle to get them there if they use public transport,' said Mr Peirce.
'There will be a number of barriers that mean children don't get the food element of it.
'It's geographically limited, it's limited to times and there are some barriers for people to accessing it as well.'
The Hopes and Dreams Nursery was aware of the scheme but 'only had nine days' to respond with interest in taking part.
Mr Peirce added: 'We couldn't get everything planned in time for that. It's only one year – there are some positive elements to it but huge potential downsides.'
The Cabinet Office said in response: 'The policy and funding enhances the provision which is already delivered by existing providers and community groups, as well as via Youth Services.
'Applications were open to holiday clubs, childcare providers, the third sector and community groups to help provide free activities and food to eligible children; those who are eligible for, and usually in receipt of, free school meals during term time.
'By providing funds directly into communities through providers who applied, those groups, along with the Youth Service, are often in a position to know the communities and identify or reach out with support directly to those who may need it most.'
It added: 'Government recognises the essential service that childcare businesses provide, and the pilot scheme and fund is not run to negatively impact existing private sector providers of childcare, or interfere with the market of existing providers.
'Instead it aims to supplement the options for parents of children who may otherwise be unable to attend activities due to the cost, as well as assisting with the access to food during that time, which is a key purpose of the initiative.'
Any providers or families with feedback on the pilot programme can contact [email protected]
'We are already hearing about the positive benefits of food and activities reaching children of low income families as a result of this programme and like any new policy or initiative there will be scope to refine or develop in further years if provided again,' the Cabinet Office said.
'We would like to thank those involved in making the delivery of this programme possible.'
Comments
To leave a comment you need to create an account. |
All comments 0