Year 11 students from secondary schools and pupils at University College Isle of Man (UCM) received their GCSE, IGCSE and other level 1 and 2 qualifications today.
We went along to Ramsey Grammar School to speak to pupils picking up their results and deputy head teacher Joel Smith.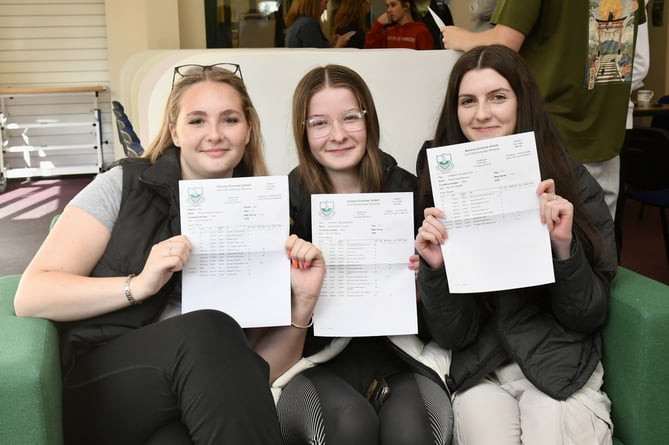 Hollie Thompson, Megan Simpson and Abie Devaney
(Dave Kneale )
Hollie Thompson, Megan Simpson and Abie Devaney were happy with their results, and are continuing their studies at sixth form next year.
They said the general feeling between them all was 'massive relief'.
Megan, who was celebrating her 16th birthday on results day, said: 'I did an early math grade in November to be able to do the higher math paper and I got the highest grade in that, and I've found out today that I've got an A* in higher math, so I'm really pleased with that!
'I knuckled down and wanted to do really well, I don't particularly enjoy it but I just wanted to feel the pride of being able to well in it.'
Hollie added: 'We're happy with the results we got, we were expecting higher but the grade boundaries have obviously gone up from Covid, so I think everyone was a bit shocked, especially last week with the Cambridge results.
'These ones were nicer, we passed and we got what we wanted and needed, but the expectations were slightly higher.'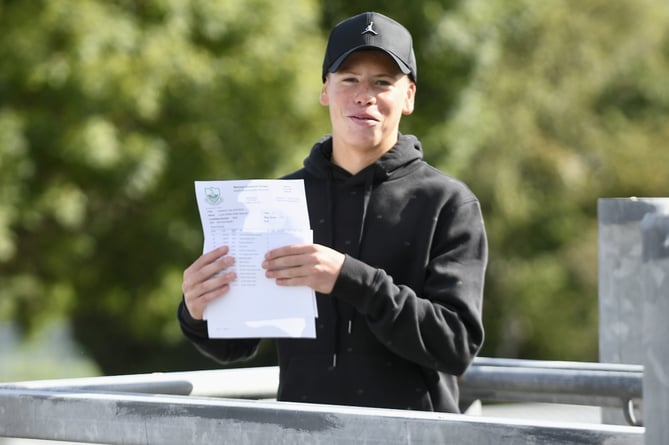 Lucas Stennett with his GCSE results
(Dave Kneale )
Lucas Stennett opened up his results to see seven A*s, one A and one B.
He said: 'I'm decently happy.
'Spanish was my hardest subject to be honest, but I got an A*.
'I'm pretty happy, I'm hoping to head back to sixth form.
'I don't really know about the future, just going to keep my options open I guess.
'I wish good luck to everyone else.'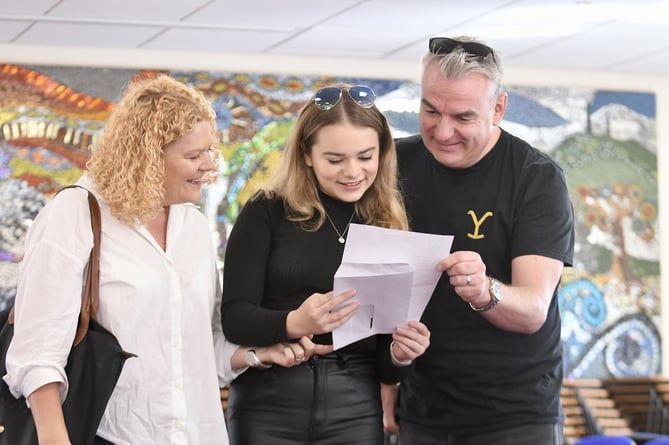 Daisy Goodby reading her GCSE results with her parents
(Dave Kneale )
Daisy Goodby studied global perspectives, practical cookery, history and drama, and she was really pleased with her results.
She said: 'I actually found history to be the most difficult, even though it's my favourite subject, it's very intense and there's a lot to remember.
'I got a B in history though and I'm really happy with that .
Daisy is planning to enroll in sixth form at RGS, and said that although she's unsure as to where or what she'd study, she likes the idea of going to university.
Ryan James Arthur Kelly studied drama, global French, art and textiles.
He said: 'I'm very happy with my results, I got better than what I expected.
'The hardest subject I found was probably drama as it put me out of my comfort zone a little bit.'
Ryan received a C grade in drama and said he was delighted with it, and now plans to continue his studies in sixth form at RGS.