Trinity moves on to a new adventure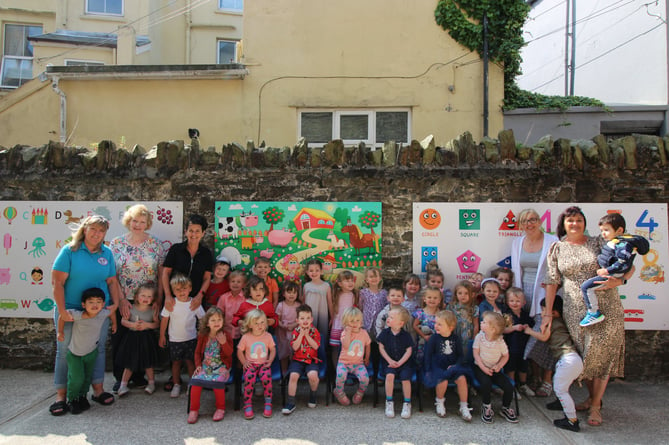 The Trinity Playgroup and Pre-school team with their last cohort of children
Subscribe newsletter
Subscribe to our email and get updates right in your inbox.
In the year 1967, the vicar's wife at Trinity Methodist Church on Rosemount in Douglas set up a playgroup.
That may seem insignificant, but 55 years ago, the world looked a little different, and so did the city of Douglas.
At the beginning of that year, Trinity Methodist Church wasn't even called Trinity. Indeed, it was only that year that Buck's Road Church and Rosemount Church amalgamated to form a new congregation.
That same playgroup has been operating out of Trinity Church for 55 years, and last week, on the last Friday of term, it closed its doors for the final time.
A stalwart of the local community, generations of kids have been cared for by the Trinity team.
The group has been unique in that it has operated like a family, with the same women running it for decades.
In 1970, Barbara Heeney joined the team, and proceeded to work there until 2005.
Diane Argent originally worked for Barbara, beginning in 1988, and worked there until she retired in 2020.
She couldn't speak more highly of her time with the group.
Reminiscing on what she loved most, she said: 'Waking up in the morning and being happy to go to work. Watching the children grow up and their children come here... It's just been lovely.
'I enjoyed every day of it. I worked here about 32 years and it's been like a happy family.
'It's sad to see it shut. It was sad when I left, but it's worse now I think, when it's shutting here altogether.'
For the past 17 years, the playgroup has been owned by Julie Gartland, mum of five and 'Auntie' to countless children who have come through the pre-school's doors.
She has worked alongside the same team virtually her entire tenure: her sister-in-law Lesley Gartland and friends Barbara, Diane, Jenny Walmsley and Sarah Watterson.
I sat down with some of the team to reminisce about the past 17 years. I wanted to hear what they've learned, what aspects of the job they've loved, and why this ending is so bittersweet.
Julie took over the nursery for a simple reason – her own kids had been through it, and she loved the team's approach to care.
She said: 'My children had gone there – as had Lesley's – and I was qualified.
'So I said, "Why don't I take over?"
'We'd been and looked at some other nurseries but couldn't quite find what we'd found with Trinity.
'So we decided, let's take it over. We have the qualifications, let's do it. Jenny came in at the same time, and it went from there.
'Initially it was me, Jenny, Diane and Barbara and then Lesley came.'
Jenny, Julie and Lesley have not only seen their own children through the nursery, but now they have begun to usher their grandchildren through, watching them form their first friendships and take their first steps into independence.
Sarah joined the team a few years later, in 2010. Her appointment was a full circle moment, and shows what a lasting impact the group has on kids who have attended it – she herself went there when she was a child.
'I still remember going and having my digestive biscuit and my juice,' she said. 'Same as it is now, exactly the same!'
By virtue of spending every day together for nearly two decades, the team has inevitably seen their friendship flourish over the years.
As Sarah summed it up: 'We all love what we do.
'And we're best friends – we're always laughing.
'We are a real team, both in work and out of it.'
The fact that the team has seen virtually no turnover of staff in 17 years speaks volumes.
Not many businesses can boast that.
But whilst the staff has been consistent, the group has still seen many changes.
When Julie took over, the nursery was only open from 9am until 11.45am every day. Although this quickly shifted to 9am to 1pm.
In 2014, the playgroup funded a big conversion at the church, which completely changed the outside area, providing them with more space for kids to play safely and securely.
Julie said: 'We did the outdoor space to bring the building up to regulations so that we could provide all day care, from 8.30am until 4pm.
'But even when we took over, nursery care was evolving hugely. And it has continued to do so since then.'
Lesley agreed: 'We've seen a huge, massive difference from when we started. When we took over, it was only a playgroup.
'The children played, there were no observations, none of that. There was no recording anything.'
Now the team create learning journals for parents and carers to take home at the end of the year, evidencing what practical skills their children have worked on in their time with the team.
I asked whether they thought they were preparing children for school more now that they incorporate this sort of skills based learning into their curriculum.
'But you are getting them ready for school, even just through play. Everything you do is play based' says Julie.
Lesley explained: 'We've just continued to make the social and emotional kind of parts of it a priority.'
Julie agreed: 'That is a priority. And alongside that, through play, we use the early years foundation stage framework to ensure we provide a broad curriculum.'
Alongside these many changes over the years at Trinity, there are some traditions that have stood the test of time.
Anyone who has attended Trinity probably remembers the prayer that is said every morning before break time.
As Julie put it: 'You almost think, the walls have heard that prayer every day, for 55 years.
'We are not a "Christian" playgroup as such, but our parents don't mind that their kids say the prayer, because a lot of them said it themselves when they came here.'
For those interested, or those who wish to reminisce, the prayer is as follows:
'Thank you for the world so sweet,
Thank you for the food we eat.
Thank you for the birds that sing,
Thank you God for everything.
Trinity hosts a Christmas concert each year, which is always a standout event for both parents and staff alike.
As Jenny explains: 'It's a real family effort. My parents even come in to help us get set up.
'It always a joy to watch how much fun the children have performing Christmas songs for their parents, all dressed up in their Christmas jumpers.
'It's probably my favourite activity we do with them.'
The team has also always made a conscious effort to uphold an ethos of outreach in the community, helping families who may have otherwise struggled with the ever increasing cost of childcare, particularly against the backdrop of the rising cost of living.
As Lesley explained: 'Over the years, being in the job for so long, we've come across lots of families that needed support, and we were happy to do it.
'You almost think, we were just four mums, really. Four mums running it for mums. So it wasn't really profit based.'
Julie added: 'It's never really been about big profits. But it has kept us in a job, which we've all loved.
'And because we weren't looking for huge profits, we were able to offer that outreach into the community – and that has been as rewarding as every other aspect of the job.'
Julie added: 'Whilst we recognise we are just four mums, on the flip side, we have had to keep all our training up to date.
'Continuous professional development has been a big part of what we've had to do in order to move with the times.'
As Lesley joked: 'We've got to keep abreast of everything that's going on around us – whether we like it or not!'
News of the nursery's closure may come as a shock to many, given how much the team clearly still love their jobs and the kids they work with.
Indeed, a Facebook post which announced the news to the wider public on Friday, July 22, was met with a flood of heartwarming messages from past parents and caregivers who were sad to see them go.
But luckily it's not all goodbyes for the Trinity Douglas team.
Whilst the move was initially prompted after the business were unable to negotiate a lease with the church which worked for both parties, it has provided a new opportunity for the team, who are excited for a new challenge.
The four ladies will be joining forces with the current team at Trinity Nursery on Shore Road in Laxey.
So whilst the book closes on one era of her business, Julie will get to watch another chapter begin.
And it will continue to be a family affair, as Laxey's nursery is managed by Julie's niece – and fully qualified teacher – Michelle Cannell.
'There is already a fantastic team in Laxey, and we are so excited to be coming on board with them,' Julie says.
'We love what they do and how they approach looking after the kids, so combining everyone's expertise with our experience can only be a good thing.
'We have put a lot of money into the facilities at the church, but we have grown out of that space.
'I own the building in Laxey, and so the future is more certain for us there too.
'With constantly updated rules and regulations, alongside what working parents are looking for, and even the facilities they are looking for, we can't offer them in the church.
'It has been an amazing 17 years for me – 55 for the business – and I would just like to thank all the parents who have supported us along the way.
'Here's to a new adventure!'
l Trinity Laxey is currently open from 8.30am - 4pm, term time. However, subject to planning approval, the nursery will be expanding its hours to 8am - 6pm, and will be open all year round.
This will enable the team to facilitate after school pick-up and clubs, and offer care during holiday periods.
If you would like more information, call Julie on 477659 or contact the team via their Facebook page 'Trinity Laxey Nursery'.
Comments
To leave a comment you need to create an account. |
All comments 0