Motorsport journalist and artist Rachael Clegg's exhibition at the House of Manannan offers a playful take on the TT's history.
Thirty Seven and Three Quarters is a series of monochrome photographs all shot at specific points on the TT course and telling the story of a memorable event.
'My images are designed to celebrate and embrace the bonkers, bold and brave risks that our road racers have taken over the last 116 years,' she said.
Strikingly, Rachael appears nude in each of the shots.
'I love aesthetic juxtaposition of the female form on tarmac roads,' she told Island Life.
'I also think the nude adds a sense of humour and absurdity, which makes it fun and evokes a smile or two.
'It's a fun way to illustrate and celebrate all these wonderful stories from the TT - both past and present.'
Rachael, from Rochdale, is a motorsport fan through and through, with both her father Noel Clegg and grandfather Tom Clegg competing in the TT.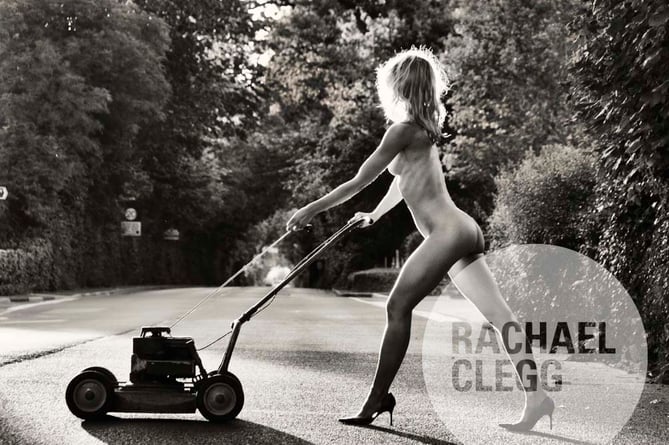 Sulby Straight by Rachael Clegg
(Peter Greste)
Over the last 10 years she has been researching hundreds of memorable stories from the TT and interpreting them in monochrome images for her Milestones series.
The exhibition features her latest images and Rachael enjoys telling the story behind each of them.
One example is Joey's, where Tommy Robb stopped during a 1964 early morning practice session after blowing a spark plug on his works Yamaha RD56.
'On this occasion he didn't have any spare plugs so Robb swapped his with those of a nearby tractor and rejoined the practice session,' she said.
'I love how resourceful TT racers are.'
Rachael said one of her favourite stories was about an incident at Schoolhouse Corner in 2008.
She was in the press office at the TT Grandstand when the story broke.
'Sidecar passenger Martin Hull was sent to hospital with an eye infection and advised by doctors to withdraw his race entry, such was his condition,' Rachael said. 'His team withdrew the entry but then, on the eleventh hour, Hull was told – on race day – that he could, after all, race.
'So, desperate to get back, the Yorkshiremen ran back to the start wearing nothing but his hospital gown.
'But on the last lap he hit the kerb at Schoolhouse, smashing his visor into his face. In spite of the dramas Hull still finished with a silver replica.'
Another of her favourite stories is featured in Ballig Bridge.
'It's about Harold Daniell, a Norton works rider in the 1930s,' she said.
'Daniell wrote off his brother-in-law's machine at Ballig Bridge during practice in 1938. Norton was late delivering the bikes, which is why he had to borrow one.
'Badly injured and having not even sat on the works Norton, Daniell had a huge task ahead of him. And with Norton's run of seven junior TT wins, he was under additional pressure to win. In spite of this, after a huge scrap with Stanley Woods, Daniell won the race with a record-breaking lap of 91mph.
'But what's more incredible is that Daniell's vision was so bad he wasn't allowed to serve in the army during the Second World War and had to wear glasses under his goggles!'
One of Rachael's favourite images is Sulby Straight.
'It was exactly as I envisaged,' she said.
'I also love the story - another one about a resourceful TT racer and one I know well, Tim Reeves.
'In the 2009 TT sidecar driver Tim Reeves replaced his broken throttle cable with one from a lawnmower in a nearby garden just off Sulby Straight. He finished fourth in the first sidecar race that year. Incredible.'
Rachael said it was always fun on a shoot and they have had lots of giggles over the years - with lots of people from across the island too.
One incident happened at Hailwood's Height.
She explained she was drawn to the fact that Mike Hailwood used brown tape on his boots, and was keen to illustrate it by having her wrapped in brown tape.
'The trouble was, a police car came by just after we'd taken the shot but while I was still up the ladders encased in tape,' she said.
'I had to dash back to the van and rip the tape off so ended up having a very painful but cheap full body wax job!'
But she said the process starts a long time before they get to the TT course.
'I spend months researching stories - collecting as many quirky tales from books, current riders, past riders and members of the TT racing community like some sort of TT history magpie,' she said.
'Once I have enough stories I start planning the shots through a series of sketches and finding the relevant props.'
Rachael has received lots of help with unusual props and people giving access over the years. And she has been lucky enough to have received the support from riders themselves.
Peter Hickman loaned the fairing from his bike to be used as a prop and John McGuinness let her use the leathers from his 130mph record-breaking lap.
One of the big considerations is where to park the all-important van.
'It's a changing room, prop store, brewing up facility, welfare unit - you name it,' she said.
Rachael ends up with about 50 sketches for one calendar, which get whittled down to about 24 once they're in the island.
She said: 'I get really, really nervous before a shoot so I always lose about half a stone the week before simply out of fear as to whether the images will work.
'But generally it all works out okay and I like the fact each year I'm driven to make them better.'
Thirty Seven and Three Quarters is all TT-related. As well as the monochrome photographs, it includes some of Rachael's Sound Stories paintings.
These are oil paintings of the sounds of some of the most significant moments and machines in TT history - including Peter Hickman's outright lap record set in 2018.
The exhibitions also includes TT photos dating back to 1907 belonging to the Mortons Archive.
Rachael showcased Milestones images at her exhibition at Proud Gallery in London in April. The Thrill of It featured images from Milestones as well as from a series shot at the Nürburgring in Germany.
There will be a The Thrill of It stand, featuring mainly TT images and lots of props, at the Grandstand.
Thirty Seven and Three Quarters is on display at the House of Manannan, in Peel, until June 25. It's open daily from 9.30am to 4.30pm.
• A meet the artist event takes place at the House of Manannan on Monday (June 5). Rachael will host short tours of the exhibition followed by signing sessions at 10am, 11am and midday.