Exhibition marks 10 years of community for artists
Tuesday 30th August 2022 4:48 pm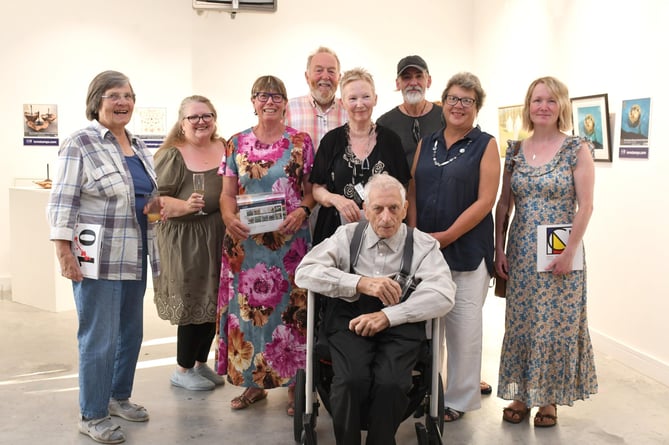 Jeremy Hall, Graham Hall and Jackie Hall at the celebration eventDK220812(27)
Subscribe newsletter
Subscribe to our email and get updates right in your inbox.
The Creative Network was launched in 2012 to raise the profile of island artists nationally and internationally and to set up an inclusive community of artists and friends.
Ten years later, a celebration of how far the network has developed was held at ArtReach Studios, in Peel, with an anniversary exhibition including the artworks featured in a collection of stamps produced by Isle of Man Stamps and Coins to mark the occasion.
Isle of Man Arts Council chair Marlene Maska MLC told Island Life: 'It is amazing to think that ten 10 years have passed since the vision of The Creative Network first became reality; brought about through the real hard work of the very talented founders Myra Gilbert and Kate Jerry.
'It is so important to recognise the talent of our creatives whose work is embedded into, and enriches, all our lives, from day to day. It is too easy to forget that almost everything we use, touch, see, wear and are aware of though our senses, has to be designed and created by someone.
'The Creative Network has grown from strength to strength and now has over 60 members who engage in a wide variety of mediums and achieve a high quality of inspirational work of which the island can be justly proud.
'Together we can be stronger and the network is a shining example of how, by combining forces we can continue to grow and thrive in our unique environment.
'Here's to the next 10 years – congratulations and thank you.'
The network, run entirely by volunteers, is best known for organising the three-day and multi-venue Isle of Man Art Festival, which grew out of the Western Open Studios and Art Trail based at venues in the west of the island.
In 2016, it became an all-island event. New artists and venues - both private and public - have continued to be added to the line up since, offering a variety of exhibitions, workshops and demonstrations.
The 2020 festival was cancelled due to Covid and last year saw a two-day festival in August. Next year will see the return of a new Isle of Man Art Festival following a one-year break.
It's hoped this will enable the network to present a refreshed event with existing and new members, showing work in existing and new venues.
Last year, alongside the festival, The Creative Network organised a major themed exhibition, Boundaries, which was displayed at the House of Manannan in Peel for six months.
Members were invited to submit work on the theme of Boundaries and the exhibition featured varied interpretations using a range of art forms.
The Creative Network is committed to another themed exhibition in 2023-4.
A festival hasn't been held this year as it moves to a biennial format to enable progress to made on other projects. This year's focus has been on progressing the Silverburn Art Trail, which will follow the first stretch of the Bayr Ny Skeddan (Herring Road) alongside the Silverburn river from Castletown to Silverdale.
The Creative Network, which is a Biosphere partner, has received a grant from the Manx Lottery Trust through the National Lottery Community Fund for the art trail. The aim is to develop a dynamic outdoor art experience, turning a beautiful footpath into a cultural experience. Work already on the trail includes street art on walls and buildings in the centre of Castletown, willow sculptures created by children and artist Eve Adams in Poulsom Park, a glass mosaic mural at Ballasalla railway station produced in community workshops led by Debra Tracey-Carney, and Jill Gillings' stained glass and wooden sculptures at the Lily Ponds in Silverdale glen.
Transient artworks will also make up the art trail. The latest example is the Silverdale Beetle Hunt by artist Steve Chell, which was launched as a summer holiday activity for families.
There are 52 beetles to find between Monk's Bridge and the glen cafe.
Steve is holding a workshop on Saturday (August 27), at Ballasalla village hall for children aged seven to 12 to make their own fantastical insects from recycled materials like Steve's.
For details on how to book, see the Silverdale Beetle Hunt Facebook page.
The anniversary exhibition was opened by Mrs Maska and Isle of Man Post Office vice-chair Diane Kelsey MLC. It featured the artwork included on the 10 stamps as well as a selection of work by member artists.
The stamp issue features art by 10 members: Graham Rider, Graham Hall, Myra Gilbert, Dawn Kennaugh, Sarah Devereau, Eric Kermode, Bruno Cavellec, Maureen Kennaugh, Debra Tracey Carney and Eric Glithero.
It showcases the breadth of the artists' interests through ceramics, glass-making, embroidery, wood-turning, digital illustration, photography, textile art, dressmaking, drawing and painting.