Kids get first taste of theatre on laughter-filled adventure
Thursday 1st September 2022 5:50 am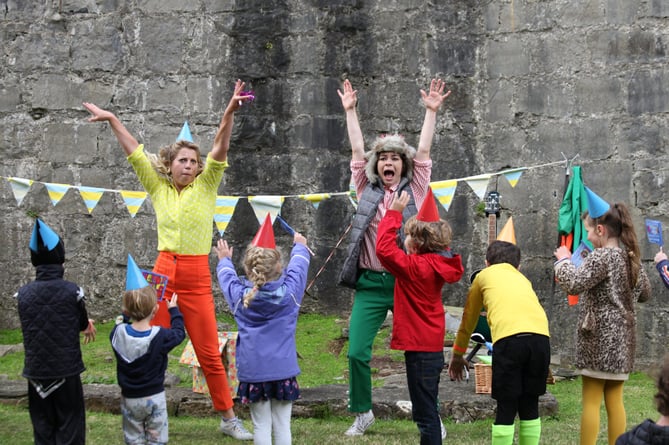 Michelle James and Chloe Shimmin's first show, A Beg Adventure, first performed in the grounds of Castle Rushen Photo: Clare Payne
Subscribe newsletter
Subscribe to our email and get updates right in your inbox.
Michelle James and Chloe Shimmin have much to celebrate since they launched children's theatre company Hello Little People in 2020.
They are inviting families to join them to mark their second anniversary with their latest original production at Milntown, Big Birthday Adventure.
In a short space of time they have amassed a number of achievements.
Their Covid video, Be Safe, Be Smart, Be Kind, commissioned by the Isle of Man Government, reached more than 200,000 views in 2021.
In June, the pair featured in the BBC1 show Countryfile, featuring them walking up South Barrule in the mist with presenter Adrian Chiles.
And they have recently returned from the Edinburgh Fringe Festival, where they were invited to perform as part of the line-up for a long-standing show, Comedy Club 4 Kids.
'Hello Little People was never meant to be anything massive,' Michelle told Island Life. 'We were just going to do something on the beach while we could and while the rest of the world was in lockdown.
'Instead it snowballed. Seeing there was a real hunger for professional children's theatre in the Isle of Man we've just rolled from there.'
Their first show was A Beg Adventure, first staged in the grounds of Castle Rushen to sell-out audiences.
The government commission for a video about Covid precautions has stuck in people's minds. Michelle said: 'People still stop us in the street and say: "I loved your Covid video". It was such a laugh.'
And they were delighted to be given permission to perform an adaptation of Roald Dahl's story The Twits at the Gaiety Theatre last year.
'It was quite a coup at the time because the Roald Dahl Story Company are very protective of their work so not a lot of professional theatre are given the rights.
'We had an agreement with the Roald Dahl Story Company that we could make an adaptation of The Twits and reimagine it for two people, which is pretty awesome.'
Describing their time at the Fringe, Michelle said: 'It was absolutely fantastic. The Fringe is not an easy platform to perform at or achieve success but the audience numbers were really good, the children were laughing which is always good for a stand-up, and we were able to immerse ourselves in lots of other performances for children which is only going to inspire us and enable us to bring more pioneering ideas back to the Isle of Man.'
Their style has been inspired, in part, by children's theatre they have worked with – and watched – in the UK.
But it has also developed as they worked to find a middle ground on what they were wanting to create.
Chloe said: 'Our work is always really colourful, it's always full of music and laughter is absolutely key to all of the work.'
She added: 'We're really passionate about making theatre and theatre experiences accessible for as many people as possible.
'Lots of people might not choose to come and sit down at the Gaiety and watch a show. But, actually, the kind of things that we do are pushing boundaries.
'The kids aren't sat down, the shows are interactive. Particularly, with our summer show, it's a theatrical adventure which means that they get to discover clues, physically find things that alter the story.
'I think that's really important for people to become involved in the story.'
The pair enjoy the connection they build with their young audiences and the reaction they get.
'We connect with them on a level that you just get so much joy directly from them and the stories that you hear from their parents, like they've created their own Hello Little People shows or written a rap inspired by one our shows. It's really cool,' Chloe said.
It's not just the children that enjoy the shows.
'Our alternative pantomimes are really rooted in Manx culture and the adults absolutely love it,' Michelle said. 'The most important thing is when the children are really enjoying it, the adults do too.'
Michelle and Chloe have lots of plans in the pipeline to develop more audio and video content. 'We're always going to be rooted in the Isle of Man but we're really keen to establish international roots and connections,' Michelle said.
Big Birthday Adventure, aimed at children aged four to 11, sees Hello Little People return to the grounds of Milntown following their sell-out April show, Easter Adventure.
Performances take place from Friday (September 2) to Sunday, September 4. It's described as a 45-minute theatrical adventure full of songs, stories and games.
For tickets (£10), go to hellolittlepeople.com
There is also a small number of tickets available through the Pay It Forward scheme, which sees ticket holders being given the option to buy a ticket for someone who would otherwise not be able to afford to attend.