Music to make you howl at moon
Tuesday 6th September 2022 4:00 am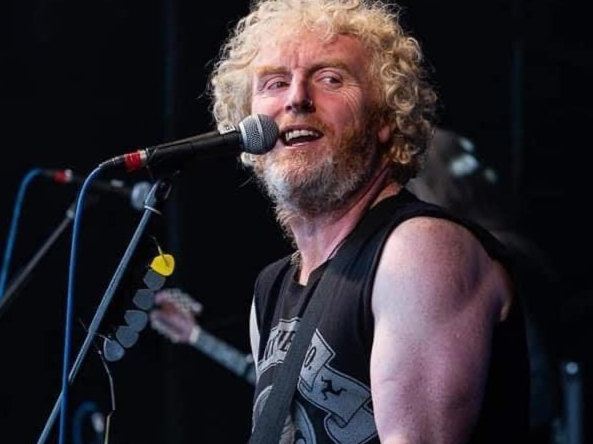 Mike Wade
(Vannin Photos )
Subscribe newsletter
Subscribe to our email and get updates right in your inbox.
Mike Wade worked at Isle of Man Newspapers for 21 years as a photographer and then as arts and entertainment editor. He describes himself as a gobbag to the core, having always lived in Peel, save for when he studied communication studies and journalism at Edge Hill University.
He's married to Josie. Daughters Meri and Breeshey have both been educated at the Bunscoill Ghaelgagh while his grown-up daughter Molly is embarking on a masters in fashion design.
Mike and Josie have opened the Black Dog Oven, a pizza bar, on Peel's East Quay. He also sings and plays guitar with The Ballaghs.
1. Joe Strummer and the Mescaleros - Minstrel Boy
I love Joe Strummer, love the Clash, and the Mescaleros are a special favourite of mine.
I spent an afternoon of my honeymoon in the Spanish Ronda mountains sharing a hammock with my wonderful new wife, Josie, drinking beers and listening to this, and almost 17 years later, the memory still brings happy tears.
2. Levellers - Forgotten Ground
The Levellers have given me so much in terms of inspiration and life-affirming enjoyment, and this song is one that still ignites a fire in my soul.
Pure stomping folk, howl-at-the-moon passion.
Working for the papers, I've been lucky to sit back and watch talented people emerge from the island, none more so than the supremely talented force of nature, Tom Callister.
This tune, written by Manx legend Peddyr Cubberly, is simply beautiful, and this version is just gorgeous.
Tom's fiddle, along with Jamie Smith's accordion, is a sheer delight to listen to and is full of soul.
4. New Model Army - Orange Tree Roads
This is a song that could have been written for me.
It talks about life changing and choosing any of the different paths opening in front of you, and running into a new life, and reminds me of the time we were expecting my daughter, Molly, 25 years ago.
Especially with the reference to the Hale Bopp comet, which was hanging in the sky at the time.
5. Sepultura - Refuse/Resist
I can't describe hearing this for the first time. Angry, ferocious, loud, groove-laden. It totally changed my outlook on music and always makes me want to hurl myself into a crowd of sweaty strangers and mosh like a mad thing.
6. Iron Maiden - Paschendale
Maiden were the first band I ever embraced, and they still have a huge place in my heart.
They have always had an ability to recreate a scene or evoke a time in history through their story telling and none more emotionally and effectively than in this epic.
7. Ferocious Dog - Hell Hounds
What a band! Folk and punk are cut from the same background of music made by people for the people, and blasted out straight from the heart, and this band have that in spades, married with a strident socialist message.
Their fan base took their names from this song and a fellow hell hound is a friend for life.
8. Rev Hammer - River O'Joe
My band, the Ballaghs, have modelled a lot of our sound using Rev Hammer and his music as an inspiration, and we play this timeless song whenever we can.
9. Nick Cave - Nature Boy
Josie introduced me to Nick Cave and I'm happy she did. Whenever I hear this, I want to sit down with a couple of bottles of beer and sing the words to each other.
Same with Breathless. And Babe I'm On Fire, but that takes about 20 minutes.
10. Pearl Jam - Even flow
This is one of those bands that came along and changed everything, more so for me than Nirvana did to be honest.
There is something euphoric and honest about this that makes you stop and sink into it whenever you hear it.
Comments
To leave a comment you need to create an account. |
All comments 0