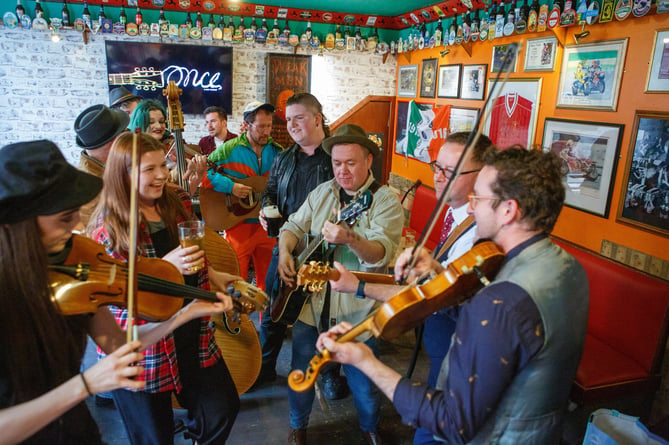 The talented cast of Once, sing, dance, act and provide the musical score. Watch the uplifting show at the Gaiety Theatre from August 31 to September 3Photo: Steve Woodley
(stevewoodley.com )
Subscribe newsletter
Subscribe to our email and get updates right in your inbox.
Three Legs Productions is preparing to stage the multi-award winning musical Once, a novel approach to theatre that has seen much of the cast have to go outside their comfort zone and learn new skills.
As well as singing, dancing and acting, the small cast of 12 also double up as the musicians, with many playing more than one instrument.
The show, which is being performed at the Gaiety Theatre from August 31 to September 3, also promises to be a very immersive audience experience. Live music will be performed pre-show and in the interval by traditional musicians Mary Molloy and Susan Coyle.
And for the first time at the Gaiety, the audience will be able to enjoy their pre-show and interval drinks in their seats.
VIP ticket holders will be able to go one step further and get their interval drink from the Orchestra pit bar, before taking it on stage.
Jude Fullerton, a member of the production team, told Island Life: 'This production showcases the talent we do have on the Isle of Man and the ability to provide five star entertainment suitable for all audiences and highlights the joy that quality live theatre brings to audiences.'
Based on the 2007 film of the same name by John Carney, Once tells the unforgettable story of a Dublin street musician and a funny Czech woman, drawn together by their shared love of music.
As they assemble a band from her wild family and his quirky mates, the music flows and they fall slowly in love.
It was the winner of eight Tony Awards in 2012, including best musical.
Auditions were held in October last year.
Jude said: 'The challenge in trying to cast the show was whether we would be able to find musicians who were prepared to also act, sing, dance and speak in an Irish or Czech accent.
'When we advertised it we just didn't know if we could cast it.
'We were absolutely delighted to find such a talented group of people, most have had to reach out of their comfort zone and learn new skills such as different instruments or just having to play together to create the music for the show or for some having to act for the first time not to mention moving while playing instruments.'
The cast features Lorcan O'Mahony (Guy), Gráinne Joughin (Girl), Neil King (Billy), Chloë Woolley (Baruska),Jack McLean (Andrej), Adrian Cowin (Bank Manager), Ciara Kilgallon (Reza), Chris Maybury (Da), Jeff Jepson (Svec), Johnny G (Eamon), Laura Corkhill (Emcee), Kelly Firth (Ex-Girlfriend), Tilly Strand and Aalin Cowley (Ivanka - Girl's daughter). It is directed by David Dawson with Sarah Holland as assistant director.
The Three Legs production team also includes Lisa Dancox and James Turpin. Musical directors are Steve Daykin and David Kilgallon.
Jude said that rehearsals, which started in April, had been 'a challenge'.
'The musicians are from different backgrounds – some with more formal music backgrounds and others who don't read music. To start with the focus was on getting the music together – the cast would not be able to rely on sheet music and are very exposed on stage so it was essential to get congruence as a group with the end result providing the audience with a more individual and personal approach.
'We then had to focus on developing the characters and movement with the music.'
When asked what people could expect from the show, Jude said: 'Once is an incredibly mesmerizing musical experience in which the music is equally as significant as the dialogue in the storytelling process.
'Dramatic and comedic elements are interwoven, and the musical numbers alternate from electrifying to tender and poignant.'
• Performances take place from August 31 to September 3. For tickets (from £19), see www.villagaiety.com/once or call the box office on 600555.
Comments
To leave a comment you need to create an account. |
All comments 0