Enthusiasts on track to protect rail history
Saturday 25th March 2017 11:45 am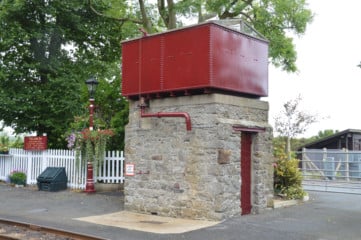 Water tower at Ballasalla station
Subscribe newsletter
Subscribe to our email and get updates right in your inbox.
Three lineside structures on the Steam Railway have been listed because of architectural and historical significance.
The crossing gatehouse and stone-built water tower at Ballasalla station, and gatekeeper's hut at Four Roads, Port St Mary have been added to the protected buildings register following submission by the IoM Steam Railway Supporters' Association.
They follow Santon station, Ballagawne gatehouse and Colby Level gatehouse which were added to the register in 2014.
It's all part of a move to help conserve wider Manx steam railway heritage and social history.
The crossing gatehouse at Ballasalla was originally built during the 1880s to the same design as the gatehouses at The Level and Four Roads.
It was extended by the Isle of Man Railway Company as late as 1962 to accommodate a ship's wheel to operate the new swing gates mechanically and to observe the road.
This is the sole example of this operating method in the island, a similar proposal for Quarterbridge crossing not being progressed before the Peel line closed.
Dating from 1911, the stone-built water tower at Ballasalla station is the only 'original' such tower in operation on the steam railway today.
A similar one at Castletown was demolished in 1981 and a larger version sited at Port Erin was demolished in 1986. Both those locations have 'modern' era replacements.
Dating from the 1880s and replacing an earlier wooden hut, the crossing hut at Four Roads is one of only two stone-built gatekeeper's huts remaining in original 'as-built' condition - the other being at The Level.
It's in a good state of repair, on-site restoration work having been undertaken by the Supporters' Association in 2013.
A spokesman for the Supporters' Association said: 'We believe that retaining these types of buildings and lineside structures in near original form is essential to keeping what remains of the heritage appeal of our steam railway, which should be cherished as a whole, not just the locomotives and carriages, and properly protected for future generations to experience and enjoy.'
Since 2012, the association has provided the government's planning department with detailed submissions for 11 historic steam railway buildings and lineside structures to be added to the protected buildings register.
With six so added, the outstanding buildings include Port St Mary railway station, Port St Mary goods shed and Port Erin railway station.
The spokesman added: 'Santon station is a good example of why these buildings need protection; when the IoM Government became owner and custodian of the railway in 1978 there were three wooden "Santon" style buildings, now only one survives.'
Comments
To leave a comment you need to create an account. |
All comments 0