An exhibition, one minute's silence, light installation and concert will take place to mark 50 years since the Summerland fire.
Organised by Tina Brennen, a Port St Mary resident, who for the past 10 years has spoken out on the matter, the events will take place to remember the 50 killed.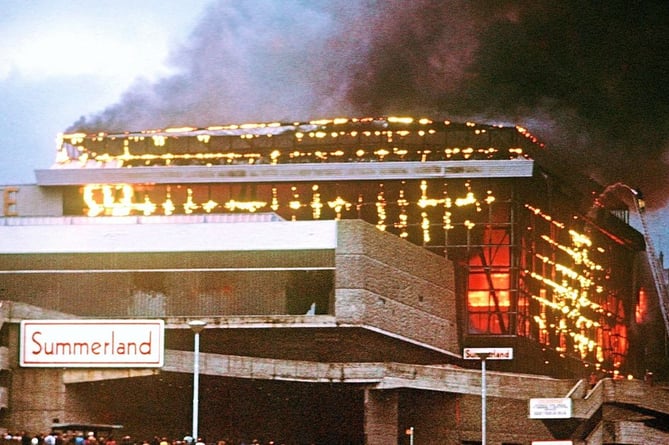 Summerland fire
On August 2, a one minute's silence will take place on the Summerland site. At the remembrance event, Ellan Vannin Pipes and Drums will be playing and some of the victims will be speaking.
There will be a light installation on August 1 and 2 from 10pm, which will project onto the cliffs and into the sky, this is being provided by Event Lighting Services.
From August 1 to 3 there will be an exhibition 'Remembering for the Future' at Locke Prom Church which explores the years before during and after the fire with a photographic display by Sarah Callow, artworks by Gary Bennett and lunch time music sessions from Matt Creer, Ruby Biscoe-Taylor and Alex Cowley.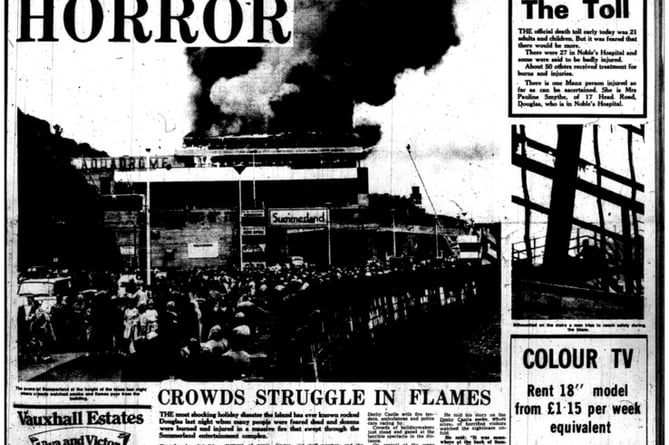 Summerland fire Examiner front page August 3 1973
The exhibition is sponsored by Culture Vannin.
The concert is being held at the Villa Prom Suite on Saturday, July 29, featuring Bunch Skankas, Maldune, Teresa McNulty and Switch and is sponsored by Swagelok, Shoprite and IFGL.
The concert is ticketed and costs £15, all other events are free and non-ticketed.
Mrs Brennen said: 'My primary focus for the past ten years has been to achieve a memorial on the site, raise awareness and inform this and future generations.