Fundraiser for teenager injured in car crash reaches £27,000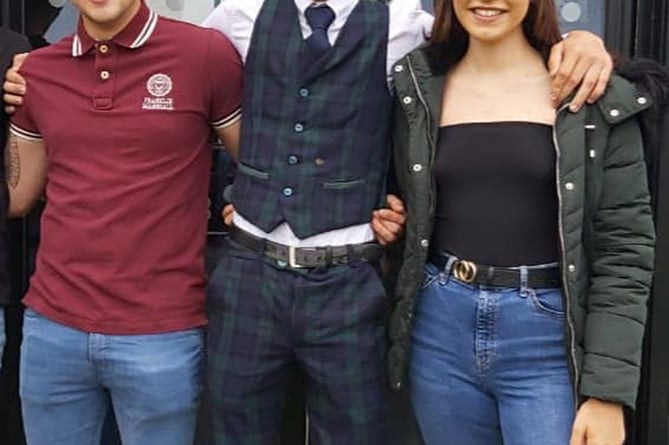 Loghlin Kirk (centre) with his brother Harrison, 21, and sister Doona, 18.
Subscribe newsletter
Subscribe to our email and get updates right in your inbox.
More than £27,000 has been raised for a Manx teenager after he seriously crashed his car in January.
Loghlin (Lockie) Kirk was driving on the road known as the Switchback, just outside Peel, when the crash occurred on Tuesday, January 11.
The 17-year-old received serious injuries as a result of the accident, and was flown off island to Aintree Hospital that evening to receive treatment for his injuries.
He was put into a medically-induced coma.
Lockie is now awake and receiving treatment at the Walton Centre in Liverpool, where he remains.
His father, Daniel Kirk, told the Isle of Man Courier that his condition is 'looking a lot better than it was'.
He said: 'We received some really bad news at the end of April, where Lockie didn't seem to really be doing much with the therapist, but since then, the trajectory has just gone skywards.
'He's starting to talk, he's putting words into sentences.
'Lockie's personality is still there, he's a very loving boy and that comes across to the nurses and the other stuff.
'Prognosis wise, where we're going to be in the next six months I really don't know. He's just started to stand up and do things like that.
'He hasn't taken any steps yet, but he's been lying on his back for six months, so he has to gain all the strength back in his leg muscles.
'I'm very hopeful that Lockie will walk again.
'We're not going to give up on him, and more importantly the staff at the hospital aren't either, they're fantastic.'
Currently, Mr Kirk is living in England so he can be close to his son, while his mother travels to and from the Isle of Man most weekends.
He said: 'I recently moved back to my home town in England (Congleton in Cheshire) to stay with my grandmother, so I can be 50 miles away from the hospital, just so he's got someone every day with him.
'I leave the house at 6am and I get there at 7:10am, so I do about 700 miles a week just to travel to [the hospital in] Liverpool.
'With 700 miles a week, fuel isn't cheap, and parking at the hospital – we're not fortunate enough to have free parking in the hospital over here in Liverpool.
'It costs me a couple of hundred pounds to get my wife and little boy over here for the weekend.
'Lockie gets about 45 minutes of interaction with a charity worker a day, and the nurses and doctors too obviously, but my constant presence, with my wife on the weekends, that's invaluable really.'
Mr Kirk thanked the Manx public for their generosity in donating to the fundraiser set up online just days after the crash earlier this year.
'We're very grateful really,' he said. 'Since we did the radio update the other day, the general donations from the Manx public have come flooding again, which is really appreciated.
'The fundraiser is over £27,000 now, but we've had other donations from various other charities, like the Farmers' Benevolent Fund.
'I really can't thank everyone enough.
'I would also like to thank Melissa Menton for setting up the GoFundMe page, because we really didn't have the headspace at the start of this ordeal to even think about things like that.'
Mr Kirk added: 'And we had a lovely lad called Jack Townsend who walked a good section of the Parish Walk and donated a couple of thousand to Lockie. Jack had his own ordeal and a really good recovery at the Walton Hospital himself.'
The GoFundMe page can be found under Melissa Menton's name and the page is called 'help Lockie and his family'.