I have pleaded guilty, but I don't feel guilty
Friday 11th October 2019 4:30 am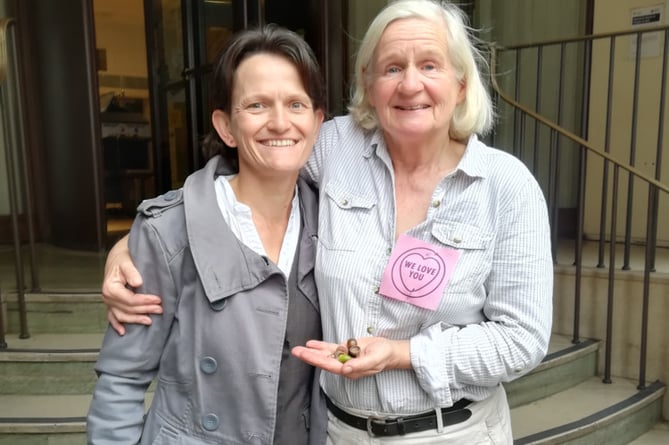 Dr Philippa Tomlinson (right) with Debbie Wright outside City of London Magistrates
Subscribe newsletter
Subscribe to our email and get updates right in your inbox.
A Ballaugh woman who was arrested during the Extinction Rebellion (XR) climate protests in London has shared her experience of appearing in court.
Philippa Tomlinson was one of over 1,000 people arrested when the XR rebels grabbed the world's attention by blocking sites in central London.
Dr Tomlinson, 63, who has lived in Ballaugh for 26 years, told the Examiner that she 'spent much time deliberating whether to plead guilty or not'.
She added: 'In the end I pleaded guilty because I could not deny that I failed to comply with the section 14 condition, lay floppy on the tarmac and made it difficult for the six police officers to arrest me.
Pleading guilty meant she was able to read out her prepared statement to the judge in court.
Dr Tomlinson began by saying 'I do not feel guilty'. She added that she acted 'because of a circumstance that is beyond my control, that is: the climate and ecological emergency'.
She said: 'I laid down in the road in Parliament Square in April because I had reached a point of complete despair. Despair, because even as a professional ecologist I felt unable to make a difference.
'It is clear from the scientific articles I've read that all of us in this part of the world need to make very significant changes in all aspects of the way we live.
'I could see, that the only way to get this to happen was to take action, and for a very large number of people to close down central London in order to persuade government to tell the truth to the public.'
Dr Tomlinson added: 'We need to stop global temperatures rising at this unprecedented rate.
'But we should also be preparing for the expected collapse in civilisation. Work is needed in all areas: in education, mental healthcare, agriculture, construction, transport, tourism and manufacturing â?¦ the way we spend the earth's resources.
'The whole system needs to change - away from the mad concept of continuous economic growth.
'We live on a planet with limited resources so it is clear, by the laws of physics, that consumption has to be limited or we will all die.'
She raised the issue of people in the poorest countries of the world experiencing 'drought, flood and destruction caused by the effects of increased global temperatures and sea levels rising'.
Dr Tomlinson said: 'It is clear that millions will be affected when crops fail, homes and livelihoods are lost and mass displacement of whole populations is triggered.
'It is vital that we work together on "climate justice".
We, in the global north, are the consumers, who are the drivers of this catastrophe. At the same time we are entrenched in an economic system which is causing destruction around the world.
'We can only see this if we take the trouble, not only to read about what is happening around the world, but also, to piece all the scientific and news reports together and face the conclusions.'
Dr Tomlinson told the Examiner these included the 'rapid mean global temperature rise, ocean warming and acidification, species extinctions/crashes in numbers of key species (soils are dying and food supplies will dry up); desertification, drought and sea level rise'.
She added: 'Put all this evidence together along with the unknown effects of several environmental tipping points and we have reason to be terrified.
Dr Tomlinson, along with seven others, was given a six- month conditional discharge and ordered to pay £85 prosecution costs and £20 court costs.
Comments
To leave a comment you need to create an account. |
All comments 0