In this week's Manx Independent: Boot defiant after doorstep ding-dong
Thursday 19th August 2021 5:00 am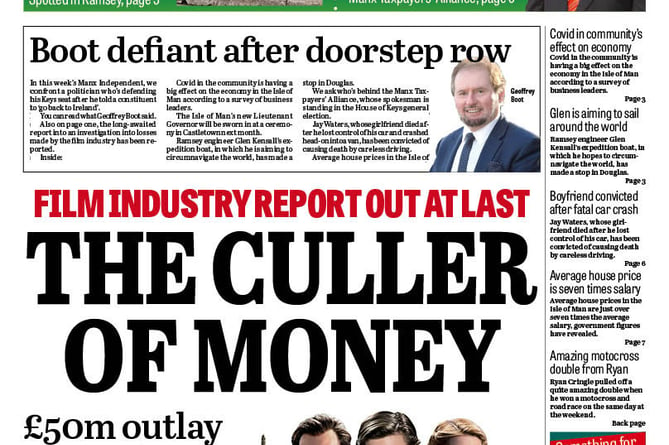 Manx Independent, August 19, 2021
()
Subscribe newsletter
Subscribe to our email and get updates right in your inbox.
In this week's Manx Independent, we confront a politician who's defending his Keys seat after he told a constituent to 'go back to Ireland'.
Also on page one, the long-awaited report into an investigation into losses made by the film industry has been reported.
Covid in the community is having a big effect on the economy in the Isle of Man according to a survey of business leaders.
The Isle of Man's new Lieutenant Governor will be sworn in at a ceremony in Castletown next month.
Ramsey engineer Glen Kensall's expedition boat, in which he is aiming to circumnavigate the world, has made a stop in Douglas.
We ask who's behind the Manx Taxpayers' Alliance, whose spokesman is standing in the House of Keys general election.
Jay Waters, whose girlfriend died after he lost control of his car and crashed head-on into a van, has been convicted of causing death by careless driving.
Average house prices in the Isle of Man are just over seven times the average salary, government figures have revealed.
Eric Corkish, a man who uses a mobility scooter, tells us that he doesn't 'see the point' of the newly launched survey to improve bus travel for disabled people.
Headteachers have challenged all Keys candidates to make education a priority in their campaigns and sign a pledge.
The first vaccination clinics are being held in Douglas this week for 16- and 17-year-olds.
Former firefighter and police officer Colin Kirkham has put his experiences to the page in his new book For the Love of Fire. The story is in our leisure and pleasure section Island Life.
Six mural artists to create stunning works of art in the Pooil Vaaish workshop. More details on the front page of Island Life.
This weekend sees the People of Colour festival.
Local punk queercore band Half Naked Headline are on a mission to give a voice to the people often most ignored by society.
We also look back at Taylorian's production of A Chorus Line, which enjoyed rave reviews from audiences and critics alike.
In sport, Ryan Cringle pulled off a quite amazing double when he won a motocross and road race on the same day.
There are 10 pages of sport altogether.
There is also plenty of community news, a page of your letters, our puzzles pages, Pullyman, the gig guide and a seven-day television guide.
The Manx Independent is in the shops now.
But you don't have to go to a shop to buy a copy.
You can also read it online if you buy the digital edition. It should be uploaded by 7.30am.
To find out how to buy it, go to the 'Digital Editions' section of the website on the grey line near the top of this site or watch the video below.
www.iomtoday.co.im/subscribe.cfm