In this week's Manx Independent: Hitler partly to blame for increasing cost of ferry terminal
Thursday 29th April 2021 5:00 am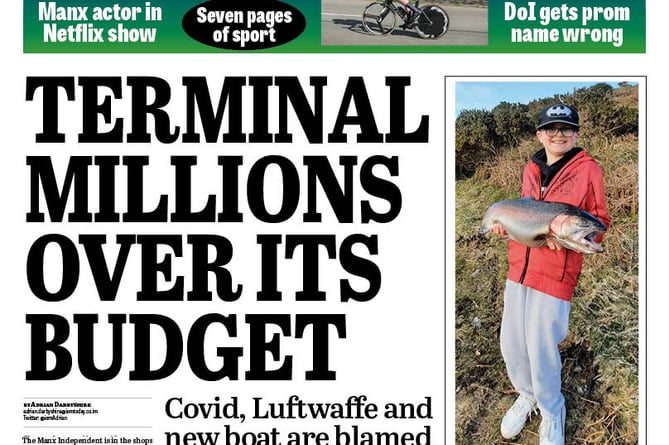 Manx Independent, April 29, 2021
Subscribe newsletter
Subscribe to our email and get updates right in your inbox.
On the front page of this week's Manx Independent, we report on the continuing soaring costs of the Liverpool ferry terminal, which the Manx taxpayer is funding.
Adolf Hitler is partly to blame.
The Department of Infrastructure has got the name of one of Douglas's promenades wrong on a granite sign.
We're looking for contestants in a nature writing competition.
Royal author Lady Colin Campbell tells us why she likes the Isle of Man.
After the planning committee rejected its plans for a sewage works near Peel, Manx Utilities is asking for ideas of where it should build one.
Yvette Naidoo of Douglas has appeared in court after driving to McDonald's while almost three times the drink-drive limit.
Ian Christopher Kirk will face a trial after he denied breaching Covid-19 restrictions by organising an illegal gathering at Laxey beach.
Jules Hobbs, who runs a holistic health business, is asking people to be more mindful of others' feelings during this year's Mental Health Awareness week.
An elderly woman who read an article published in the Manx Independent a few weeks ago has said that if it wasn't for reading it, she would have been suffering in silence.
Roofer Jason Cain, who supplied cocaine to a friend and then hid more of the drug in a pub pool table, has been punished in court.
In Island Life, our leisure and pleasure section, we report on Joe Locke, a young Manx actor who's got a role in a Netflix production.
Work created by an international artist, Kevin Atherton, born and raised in the Isle of Man, has gone on display at the Manx Museum. We have a picture special.
And Raz McVeighty, a man well known in the island's pub and band scene, appears at a special event for a launch of a beer made in his honour.
Second-year junior Tyler Hannay made an incredible, record-breaking start to the local road cycling season at Ballaugh. He is featured on the back page.
There is also lots more sport, plenty of community news, a page of your letters, Pullyman's column, our new puzzles pages and a seven-day television guide.
The Manx Independent is in the shops now.
But you don't have to go to a shop to buy a copy.
You can also read it online if you buy the digital edition. It should be uploaded by 7.30am.
To find out how to buy it, go to the 'Digital Editions' section of the website on the grey line near the top of this site or watch the video below.
www.iomtoday.co.im/subscribe.cfm