International glass artist Dr Julie Anne Denton finishes her PhD
Friday 18th May 2018 9:00 pm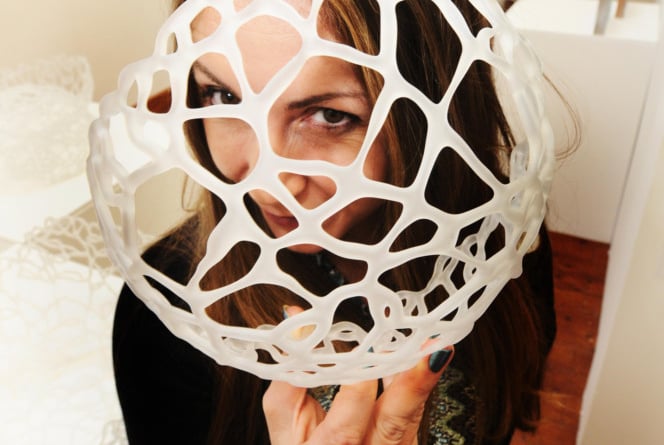 Julie Anne Denton
Subscribe newsletter
Subscribe to our email and get updates right in your inbox.
Creating works of art with glass can often be a tricky, demanding and frustrating process.
One former Manx resident and arts student knows that more than anybody, and has recently been awarded with a doctorate, after spending many years refining the process of casting unique glass forms and creating a range of stunning art works.
Dr Julie Anne Denton, who now lives in Zurich, is an internationally-celebrated glass artist and sculptor, and her work on her PhD thesis is entitled 'Inner Space'.
Originally from Douglas, she completed the art foundation course at the-then Isle of Man College, before becoming artist in residence at the Tynwald art gallery, when it was situated in St Johns.
Following studying for a degree in glass art, Julie has taken her craft to a different level, and has now more or less rewritten the rules for casting and working with glass.
'The point of producing a PhD is to create new knowledge, and essentially, I wanted to create a new language in glasswork, in sandcasting and in flameworking,' said Julie.
'When it comes to casting glasswork, it is very difficult to combine sandcasting with flameworked glass.
'Flameworked glass is very fragile, and the sandcasting process can very easily damage the work. I wanted to stop flameworked glass from being so fragile.
'Glass is a difficult material to work with, as any two pieces of glass contain different elements which mean that if you heat them up and combine them, they will not necessarily fuse together, and therefore there is a very high potential for breakage.
'I was trying to find a foolproof method for me to work with flameworked glass, and then develop a foolproof method for the sand caster to work with the glass without damaging it. I created a method that gives you consistent and technically sound results.'
Julie spent seven years working on three themes of art work, and admits that she underestimated the process of studying for her doctorate.
'I never thought I would study for a doctorate, or in fact if I would actually want to,' she said.
'Although, having said that, I never imagined that I would ever get to live in another country, or speak another language, let alone study my artwork in the way that I have.
'I honestly thought a PhD inquiry would be a case of putting the hard work in, presenting it at the end and accepting the rewards.
'I never thought it would become this completely immersive thing that more or less dominated my life.
'But once it was over, the feeling was massive, and the sense of accomplishment was huge.'
The fruits of her labours can be seen on display at Studio 42, Bay View Road, Port St Mary, which is open from Tuesday to Friday, between 10am and 5pm.
Comments
To leave a comment you need to create an account. |
All comments 0