It's home sweet home for escapee red panda
Friday 8th November 2019 4:58 pm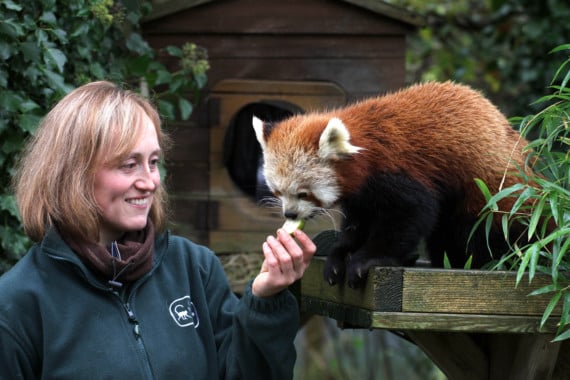 Kush the Red Panda back at home in the Wildlife Park Ballaugh after his adventures being fed by his handler Emma Dudgeon.
Subscribe newsletter
Subscribe to our email and get updates right in your inbox.
Red panda Kush is 'very happy to be back' eating special cake in his enclosure again, Curraghs Wildlife Park bosses say.
Kush made headlines in local and UK media last month when he made his escape after a tree branch snapped, creating a bridge over his enclosure wall.
Headlines were made again when he was safely brought back home for nearly three weeks after he went missing.
On Monday (November 4) the seven-year-old mammal - an endangered species native to the eastern Himalaya and China - was located up a tree in Susan Quilliam's garden at Tholt y Will glen.
The Glen Mooar Cottage owner told the Manx Independent: 'We get sparrowhawks, owls and other wildlife in our garden. I look out the window everyday and think "what am I going to see this time?". I didn't expect a red panda!'
She said Wildlife Park general manager Kathleen Graham had previously been to her house to set up live traps in her six acres of land, as some people had spotted him in the area. Soon after this, an island resident captured Kush on video climbing into a hedge near the road.
'Kathleen had got wind of it and came back saying "He's in your garden!". I looked out and said: "Gosh, it's in the tree! What do we do now?",' Susan said.
Immediately the Park's team rallied together, with their neighbour James Gale lending a helping hand.
They used ladders and cut away branches around Kush to prevent him from making another escape. Susan's archery net was also used get him safely into a box and back home.
'Being a part of the rescue was amazing and it was such a relief,' she said.
'It was quite nerve-wracking - exciting - but worrying. If you can help, it's great. I didn't want to be a reason why they didn't catch the thing. You've got one opportunity to get him down.'
She praised the team, calling them 'efficient'. 'There was sheer joy on their faces when the red panda was in the box,' she added.
James described the moment of getting Kush safely in the box as a 'great feeling'.
He previously helped in the hunt for Kush by capturing footage of the red panda on his nature camera that he'd set up on his land next door to the park.
A friend had notified the thoughtful neighbour of the same video Kathleen had viewed. He asked the team if they would like help and they happily accepted.
'I ended up climbing the tree and cutting off branches so the panda could not move to another branch,' he said. 'I cut the last branch that he was hanging onto and the wildlife team caught the panda in a net and placed him into a animal carrier. I was really happy I was able to assist and it was very tense, as we thought he could run off again if our plan didn't work.
'Once we had him in the carrier we all congratulated each other. It was a really great feeling!'
James has a fundraising page to help purchase a drone with a thermal image camera to find missing animals in the Isle of Man. It can be found here: www.justgiving.com/crowdfunding/search-rescue-iom/
Kush was taken to the Park's hospital unit where his health was checked. He was released back into his enclosure the very next day.
The park wrote on its Facebook page: 'He has lost weight but is eating well and seems to be very happy to be back and getting fed his panda cake again!'
Photos of the rescue were posted along with the statement, which read: 'You can see the delight in all the staff to have him back safe and well!'
Comments
To leave a comment you need to create an account. |
All comments 0