'I've tested positive for the virus but I didn't have a fever'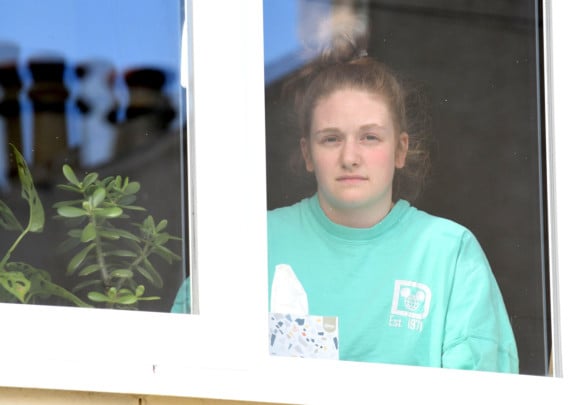 Louisa Bowker, who found out she had tested positive for Covid-19 on Sunday, is staying put in her home (Picture: Dave Kneale
()
Subscribe newsletter
Subscribe to our email and get updates right in your inbox.
Louisa Bowker, a junior graphic designer and dance instructor who said her last holiday off the island was in January, told the Examiner she received the news on Sunday night at 10.30pm.
The 23-year-old said: 'I had a headache on Tuesday (March 17), a headache and a mucusey cough on Wednesday and on Thursday I was feeling more tired and run down.
'I lost my voice and still had a cough and a runny nose. Thursday and Friday were my worst days.
'I felt quite ropey and had a sore chest, but I was still working from home.'
She added: 'It's been everywhere that people who have tested positive with coronavirus have said they had a fever, but I don't feel that I've had that at all!
'The thing that concerns me is that I really don't feel that unwell.
'I've been way more sick than this in the past.
'When I first got a headache and a cough my work said "don't come in".
'I told them: "Guys, I really think I've just got a cold. When it goes, can I come back into work?".'
Instead she was advised by work to take the online assessment, which then directed her to call Covid 111.
After hearing her symptoms, she was told to get a test at the Grandstand in Douglas in an hour's time that Friday.
'The staff there were really good. The test took like two seconds and they explained everything to me,' she said.
The results came via a call from a doctor.
'He asked me if I was okay and he was so nice. I told him: "I wasn't expecting that, but that's fine",' she said.
'I told him I had been self-isolating since Wednesday and he checked how I was feeling.
He said: "It seems you've done all the right things" and told me I would get a call from Public Health.'
Yesterday morning, Public Health got in touch and asked her a number of questions.
Louisa feels 'all right' now that her is voice back and her cough is better, but she remains to have a headache.
'My fiancé, Cameron Boyd, has been self-isolating with me since Wednesday and has now got a persistent cough.
'He has been given a home test,' she said.
She hopes her story will make people think more seriously about coronavirus.
'You have to think about your family members.
'Coronavirus is happening and I would hate to lose anyone.
'You have to keep that in your mind and use it as a reality check,' she said.
'I'd rather have the inconvenience of staying at home rather than causing issues.'
She added that although younger people may feel fine, their symptoms could be minor and it could spread to more 'at risk' people in the community.
The couple are fine for food, but will need to depend on people when they run out.
She added that her work and the dance studio she works for have followed all the necessary procedures to try and prevent coronavirus from spreading.
This has been especially so when it came to cleaning and sanitising rooms.