A memorial football match set to be played at Rushen Football Club on Saturday has been postponed.
Starting in 2021, the event is postponed due to the forecasted weather for Saturday and a new date is to be arranged.
The game raises funds for local charity Isle Listen and is in memory of Juan Guy, who died in 2020, and Phil Massam, who died in 2021.
Juan played for Rushen United and Phil Massam played for Southern Nomads Rugby Club, and were both based in Port Erin.
The day involves three sports clubs on the island, Rushen United Football Club, Marown Association Football Club and Southern Nomads Rugby Club, and they all put out veterans and former players.
Apart from the football match, the event sees crowds gather at Croit Lowey to enjoy junior football matches, a barbecue and a raffle amongst other family activities.
There is still however a quiz night being held tomorrow (Friday July 21) at Rushen United's clubhouse at 7.30pm. You can register your teams of six people by calling 426930. It is £3 per person.
All proceeds go to Isle Listen, who provide mental health support and training in schools, the workplace and the wider community on the Isle of Man.
Large crowds gathered at Croit Lowey in 2021 for the inaugural Jukes Memorial Match
(Gary Weightman)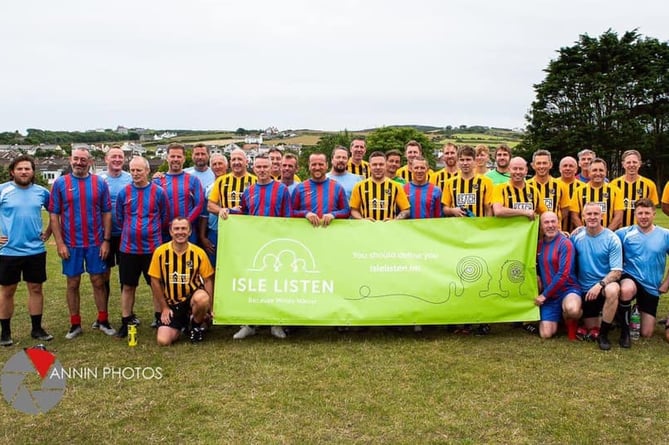 Winners of the Jukes Memorial Match in 2021, Rushen United vets.
(Gary Weightman)