Heat or eat fears rising
Thursday 7th October 2021 1:30 pm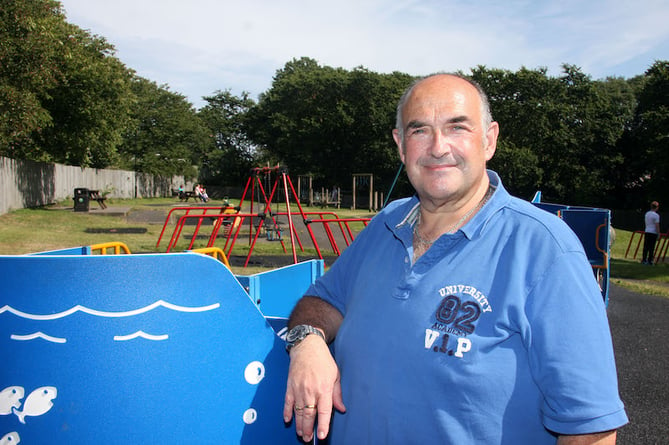 Godfrey Egee Chairman of Port Erin Commissioners in Athol Park Playground Port Erin that is to be refurbished.
Subscribe newsletter
Subscribe to our email and get updates right in your inbox.
The news that gas prices may significantly rise has stoked fears it could mean more people will not be able to afford to buy enough to eat.
Tynwald will be asked at its October sitting to approve an increase to the cap on the prices customers can be charged for gas.
If the cap increase is approved by Tynwald, Manx Gas would be able to increase charges to consumers by up to 2.1 pence per unit of gas.
The Isle of Man Foodbank was set up in December 2013, and has seen increased use in the years since its inception.
In a statement it said: 'Sadly, demand for Foodbank services is increasing, and with the likelihood of increasing fuel prices this winter, Foodbank will see the effects of the "heat or eat" dilemma which faces many who are already financially compromised.'
Neal Mellon, from the Foodbank, said: 'There's always been an increase [in people wanting to use the service], sometimes it's a creeping increase, sometimes a galloping one, but there is always demand.'
He cited the potential gas price rise as a definite factor in the current demand seen across the service, as well as the recent rise in petrol prices, and the Covid-19 pandemic.
He said: 'We're had a really busy 18 months, and it's getting busier again.
'It's not just gas prices, it's also petrol. If you're struggling to put food on the table, and you have kids to get to school by car.
'People are forced to make very difficult choices to avoid falling into the trap of debt.'
This comes as Port Erin Commissioners has submitted a planning application (21/01118/C) seeking a change of use for part of its office building.
The application has been made in the hope of accommodating the Isle of Man Foodbank Southern Hub, as demand for the service increases.
The Southern Hub of the Isle of Man Foodbank has been based at Port Erin Methodist Church since it was established in October 2016, however this space has now been deemed too small.
It is currently supporting more than 40 families in the south of the island.
Mr Mellon said of the move: 'We are extremely grateful to the Methodist church for housing the foodbank but essentially we've outgrown it, and we've had this really superb offer from the Port Erin Commissioners.
'I have nothing but admiration for them in offering to do this.'
Due to various proposed changes within the Methodist Church, the southern branch of the foodbank had been looking for a new home for several months, when Port Erin Commissioners offered to assist by providing space within its office building on Bridson Street, Port Erin.
The office area which will accommodate the Foodbank Southern Hub if plans are approved had been used as the commissioners archive and storage area since it moved into the offices in 2007.
To create space, a significant amount of archived material will be passed onto the Public Records Office along with other items of interest and memorabilia being passed onto Rushen Heritage Trust to act as custodians.
Should planning permission be granted, the project will also involve members of the Rotary Club of Rushen and Western Mann which will assist with some of the minor remedial works to make the office suitable for its proposed use with a target date in October.
Chair of Port Erin Commissioners Godfrey Egee said: 'The board was unanimous in its support of assisting Isle of Man Foodbank by providing them with a suitable space to continue its operations and efforts within the south of the island.
'The commissioners' office has operated as a collection point since the Foodbank was established so the Board is aware of the great work the Foodbank team provides to people and families in need.
'A number of volunteers supporting the charity live within Port Erin and with the reported number of families accessing the Foodbank on a weekly basis, whilst sad to hear, it is reassuring to know that there is support.'