Edge 'misled' about posties' pay
Friday 14th December 2018 11:20 am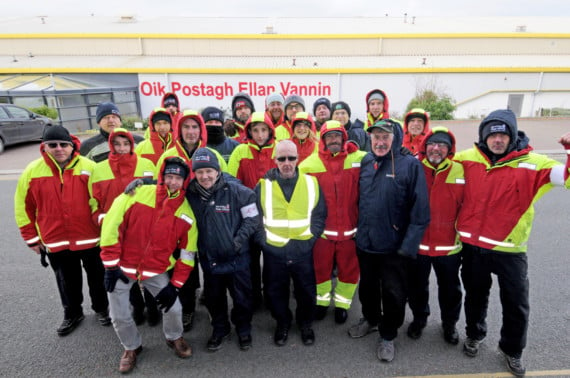 Postal workers begin two days of industrial action -
Subscribe newsletter
Subscribe to our email and get updates right in your inbox.
The chairman of the Post Office has been accused of misleading Tynwald over her claim that posties earn £33,000-a-year on average.
Julie Edge MHK came under fire as postal workers with the Communication Workers' Union began a two-day strike in a dispute over pay and changes to terms and conditions.
Talks on Wednesday failed to avert the industrial action after the union rejected an improved offer on pay.
But further talks between the CWU and Post Office management were held even as posties manned the picket line outside the island's sorting and delivery offices yesterday.
Tynwald this week approved in principle plans to close the final salary scheme for new postal workers and to end Saturday letter deliveries.
During the debate, the Post Office chairman said: 'Our postal workers are valued to us. The average post worker's pay is £33,000 per annum.
'New constables in the police force are earning £20,000. We want to make sure that we've got a workforce that we can sustain for the future. We recognise that we are going to protect current employees and the average salary is that figure.'
Her statement prompted an angry response from postal workers in the public gallery.
The figure of £33,000 was queried by David Cretney MLC who asked: 'Is she talking about the whole business or specifically about postmen and postwomen?'
Mrs Edge replied: 'The figure I have in front of me is just within the postal workers. It's average so obviously some could be lower, some could be higher. But it's the average.'
But figures distributed to Tynwald members by the Post Office show that the £33,000 figure is for a postal worker on a night shift and includes employer pension contribution of just under £4,000, enhanced holiday pay, driving allowance and night duty allowance. The basic pay is £26,343.
LibVan MHK for Ramsey Lawrie Hooper tweeted: 'It's not an average for all workers. Totally misleading claims.'
Rob Callister (Onchan) said: 'It's very disappointing that the Post Office chairman has misled Tynwald.'
Those on the picket line said there had been pretty much a full turn-out for the walk-out by CWU members.
And in icy conditions, they said there had been strong support from members of the public who had given warming cups of coffee to the strikers while passing motorists had beeped their horns.
The Post Office said its contingency plans for the strike had been successfully implemented. Customer counters at postal headquarters and delivery offices were open and prioritising the collection of Christmas parcels.
Simon Kneen, chief executive, said: 'We are incredibly grateful to all staff who turned out which means minimal disruption to our customers and we are able to offer almost all of our usual service provision.'
A new two-year pay offer made on Wednesday was rejected by the CWU.
It includes an unconsolidated lump sum of £200 on top of the 1% increase on basic pay, backdated to April, which had been previously offered - and a 2% increase in pay next year.
But the union says that accepting this enhanced offer would mean losing allowances (some of which will be subject to a buy-out), and agreeing to the closure of the pension scheme to new entrants and new starters' pay.
A Post Office spokesman confirmed the amended offer was rejected by CWU representatives.
She said the figure of £33,000 is an average across postal shifts and includes basic salary, allowances, and employer pension contributions but excludes overtime and additional payments for door step leaflets/magazine delivery.
CWU union boss Terry Pullinger said after today's strike (Friday) there will be no further industrial action until after Christmas. He said: 'We were never about trying to ruin people's Christmas.'
Mr Pullinger said talks will resume after Christmas but he got the impression this was going to be a 'long haul'. He hailed a 'massive turn-out for the strike and said members on the picket line were 'infuriated' by comments made in Tynwald by the chairman.
Comments
To leave a comment you need to create an account. |
All comments 0