Negotiations over Heathrow routes continue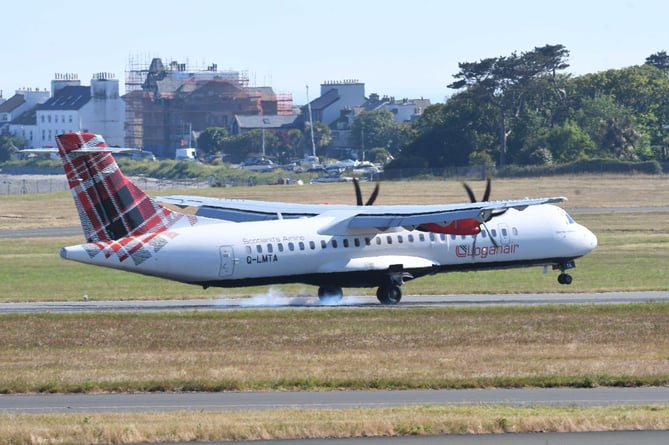 Loganair flight at Ronaldsway airport
(Dave Kneale/Isle of Man Newspapers )
Subscribe newsletter
Subscribe to our email and get updates right in your inbox.
Negotiations with Loganair over the future of its Heathrow route are continuing, with a minister saying ticket sales have exceeded expectations.
Mr Thomas said staff at the airport 'regularly communicates with Loganair about all London routes' and said that the performance of the route was 'encouraging with bookings exceeding the forecasted passenger loads'. 
He added: 'We therefore hope the route will continue to develop and the airport will continue to work with Loganair to ensure this.'
However, Mr Thomas then found himself being asked the same question several times by Douglas North MHKs John Wannenbugh and David Ashford, as they both sought to pin the minister down on whether or not the airline has the information it needs to put its future schedule in place.
Mr Thomas said the Department of Infrastructure is 'encouraged that it has all the information it needs to make up its decision', before telling Mr Wannenbugh that he hoped he hadn't heard anything different from the airline's side.
Responding to Mr Ashford he said: 'If they are missing information, they know who to ask and there was an officer meeting at the end of last week and another one this week and I'm not aware, from any of the officers who participated in that meeting, that there is any shortage of information on either side.'
He further added that it is important the DoI spends public money on things that will benefit the island's economic and social wellbeing. Speaking of public money, we have still been unable to confirm if the Manx government is underwriting this route after the previously stated October end date for those payments. 
Isle of Man Today understands that there are outstanding issues around the future of the route which means islanders are currently unable to book any flights between Ronaldsway and Heathrow after March 25, 2023.
Mr Thomas later said that like other services, it isn't right to be making operational decisions on the floor of the house, something that was denied by the Douglas North MHKs.
When asked by Onchan MHK Rob Callister whether Loganair would still be flying from Ronaldsway in the next 12, 24 and 36 months, Mr Thomas pointed out that the airline has a contract with the gov until October [for patient transfers] and that the airline 'could' be part of the island's future, depending on what its new owners decide to do.
Mr Thomas also told members that the Scottish airline is in a 'difficult place given it's up for sale'.
This drew the ire of Glenfaba and Peel MHK Tim Crookall, who asked why members should be careful of what they say when the minister said the airline is in a difficult position due to it being up for sale?
Mr Thomas replied: 'All I mean by that is that when you're up for sale, that affects your own ability to make promises and pledges, that's a simple statement of fact.'
Comments
To leave a comment you need to create an account. |
All comments 0