TT marshal sacked after making criticism on social media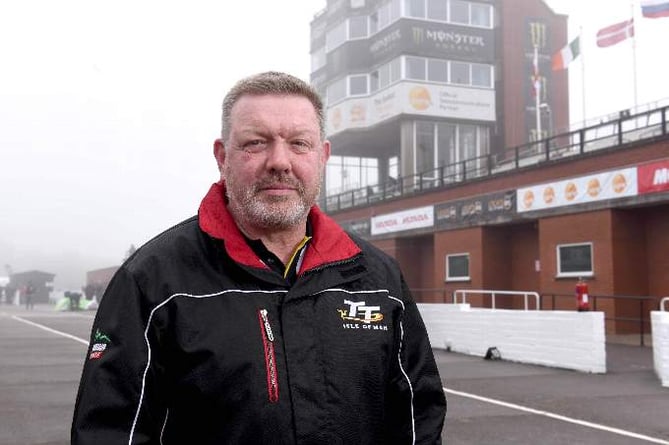 Gary Thompson MBE, Clerk of the Course for the Isle of Man TT races -
Subscribe newsletter
Subscribe to our email and get updates right in your inbox.
A senior marshal has been dismissed after criticising controversial changes to the Manx Grand Prix on social media.
Mike Brown, a chief sector marshal, posted on Facebook that he was 'disgusted' at major changes to the MGP and Classic TT announced last week.
This prompted clerk of the course Gary Thompson to tell him that his services were no longer wanted, saying his 'disparaging' remarks were 'not appropriate'.
A new-look MGP is being scaled back this year, the Department for Enterprise and Manx Motor Cycle Club confirmed, with the August event shortened from 14 days to nine and the Classic TT title scrapped.
These changes follow a 'root-and-branch review'.
Mr Brown, who was chief sector marshal for sector 10, said the reforms should have been put on hold for a year.
He posted: 'With competitors already having bikes built, marshals and visitors having held over their accommodation and ferry bookings due to Covid such major changes should have been held over until next year.
'It would also have given time for public views.
'There is no pleasure in being proved right, I've been saying for some years that there was a drive to make the event a one-week event. Personally I'm disgusted.'
In an internal email seen by the Isle of Man Examiner, clerk of course Mr Thompson confirmed he had written to Mr Brown to inform him that his services both as a chief sector marshal and as a marshal were no longer required.
He explained: 'He posted some disparaging remarks on Facebook that went against what DfE and race organiser are trying to achieve.
'Given that he is a senior official within the TTMA, and therefore part of the race organisation, his comments were not appropriate.'
A further statement by Auto-Cycle Union Events Ltd which organises the event confirmed the reason for Mr Brown's dismissal it said: 'Following critical comments made on social media by a Chief Sector Marshal, ACU Events Ltd, race organiser of the TT and Manx Grand Prix, and the Isle of Man TT Marshals Association had no option but to withdraw the official from his role.
'The TTMA held an emergency board of directors meeting to discuss the issue and reached the unanimous decision that the individual's position as an official of the races was untenable, supporting ACUE Ltd's original recommendation.
'The individual concerned was given the opportunity to withdraw the comments but declined. The same individual had already been in dispute with the race organisation about the new Safety Management System, introduced to ensure the maximum possible level of safety for competitors and individuals officiating on the Mountain Course.
'It is also considered unacceptable for any individual to undermine such a critical initiative.
'Both the TTMA and ACUE, and the Isle of Man Government, remain grateful, and respect the commitment, from the thousands of volunteers who give up their time to officiate at any motorsport event in the island.
'However, any official, particularly one who accepts a senior position within the race organisation, is required to operate in line with protocols commensurate with the role and prestige of the event and to adhere to the ACU national sporting code with regard to officiating on the Mountain Course.'
The Classic TT was introduced in 2013, running back-to-back with the Manx under the banner of 'The Festival of Motorcycling'.
Its impact in terms of road closures and demands on marshals has led to the reduction in duration from 14 to nine days.
Five races for classic machinery and modern-day bikes will be spread across the bank holiday weekend this year, with qualifying sessions taking place for a week beforehand.
Races that would have been run under the Classic TT title will now form part of the MGP.
Comments
To leave a comment you need to create an account. |
All comments 0