UK newspaper got it wrong: The Manx language isn't dead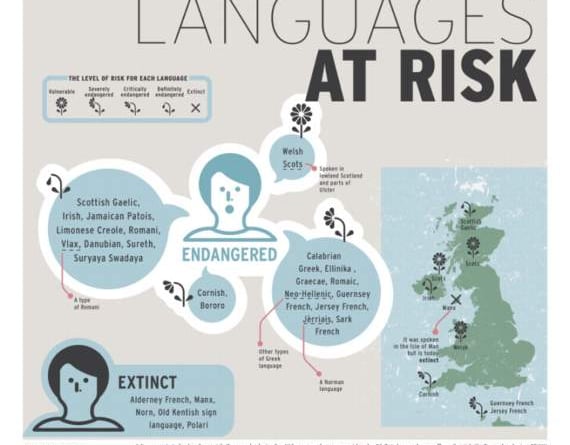 Subscribe newsletter
Subscribe to our email and get updates right in your inbox.
A UK newspaper has caused offence in the island after it stated that the Manx language is 'extinct'.
Members of the Manx-speaking community have hit out at the Teesside Gazette, a newspaper published in Middlesborough, after it printed an article on Saturday (January 5) saying the language native to the Isle of Man is well and truly dead.
It reads: 'Languages spoken in the British Isles that have been made extinct include Manx - spoken in the Isle of Man until the death of the last native speaker in 1974 - and Polari.'
It directs readers in its 'Languages at Risk' feature to an image of the Isle of Man saying that Manx was spoken, 'but is today extinct'.
Other world languages have been placed into categories of 'vulnerable', 'severely endangered', 'critically endangered', 'definitely endangered' and 'extinct'.
Adrian Cain, Culture Vannin's Yn Greinneyder (or 'Manx language development officer' in English), was less than impressed with the statement that his native language was 'extinct'.
'Honnick me yn art shoh er Twitter yn çhiaghtin shoh as begin dou garaghtee tra honnick mee eh,' he said.
'I had to laugh when I saw this article on Twitter this week as it was yet more really poor and ill-informed comment about the language but it also reminded me of some tired clichés about the island.
'Manx Gaelic is dead and the Isle of Man is a rock in the Irish Sea full of alcoholics, cats without tails, tax exiles and mad people on bikes.
'One day a serious UK-based journalist or a well-informed UK politician might recognise the Isle of Man as having its own cultural identity, its own parliament, its own history and its own sense of place.
'We all, myself, Culture Vannin, Tynwald, the Manx people (and let's call them Manx rather than residents) have to tell the world a different narrative and story about this island: the first national jurisdiction to give votes to women, a place where 16-years-olds can vote, an island which can and should lead the way on many things - language revitalisation being one of them - but until then expect more clichés and ill-informed pieces about our island home.'
Julie Matthews, head teacher of Bunscoill Ghaelgagh primary school in St John's - the only school in the world that teaches solely in Manx Gaelic - expressed her shock at the article.
'We were surprised at the article as Manx is very much alive at the Bunscoill Ghaelgagh,' she said.
'The Manx language is so important to our cultural identity.
'There are over 1,000 children currently learning Manx throughout the island's schools and around 2,000 adults learners.
'There's an increasing number of fluent speakers each year, with continued international interest in the remarkable story of the Manx language.'
Ten years ago, pupils from the school addressed Unesco after the Manx language was declared effectively dead in its 2009 edition of the Atlas of World Languages in Danger.
The schoolchildren sent letters asking in Manx: 'If our language is extinct then what language are we writing in?'.
The classification of Manx Gaelic was changed to 'critically endangered' instead.
In The Gazette's article, it refers to the last native speaker having died in 1974.
This was Ned Maddrell, a fisherman from Cregneash and later a museum curator, who was well remembered as the last native speaker of Manx.
However, initiatives like the Manx Language Strategy 2017-2021 show that the language will continue to be used and treasured by the island community.
The strategy states: 'Although it is small in terms of its number of speakers, its impact on worldwide efforts to protect and promote endangered languages is huge.
'The Isle of Man is now looked to by many as an example of best practice.
'As a result of well-organised community based initiatives coupled with targeted Isle of Man Government support, the language has seen an upsurge of interest in recent years.
'The Manx language is available for all ages to enjoy, within nurseries, schools, adult classes and the wider community.
'It is also a unique identifier for the business community and for the Isle of Man as a whole.
'The Manx language is one of the island's most important cultural assets; it is an island success story and something in which we all can take great pride.'
For more information on the Manx Language Strategy see the Culture Vannin website www.culturevannin.im
For free online resources and lessons visit the Manx Language Network's website www.learnmanx.com
Comments
To leave a comment you need to create an account. |
All comments 0