A yellow weather warning for snow and ice is in place until 3pm.
Light winds and clearing skies overnight is likely to have called a risk of patchy ice forming on untreated surfaces. This mainly for the south and east of the island until 9am. Higher ground remaining sub-zero throughout with icy stretches especially where snow covered.
Trough approaching the island late morning is expected to lead to an area of rain/sleet/snow/hail that could allow slight accumulations of snow mainly in areas above 500 feet. For low-levels temporary slight slushy accumulations are possible depending on the intensity of the precipitation.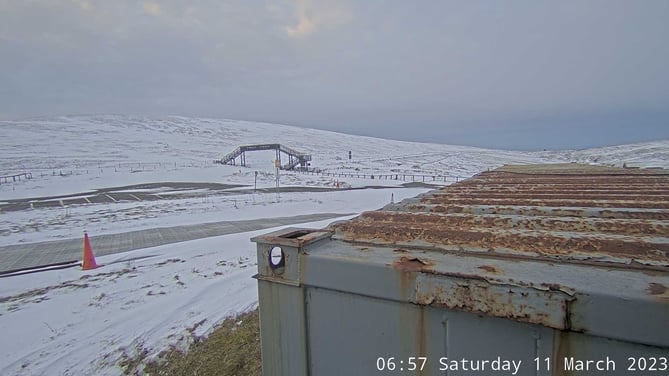 The view from the Bungalow at 6.57am
(Isle of Man Government webcam )
The forecast from the Met Office at Ronaldsway Airport:
Cold start to the day with a risk of icy patches then sunny intervals developing. Area of rain, sleet and snow arriving late morning, clearing into the afternoon. This giving the risk of slight accumulations to higher ground and temporary slushy accumulations to lower levels. Clear spells developing later. Fresh to strong mainly northwest wind and a top temperature of 6°C.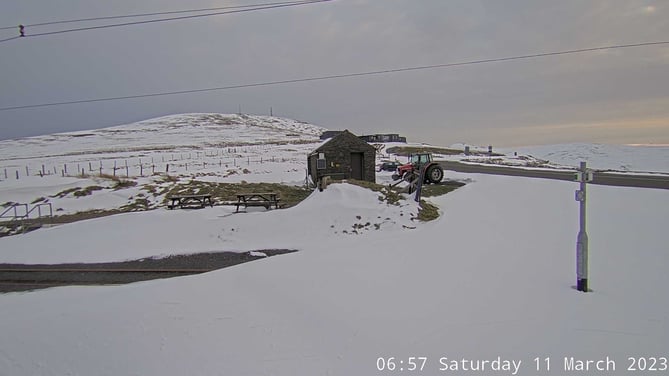 The view from the Bungalow at 6.57am
(Isle of Man Government webcam )
Cold and frosty start to the day tomorrow then with some bright or sunny intervals developing.
Rain arriving in the afternoon becoming persistent for the rest of the day and possibly heavy at times. Winds strengthening from the southeast later and temperatures gradually rising to 9°C by the evening.
Rain clearing through the morning on Thursday as it becomes mainly dry although rather cloudy. Fresh to strong south-southwest wind and top temperature a milder 12°C