What life was like for our internment camp relatives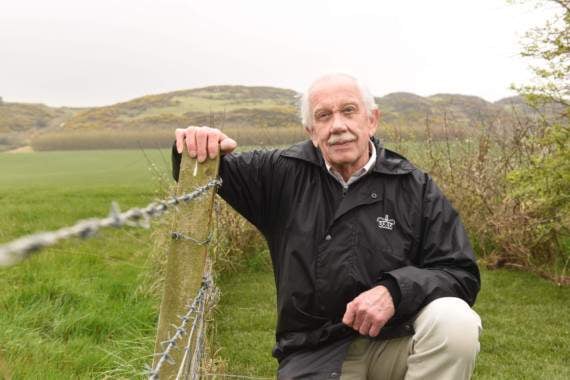 Subscribe newsletter
Subscribe to our email and get updates right in your inbox.
The descendants of internees at the Knockaloe Internment Camp have visited the island to see where their ancestors were held during the First World War, Sam Turton went along to meet some of them.
Knockaloe was one of, if not the very largest, internment camps in the British Isles, holding more than 20,000 prisoners, who were largely innocent German, Austrian and Italian citizens, in 23 compounds inside barbed wire.
To commemorate the upcoming opening of a visitor centre to tell the story of the camp and its inhabitants, descendants of some of those who lived and even died in the camp have visited the island.
One man to whom I spoke was John Ledger, who now lives just outside Hull. He has been researching his family's German roots since discovering his grandfather's original nationality.
Mr Ledger said he discovered his father had changed the family's name and hidden his Germanic roots and he discovered the truth only in 2008 when he learnt his grandfather was a man called Wilhelm Bache, who lived and died at Knockaloe.
Mr Ledger said: 'Our father didn't want us to suffer as he had for being of German descent.
'And growing up in Hull, a large shipping area, that was a real risk.'
Having researched his family, he discovered his grandfather had died at Knockaloe on July 18, 1918, with his inquest being held in the former school, where visitor centre is now based, the very next day.
Mr Ledger has discovered this week that while he and his family had previously believed his grandfather had been at Alexandra Palace, a internment camp in North London, which was used as a feeder camp to Knockaloe, they were mistaken.
After a conversation with another guest this week, he discovered his grandfather had actually been held at a different camp, which he said meant 'there is new research to begin'.
When I asked Mr Ledger what he thought of the visitor centre, he spoke very highly of it and praised the work that has gone into it.
He said: 'I have enjoyed it very much. I've gone around a few places like this and this is easily the best. It is a real credit to the Isle of Man.'
However, some of the visitors to the centre, now live in the island.
Dawn Kennaugh, who lives in Peel, discovered that her great-great grandfather Karl Fahlbusch had been held at Knockaloe.
Despite having lived in England since 1888 and having five English children, he was sent to Knockaloe.
After the war he was sent back to Germany and never returned to England.
Cristl Jerry, who lives in Peel, and her sister Estelle Bevan, who lives in Cambridgeshire, said that their great uncle, a watchmaker from Germany called Bernhard Kleiser had aslso been interned at Knockaloe and was sent back to Germany, but the family returned to England in 1926 and continued their line of work as watchmakers.
Mrs Bevan said: 'It's just wonderful, it's a whole new story for the family to learn.'
Cristl said she had no idea of her prior connection to the island until she moved to Peel 'about 50 years ago'.
When he parents to came visit and her father asked where Knockaloe was which was when she learned of her great uncle being interned here.
One of the experts on internment camps who was in attendance was Dr Colin Chapman.
He told me of how the sinking of the Lusitania by a German U-boat had increased the anti-German sentiment and saw an increase in the building of internment camps. This in turn led to the large and rapid expansion of Knockaloe.
Dr Chapman said he had been invited to speak as he had spent 15 years researching the feeder camps for Knockaloe such as Frith Hill (Deepcut) and Alexandra Palace.
On the day, there was also the unveiling of a sculpture called Sky Fever by Israeli artist Tom Krasny.
She wrote her MA in fine art on Charles Rennie Mackintosh furniture, which included pieces made in the island at Knockaloe.
Ms Krasny said she had seen a large amount of work by Mackintosh at Kelvingrove Art Gallery and Museum in Glasgow including items made in the island.
However she said that there was next to no reference to the island or the camp in the information.
She said: 'That bothered me so I wanted to donate this sculpture from my work to the island for the descendants of the internees and the people of the island.
'I hope it will lead to a greater interest in Mackintosh and the internment camp in the island.'
The sculpture has been placed in the centre's 'Barbed Wire Garden' which trustee Alison Jones, who gave a tour on the way to the garden, said is designed to give people who visit a spot to 'sit and look and think'.
The chosen spot was used a garden by the interns to help with the tedium of camp life.
She added: 'I hope this serves as a memorial to James Bailey, who developed industries and activities for the internees and for the internees themselves.'
For more information about the visitors centre which is due to open in the coming weeks, go to www.knockaloe.im.
Comments
To leave a comment you need to create an account. |
All comments 0