Harry Kneen wins inaugural Royal Manx Show fell race
Friday 19th August 2022 7:00 am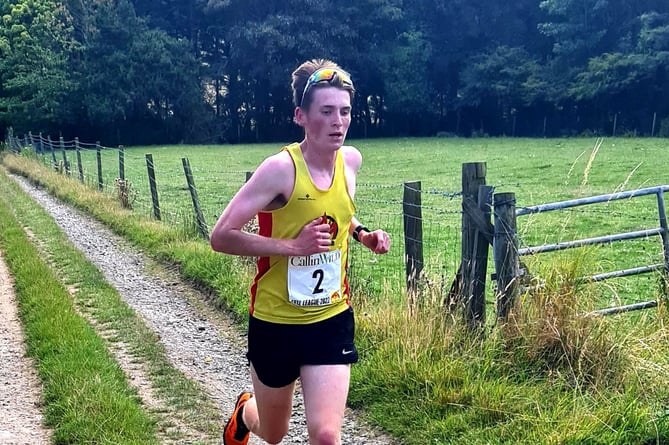 Manx Fell Runners' Harry Kneen completed the 4.5-kilometre course in a time of 18 minutes 15 seconds (Photo: Nigel Maddocks)
Subscribe newsletter
Subscribe to our email and get updates right in your inbox.
On what was the hottest August day on record in the island, 22 runners competed in the inaugural fell race at the Royal Manx Show.
With Lieutenant Governor Sir John Lorimer as starter, the runners began with a lap of the show ground before winding past the sheep pens and classic cars prior to leaving the show ground and heading up to Corrin's Folly on Peel Hill.
From there they descended to the coastal footpath and back through the fields to Knockaloe.
It was expected that one of the Harrys would be first to cross the finish line and indeed it was Harry Kneen (u19) who completed the 4.5-kilometre course in just over 18 minutes, almost two minutes ahead of Harry Stennett (u13).
Third across the line was Hannah Moore, while the first senior athlete to finish was Jim Macgregor just over two and a half minutes behind as first vet. Hollie-Mae Davies was the first under-13 girl to finish.
Not all the competitors had previous experience of running on the fells and Andrew Wright, finishing in 11th position, was the highest placed of these.
Despite the brutal heat and the steepness of the climb, all competitors said that they enjoyed the event.
The crowds on the show field shouted encouragement and applauded the runners as they passed - something which local fell runners are not used to!
Manx Fell Runners would like to thank the Royal Manx Show committee for their help in running this event, and also to the landowners and all the marshals who ensured the safety of the competitors.
MFR's next race is the James Coulson Laxey Race this Sunday - details are on the MFR website and Facebook page.
1, Harry Kneen (U19B (MFR) 18 minutes 15 seconds; 2, Harry Stennett (U13B (NAC) 20.03; 3, Hannah Moore (WSEN (MFR) 20.32; 4, Jim Macgregor (M40 (NAC) 23.11; 5, Steve Partington (M50 (MH) 23.17;
6, Helen Davies (W40 (Unattached) 23.24; 7, Paul Rodgers (M40 (MFR) 23.42; 8, Chris Cale (M50 (MFR) 23.47; 9, John Norrey (M60) (MFR) 24.00 ; 10, Lottie Stennett (U17G) (NAC) 24.20;
11, Andrew Wright (MSEN) (U/A) 24.32; 12, Caroline Caren (W40) (MFR) 25.16; 13, Lee Alstead (M50) (MFR) 25.51; 14, Elizabeth Knott (WSEN) (U/A) 27.04; 15, Michael Tait (M60) (MFR) 27.46;
16, David Skillicorn (M40) (U/A) 27.53; 17, Owen Plaskett (MSEN) (U/A) 27.54; 18, Ian Callister (M60) (MH) 28.26; 19, Honey-Mae Davies (U13G) (U/A) 30.33; 20, Drew Alstead (U15B) (MFR) 31.02;
21, Craig Cale (U13B) (U/A) 34.37; 22, Jessica Cale (U13G) (U/A) 46.43.
Comments
To leave a comment you need to create an account. |
All comments 0