Jets fly away from Diamonds as junior netball league season ends
Sunday 8th May 2022 9:00 am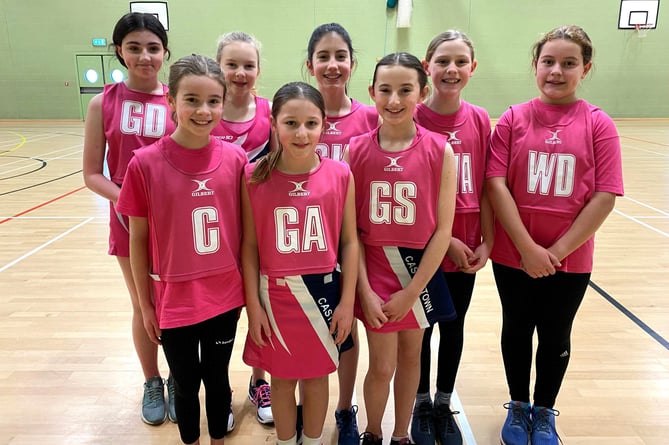 The Castletown Comets netball team that went up against Manx Gems Opals in Under-13s Division Two on Sunday
Subscribe newsletter
Subscribe to our email and get updates right in your inbox.
Isle of Man Netball Junior League reports and results from Sunday, May 1:
A strong first quarter from both teams but the speed at which Jets played and moved the ball down the court to their shooters proved difficult for Gems.
As such, Jets went into the first quarter break up by four goals. Gems tried a few changes in the second period which didn't all work in their favour.
Castletown put Charlie Corrie into GS and, between her and Erin Chappel at GA, the goals kept coming as they clocked up an impressive 16 in the quarter despite the best efforts of the Gems circle defence of Katie Halsall and Eliche Yordanova who worked tirelessly to slow them.
The third quarter started more evenly, with Eve Hall at WA for Gems working well with Emilie Moore on the centre passes while under pressure from Jets' WD Summer Craig.
The final quarter was another strong one for the Jets and they won the game 41-14. Players of the match went to Charlie Corrie for Castletown Jets and Emilie Moore for Manx Gems Diamonds.
Manx Gems would like to thank sponsor Island Tyres and Autocare for their continued support this season.
Castletown Stars 35, Suntera Global Ballasalla 2 - 11
Castletown Stars started this game strongly with some great work between Summer Craig at C, Breesha Collister at GA and Charlie Corrie at GS.
Strong defensive work by Castletown limited the opportunities for Suntera Global Ballasalla's shooters, Ella Winstanley GA and Elena Caley GS and the opening quarter ended 13-2 to Castletown.
Ballasalla came out strong in the second quarter, with Evie Colley working hard at WA against Callie Cubbon who had moved to WD. Ballasalla's C Rhianda Kinley also pushed hard, but Castletown were able to strengthen their lead as the period ended 22-5.
The third quarter saw some great advances by Ballasalla and some more great defensive work from Saoirse Hodson at GK and Lucinda Musson at GD who worked tirelessly. Town struggled to find their rhythm a little in this quarter, ending 25- 9.
Castletown came out stronger in the fourth quarter with some good forward movement and some excellent defending by Maia Guy at GD and Evie De Backer at GK.
In the mid-court, Castletown's Lucy Smith WD helped keep the pressure on, making it difficult to get the ball through to Molly Hinds at GS for Ballasalla.
The latter's team-mate, WD Maya Helrich, worked hard in the mid-court, but the match ended 35-11 after what was a great game played with great spirit by both teams.
Players of the match went to Ella Winstanley (Ballasalla) and Maia Guy (Castletown).
Island Tyres and Autocare-sponsored Manx Gems Opals started with the first centre pass in this match against Castletown Comets.
The opening quarter was evenly played with excellent movement down court from C Sadie Corrie and WA Kiera Trustrum for Town and good defensive work from Gems' Holly McEvoy (WD) and Abbie Mills (GK). The first period ended 2-2.
The second quarter saw some lovely movement from Castletown's GA Sienna Brookfield who was heavily marked by Gems GD Lily Sutton, with the quarter ending 3-3. The third period saw Gems' WA Seren Kirkpatrick produce some good feeds into GA Freya Ramadan and GS Aalin Lyon who started to work well together with some excellent shooting.
The defensive pairing of Lexie Fargher GD and GK Quinn Forfar for Castletown put lots of pressure on the shooters, with Gems finishing the third quarter 8-5 ahead.
In the final period, Zoe Bridson (c) for Gems made some excellent interceptions and, with the help of Graihagh Morgan (WA) who was being closely marked by Faith Watterson (WD), did well to get the ball back down the Gems' end.
Moving Holly Nyawai into defence for Gems made it difficult for Rebecca Bloch (GS), while Castletown's Emily Faragher (GK) and Neve Kneen (GD) made the shooters work around the circle but Gems managed to find the net and secured the win 14-7. Players of the match were Sienna Brookfield for Castletown and Lily Sutton for Opals.
Manx Gems Diamonds 14, Castletown Jets 41
Players of the Match: Emilie Moore (Manx Gems Diamonds) and Charlie Corrie (Castletown Jets)
Thompson Tigers 40, Ramsey Crimson 0
Simcocks Golden Eagles 15, Route 1 Atoms 4
PotM: Umata Szetzu (Golden Eagles)
and Macie Kneen (Route 1 Atoms)
Ramsey Midnights 19, Thompson Cats 17
PotM: Daisy Greaves (Ramsey Midnights) and Nicole Astel-Burt (Thompson Cats)
Suntera Global Ballasalla 2 - 11
PotM: Maia Guy (Castletown Stars) and
Ella Winstanley (Ballasalla 2)
Suntera Global Ballasalla 3 - 13,
PotM: Molly Hinds (Ballasalla 3) and
Kiri Corkish (Manx Gems Crystals)
Simcocks Red Tails 5, Castletown Rockets 23
PotM: Marcshela Cubbon (Red Tails) and Lucy Corrin (Castletown Rockets)
Manx Gems Amethysts 13, Ramsey Flames 15 PotM: Erin Bell (Manx Gems Amethysts) and
Neve Madden (Ramsey Flames)
Castletown Comets 7, Manx Gems Opals 14
PotM: Sienna Brookfield (Castletown Comets) and Lily Sutton (Manx Gems Opals)
Manx Gems Opals 40 - conceded
PotM: Holly McEvoy (Sea Eagles) and Amelie Corlett (Manx Gems Opals)
Route 1 Amps 32, Ramsey Twilights 0
PotM: Connie Keig (Route 1 Amps) and Georgia Thompson (Ramsey Twilights)
Thompson Cubs 40 - conceded
PotM: Tilly Strudick ( Sea Eagles) and Annabel Thomas (Thompson Cubs)
Comments
To leave a comment you need to create an account. |
All comments 0