Big swap for pier is completed before wind picks up again
Saturday 14th March 2020 6:41 am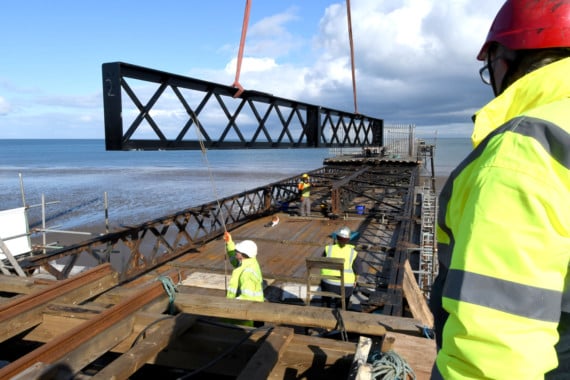 Steel is removed and replaced on bay two of Ramsey Pier -
Subscribe newsletter
Subscribe to our email and get updates right in your inbox.
Volunteers are celebrating another major step forward in the restoration of Ramsey Pier.
Corroded iron girders on Queen Pier's second bay have been swapped with new steel in another big lift operation, writes Adrian Darbyshire.
After a series of winter storms delayed progress on the long-closed landmark, the steel swap operation took place under blue skies and bright sunshine - and was completed last Sunday just before the wind speed picked up.
Project manager Stuart McKenzie said: 'We've been changing out the old iron in bay 2 and putting in the new steel.
'We had an immediate problem in that the centre girder on bay 2 was trapped under some of the steel of bay 1 so we've had to cut the girder in order to lift it out. Then we were able to swing in the centre girder.
'There were a few snags and minor adjustments requiring the use of the Stihl saws kindly loaned by Ace Hire.
'We managed to get girder 2 and 3 in place with the old iron cut up and skipped ready for recycling.'
Isle of Man Heavy Crane Services had a last minute cancellation so following an assessment of the wind speed, the work resumed on Sunday to swap the final girder on bay 2.
Stuart said: 'It was on the cusp for the flying jib but we decided to attempt the installation of the final girder for bay 2 and its associated toe-in girders.
'We successfully completed early afternoon - just as the gusts would have stopped operations - with a huge sigh of relief.'
Volunteers are now looking forward to craning in the replacement steelwork for bay 3 around Easter-time.
Stuart said: 'We are very grateful to Heavy Cranes and all the volunteers who turned out. It was very nice to be back at work with the sun shining.'
He added: 'The three storms we had recently really put us back because we were scheduled to go with this steel and then we were winded off as we call it as the crane can't operate in winds above about 20mph.
'The winter work that we've been doing has been relatively slow because we are weather-bound and of course it's been very cold.
'Naturally volunteers want to work in reasonable weather conditions.
'They don't mind getting wet but they don't want to be frozen as well.
'Bay 1 is almost ready to put the planks down.
'The timber structure is in place and we've prepared the planks and are looking forward to laying them this coming week.'
The Queen's Pier Restoration Trust signed a lease with the government in July 2017 to begin restoring the first three bays of the pier.
Corroded iron girders in bay 1 were swapped for new steel during a bank holiday weekend in May last year.
Comments
To leave a comment you need to create an account. |
All comments 0