Island's crying out for our plant-based food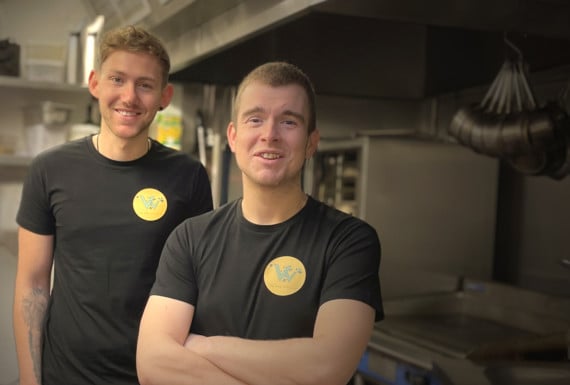 Josh Parker and Ali Brierley in their kitchen at Tromode
Subscribe newsletter
Subscribe to our email and get updates right in your inbox.
Two pals put their time to good use during lockdown.
Josh Parker and Ali Brierley came up with a business plan for their vegan food delivery service.
They believe their business, called Veg and Vitality, is the island's first 100% plant based delivery service.
It's early days as the enteprising pair only launched the new venture a couple of weeks ago but already they say are building up customers around the island.
Mr Parker told Business News the island 'has been crying out' for the service they offer.
He said: 'We prepared our business plan during lockdown and now we have hit the ground running.'
Among the treats they serve up are vegan mushroom and red wine gravy pie, vegan cheezy veg pie, hummus and a chunk of vegan chocolate chunk brownie.
They say interest in vegan food and its associated health benefits has been growing.
Mr Parker, 30, looks after the sales side of the business while his long-time pal Mr Brierley is the chef.
Mr Parker added: 'We firmly believe that people can feel happier and healthier with plant-based products.
'After taking the leap and realising you could lose weight, feel more energised and help save the planet all at once, we had to share this great feeling.'
The business partners are using family kitchen facilities at Tromode as a starting point.
The pals thanked everyonre who has helped them get going.
Mr Parker said plant-based foods are all the rage at the moment in the UK and believes the island will catch on fast.
Their business has launched just weeks after island resident and billionaire Jim Mellon launched his latest book called Moo's Law: An Investor's Guide to the New Agrarian Revolution
Mr Mellon said he believes the Isle of Man could lead the way in an 'amazing new industry' which has implications for the future of agriculture and the food industry.