Club donates blankets for dementia patients
Saturday 6th March 2021 8:00 pm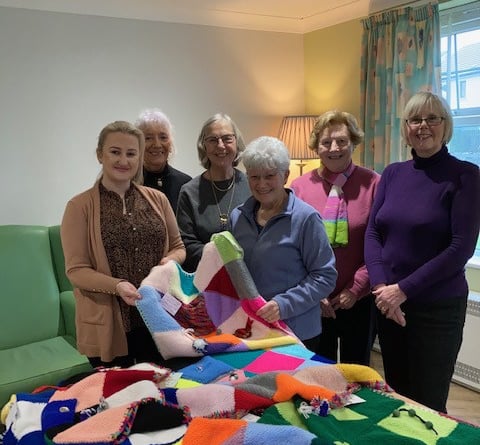 L to r: Charlotte Hughes, Manager of Gansey Dementia Unit, Catherine Steward, President Julia Vanderpump, Jackie Morris, Muriel Nixon and Alison Hetherington.
()
Subscribe newsletter
Subscribe to our email and get updates right in your inbox.
A women's social club in the south is aiding dementia patients by creating specially designed blankets.
Twiddle blankets are knitted with buttons, zips, ribbons and pockets attached to provide comfort to residents as they play with them.
The Inner Wheel of Rushen and Western Mann donated 11 knee blankets and nine twiddle blankets to Gansey Unit, Southlands residential home in Port St Mary and have also given knee blankets to Hospice over the past year. Many of these were used in the Hospice's Compassionate Care at Home boxes, given to help people who are discharged and go home.
The club is the only Inner Wheel Club on the island, which is linked to the Rotary Club and there are Inner Wheel clubs globally - some 98,000 women are part of the International Inner Wheel.
Club correspondent and photographer Lesley Scott explained more about the idea behind twiddle blankets: 'The blankets are placed on the knees of dementia patients for them to play with and evidently are very helpful.
'We raise money for various causes and we're now raising money to buy mosquito nets for people in Africa, as malaria is a big problem there. Each year, our president chooses a charity they want to work with and this year Crossroads Young Carers is the main charity.'
Mrs Scott said that the club was due to present a £2,000 cheque to Crossroads Young Carers at their headquarters in Braddan yesterday, but due to the Covid-19 restrictions this has been postponed.
She said the idea for the twiddle blankets came from members knitting squares and creating blankets for other organisations: 'We've donated blankets to homeless charities and other places who need them and so the twiddle blankets came from that.
'We meet every fortnight at The George Hotel and do other things aside from making blankets, such as afternoon tea and fundraising events. Our last coffee morning raised £2,000 which will go towards Crossroads Young Carers. There are about 30 women involved and it's a nice community and very supportive. Over the last lockdown we would have Zoom meetings and stay in touch.'
Mrs Scott said that she moved to the Isle of Man three years ago and was previously part of an IW in the UK. She said: 'I automatically joined the Inner Wheel Club here as I knew it was going to be a welcoming and friendly club, as that's what Inner Wheel people are like.
'Any woman can join who wants to fundraise and be involved within the community, maybe internationally as well, as it's a big movement globally - it has representation on the United Nations councils and such - and every three years they usually hold conferences internationally but the pandemic has affected that and so there was a virtual one in India last year.'
Comments
To leave a comment you need to create an account. |
All comments 0