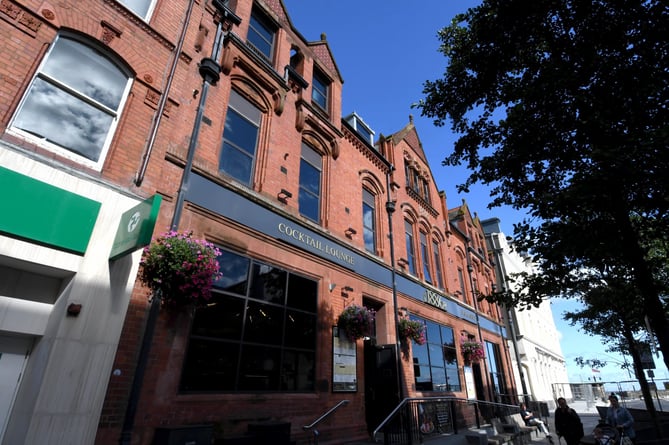 1886 bar and restaurant on Regent Street, Douglas -
(Isle of Man Newspapers )
Subscribe newsletter
Subscribe to our email and get updates right in your inbox.
A 30-year-old man has been fined £600 for disorderly behaviour on licensed premises at 1886 bar.
David McCallion admitted the offence and was also ordered by Deputy High Bailiff James Brooks to pay £125 prosecution costs.
Prosecuting advocate Hazel Carroon told the court that McCallion was at the Regent Street premises in Douglas on Bank Holiday Monday, May 2, at 12.30pm with another man.
They were both said to have been previously banned and were subsequently asked to leave by security staff.
However, they were said to have been loudly abusive, while a number of families were in the bar.
McCallion was alleged to have said: 'If he rings the police watch what happens with his family,' but he denied saying this.
The two men were escorted out but were then said to have appeared outside again at 2.15pm.
They were said to be shouting loudly but by the time police arrived, they had left.
Police found them at O'Donnell's in Castle Street and they were subsequently arrested.
The other man was also fined £600 during a previous court appearance, after he admitted disorderly behaviour on licensed premises.
During a police interview, McCallion initially gave 'no comment' responses, but then claimed he had not been disorderly and had only been trying to stop his friend.
He denied returning to the area at 2.15pm or making the family comment.
Defence advocate David Reynolds asked for credit to be given for his client's guilty plea.
Mr Reynolds said that there was a dispute over comments made and who made them, but McCallion accepted he was disorderly and should have left.
The advocate said his client had been receiving support from Motiv8.
Deputy High Bailiff Mr Brooks told McCallion, who lives at Stenning Place in Castletown: 'Whatever the ins and outs of who said what, I don't doubt it would have caused distress to staff at 1886.'
He will pay the fine and costs at a rate of £120 per month.