Landscape gardener jailed after racist outburst
Tuesday 22nd November 2022 12:05 pm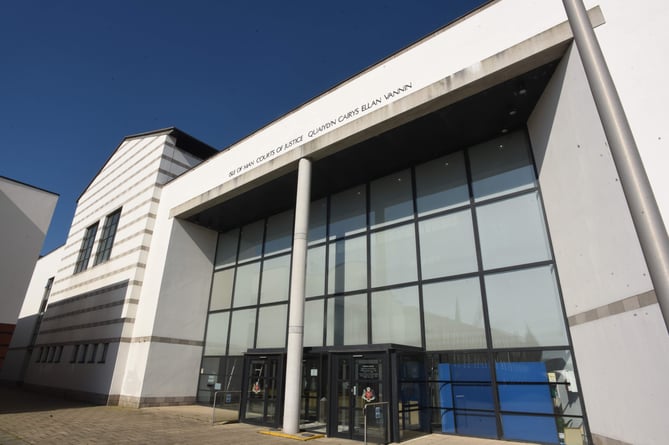 Exterior view of the Isle of Man Courthouse in Douglas -
(Isle of Man Newspapers )
Subscribe newsletter
Subscribe to our email and get updates right in your inbox.
A man who racially abused takeaway staff and punched a customer who tried to intervene has been jailed for 18 weeks.
James Steven Cosgrove told the Bulgarian owner at the Victoria Grill in Castletown: 'You don't belong here. This is my area.'
Landscape gardener Cosgrove pushed the female owner and then punched a man who tried to help.
High Bailiff Jayne Hughes also banned the 40-year-old from entering licensed premises and buying or being sold alcohol for six months.
We previously reported that Cosgrove, who lives at Watterson Lane in Willaston, went to the Co-op in Castletown on May 7 at 9.30pm and bought a case of cider.
He then went to Victoria Grill on Malew Street carrying an open can as well as a bag containing the alcohol.
Cosgrove was told by the takeaway owner that he could not consume food or drink on the premises which had not been bought there.
This prompted him to become abusive, insulting the woman and telling her: 'You don't belong here. This is my area. You all came here.'
Another customer heard the comments and tried to persuade Cosgrove to leave, pushing him away from the shop.
However, Cosgrove continued to be agitated and said: 'Hit me, just hit me.'
He then pushed the woman owner in the chest as he tried to barge his way back inside saying: 'I'm going to kill your husband now.'
The other customer again tried to get Cosgrove to leave, but Cosgrove then punched him, causing him to fall to the ground with a bleeding nose.
He then left the scene before police arrived but on May 8, went to Castletown police station and confessed that he was the male involved at the takeaway.
He said that he had gone back to the shop to apologise and said he was drunk at the time.
During a police interview, he answered 'no comment' to all questions.
In court, Cosgrove pleaded guilty to common assault on a female, common assault, and threatening behaviour.
He has a previous conviction for affray in 2020 when he was sentenced to 160 hours community service after a brawl on a bus.
However, Cosgrove was said to have been fined for breaching the community service order and was in arrears with his fines.
A probation report said that alcohol and Cosgrove's mechanisms for dealing with emotions were the root of the matter.
Defence advocate James Peterson said: 'Mr Cosgrove offers no excuses. He deeply regrets what he has done.'
Mr Peterson asked for credit to be given for his client's guilty pleas, entered at the first opportunity. 'He went to the Victoria Grill the next morning and apologised in person,' said the advocate. He is not currently in contact with Motiv8 but is prepared to speak to them.'
Mr Peterson said that Cosgrove had been offence-free between 2012 and 2020 and would lose his job if he was jailed.
High Bailiff Jayne Hughes told Cosgrove: 'This was an assault accompanied by the most foul racial abuse. It was appalling behaviour which will not be tolerated in this jurisdiction.'
Mrs Hughes also ordered Cosgrove to pay his outstanding fines or face an additional 25 days in custody.