David puts his poems on the map
Saturday 9th January 2021 6:18 pm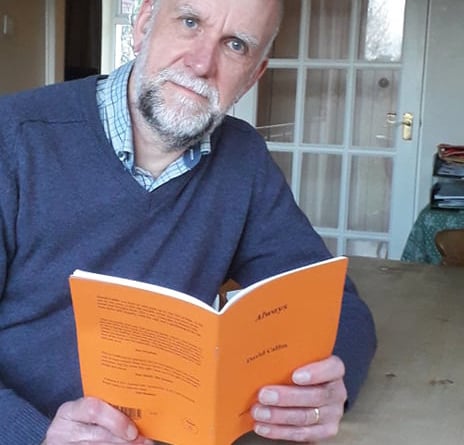 Subscribe newsletter
Subscribe to our email and get updates right in your inbox.
One local writer has gone a step further in placing his poetry firmly on the map.
David Callin released 'Always', his first collection of printed poems, recently.
His debut 'chapbook', another name for a short compilation of poems, came out shortly before Christmas, published by the Scottish poetry company Dreicht Publications and has won the praise of the Manx Bard Annie Kissack, who wrote that: '"Always" is a stunning collection. In its pages, you are led seamlessly through a number of changing scenarios and moods and it's impossible not to read on. These are not poems that play clever tricks on you for the sake of it; they are thoughtful, well-crafted, accessible and often very moving'.
His book contains 27 different and original poems, all written and inspired by things that grab his attention, be they everyday happenings, local characters, local and natural history or his own reminiscing.
He writes about his time growing up on the Nab Farm on the Mount Rule road, along with local characters, including the infamous Elvis fanatic 'Birdie', who lived in Foxdale.
He also wrote a lengthy poem,'Rosemary', about his late sister.
David said that 'Always' is his first foray into the world of publishing, even though he has been writing poetry since 2006.
After joining in with online poetry forums and Facebook groups, he began to take part in some of the local poetry open mic nights at the former Bath and Bottle.
However, he says he is more of a writer than performer and prefers to be hunched over a page with pen in hand rather than stood on stage reciting his work.
His poetry initially came to the public eye in 2019.
'A couple of years ago I entered into something called the Isle of Man Biosphere Poetry Map.
'I thought it was a collaborative thing, where people would all send in their poems for one collective effort.
'However, I got an email saying that my poem, "Alleluia", was the overall winner.
'I honestly didn't know it was a competition.'
One person who wasn't overly impressed with his literary efforts was his wife, Vanessa.
'In the book, I thank my wife for her "benign lack of interest" in my poems, which means she just lets me get on with them.
'She never takes much interest and when I told her that I'd won the Isle of Man Poetry map, she said she'd better read it then.
'When I asked her what she thought, she said "at least it was mercifully short".
'But the great thing about poetry, I think, is that it is something that you can be thinking about all the time, whether you are doing the dishes or gardening or whatever.
'It doesn't interfere with your day, but it is always in your mind.'
l 'Always' is available by contacting David directly via Facebook.
Comments
To leave a comment you need to create an account. |
All comments 0