Douglas Promenade concrete crack solution soon
Friday 4th June 2021 9:00 am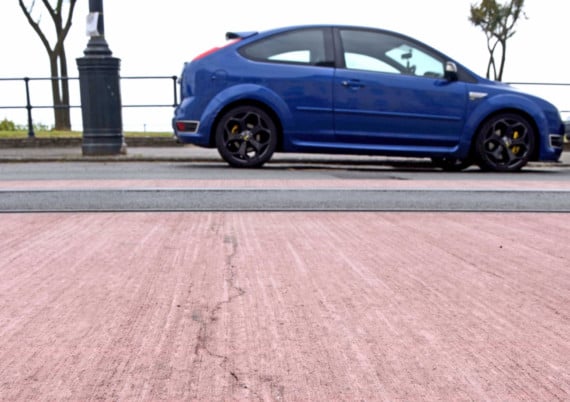 Douglas Promenade refurbishments - cracks have appeared in sections of the red concrete corridor that denotes the horse tram lane
Subscribe newsletter
Subscribe to our email and get updates right in your inbox.
Work to rectify cracked concrete on the promenade is due to start soon.
Infrastructure Minister Tim Baker said contractor Auldyn Construction and rail designer Burroughs Steward Associates had told the government that they would submit a proposal to rectify the cracking in the red concrete next to tram lines 'in the near future'.
He added: 'In terms of the financial aspect this is a matter for the contractor and the rail designer.
'They need to remedy the situation and the financial aspect of matter is for them not for the department.
'The ball is in their court. The cost for repair will be met by the contractor and/or the rail designer as this is a defect under the contract. It is up to them to work up a solution that meets the department's needs.'
Mr Baker said the Department of Infrastructure would only accept a 'proper solution' that solves the cracking issue, 'looks right and meets the 40-year design life'.
Bill Shimmins (Middle) said it had been suggested the laying of concrete near to the rails was a design flaw.
'Will we see ongoing cracking in this concrete, causing additional works and disruption on the promenade for many years to come simply because you should not have concrete right next to steel?' he asked.
The minister said that was for the contractor and designer to resolve.
'The department is the client and expects the solution to be provided,' he said, adding he was confident that would happen.
'I expect the solution to solve the problem for the long term.
'We are not expecting a big exercise to go back and dig up what has been done and create a lot of disruption. We are expecting that it will be resolved within the contractual framework in timescales that are already in place.'
Clare Barber (Douglas East) said that while the costs of remedial works would be met by the contractor or designer, there was a knock on financial impact on businesses and residents on the promenade, who were 'already emotionally and financially exhausted' by the £25 million redevelopment.
Comments
To leave a comment you need to create an account. |
All comments 0