Charity brings pupils from Caribbean here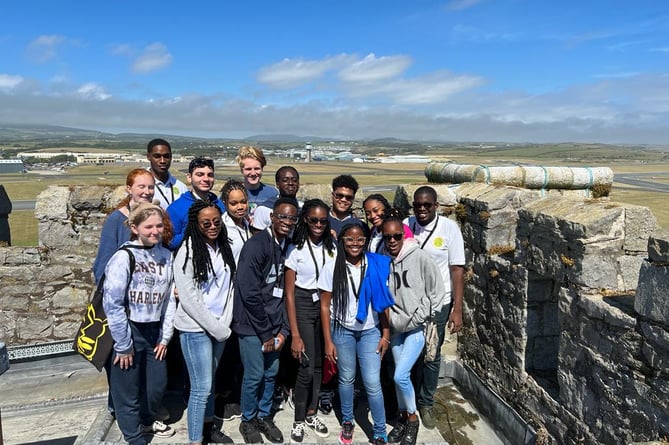 St Vincent and Grenadines education programme students at the top of the tower at King William's College
()
Subscribe newsletter
Subscribe to our email and get updates right in your inbox.
A charity has brought a group of students from St Vincent and the Grenadines to the Isle of Man as part of an education programme.
ISEP (Isle of Man – St Vincent and the Grenadines Education Programme) is looking to provide scholarships and travel grants to students in the future.
It has brought a group of 12 school leavers (17- to 21-year-olds) on a one-off trip to the island for three weeks to expose them to another culture, with an emphasis on heritage, environmental sustainability and practical life skills.
The charity was set up following an outbreak of Dengue fever, the Covid pandemic, and a volcanic eruption in the Caribbean country, which has a population of almost 111,000.
ISEP said the impact on education was 'particularly striking' as schools were damaged or turned into evacuation shelters.
A small group of volunteers in both island nations decided to launch a privately funded initiative to offer 'inspiration and hope to the youth of SVG'.
Students arrived in the Isle of Man on August 1 and will be here until August 20.
Chairman Tim Cullen said: 'It's an inspirational three-week visit to give people hope, to show that there are opportunities amidst hardship and so on.
'This is only a one time thing because the amount of time and effort it takes, we can't call on it year after year.
'Everybody has volunteered an enormous amount of time, including the trustees who very generously paid for certain things.'
Starting in 2023, ISEP will also fund two annual boarding scholarships for the two final years of school at King William's College, leading to the International Baccalaureate qualification.
Kyle Henry, one of the students on the trip, said: 'I've enjoyed learning about the Isle of Man, especially the interesting ecology present here.
'It's fun to compare and contrast that to what we have at St Vincent.'
Tiffanie Chapman added: 'Coming from another small island nation, it's been interesting to learn about how the Isle of Man deals with problems common in island territories.
'I've learnt so much about the island's economy and parliament.
'The experience has been spectacular!'
Another student, Ramiro Georges, said the history and culture of the island was 'very rich' and he enjoyed the scenery.
He said: 'It seems every corner I take there is something to appreciate.'
Victoria Stewart also said: 'The programme has been amazing.
'We've had the chance to listen to some amazing key speakers and visit many places around the island.
'I especially loved the visit to the old House of Keys in Castletown and learning interactively about the history of the Isle of Man Government.'
Lieutenant Governor Sir John Lorimer and Governor-General of SVG Dame Susan Dougan have both agreed to be patrons of the charity.
Comments
To leave a comment you need to create an account. |
All comments 0