STEM Festival has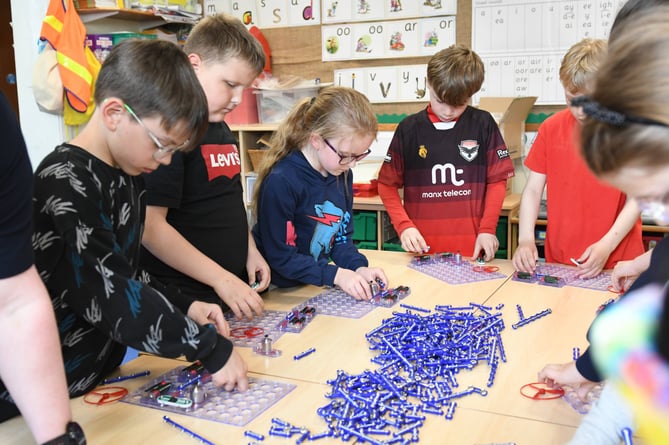 STEM Fest at Scoill yn Jubilee - electrical and programming lessons with the Royal Navy
Subscribe newsletter
Subscribe to our email and get updates right in your inbox.
Scoill yn Jubilee in Douglas is celebrating the success of a huge STEM Festival held to bridge the gap in kids' knowledge following two years of Covid-19 disruption.
The event ran over a fortnight and was designed to encourage the children to consider the impacts of science, technology, engineering (STEM) and maths in everyday lives.
The programme of events included leading managers from relevant organisations running courses.
For example, Isle of Man Construction led a suspension bridge workshop which saw the children build a 13-metre long, three-metre high structure.
The festival all built up to a science fair on Friday, May 13, when the school participated in a round robin event.
Each class visited every other year group to see what they had been working on over the previous two weeks.
Teacher and organiser Tara Westcott described the festival as a huge success.
She said: 'I was just so encouraged by watching them engaging and communicate the science to other children. Each class had their own activity set up, and all the children were engaged all day, we never had to intervene with anything at all.
'They were communicating their science to the other children, their peers, and they were listening, engaged and focussed.
'The great thing is they were learning - either my communicating their learning, or they were listening to somebody else's science that they hadn't done, and it was lovely.'
The pupils reflected on the experience and all gave glowing reviews.
One said: 'The science fair was great, all the other classes had organised science stuff for us to do, it was fun.'
Another said: 'VR [virtual reality] headsets – I learned how to control and it's amazing how people can go into a different reality with them on your head.'
Another added: 'I found the dome really cool and how the new tech works.'
Other students commented on learning how to code, and the Royal Navy's presentation.